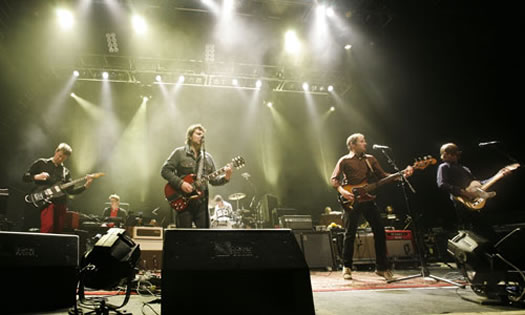 This is going to be the kind of weekend we want to bottle and take out in February. Alas, we don't have the technology. Yet.
So don't let it go to waste.
After the jump you'll find a few ideas we thought would be fun.
Got something else in mind? Share with the group, please.
And have a great weekend.

Solid Sound
The Wilco Solid Sound Festival runs from today through Sunday at Mass MoCA and includes a headline performance by Wilco(Saturday night), appearances by their side projects (including a solo show by Jeff Tweedy, The Autumn Defense, On Fillmore, The Nels Cline Singers, and Pronto) performances by other bands (including Mountain Man, Mavis Staples and Vetiver). North Adams will be filled with art, interactive installations and comedy. $99.50 for a weekend pass. Here's some info about things to check out in North Adams while you're in town.

More Music
Tonight
Rustic Overtones play Putnam Den
Upbeat on the Roof continues at the Tang Museum at Skidmore with the acoustic funk and soul of Lyle Divinsky .Free
Giant Panda Guerilla Dub Squad plays roots reggae and experimental dub at Red Square tonight at 9
The New Politics are playing Valentine's with Funeral Party. Free
Erin Harkes Band are at Valentine's with Flakjacket, Lunic and Loaded Mojo
The Philadelphia Orchestra performs at SPAC tonight and Saturday. Tonight is Family Night and includes a Cirque de la Symphonie performance, ice cream and music workshops for kids. Saturday's program includes music by Barber and Tchaikovsky. $18 - $72.
Saturday
Savannah's hosts Mirk & the New Familiars Saturday night.
Peter Prince & Moon Boot Lover are at Putnam Den on Saturday night.
Valentine's hosts an Audobon Society Benefit with Sonic Foundry, Bow Ever Down, Doomsday Virus & others.
Potter's Field, The Garden Variety, Boyish Good Looks play Red Square Saturday at 9.
Holly & Evan are at Bread and Jam with Olivia Quillo and Justin Levinson. Free.
Dyer Switch Plays Scotia's Freedom Park. Free.
Solid Smoke is at Powers Park in Troy. Free.
TheCanalfest at Mabee Farm in Rotterdam is a celebration of local music with performances by Kevin & Kate McKrell, Christopher Shaw, and the Lost Radio Raounders. Saturday at noon through Sunday evening. Boat tours and house tours of the historic Mabee Farm site are also available. Free.
Sunday
The Sonny & Perley Quartet give a free concert in Crystal Cove in Averill Park. 5-8PM
Cherish the Ladies have a free concert in Schenectady Central Park's Music Haven
TS Ensemble play a free show in Scotia's Freedom Park
Pianist Andre Watts performs at The Saratoga Chamber Music Festival is at the Spa Little Theater in Saratoga on Sunday afternoon at 2.
Killerados are at Valentines with Tex Railers Doomtown and Al & the Black Cats.
There's a concert on the giant pipe organ at Round Lake Auditorium on Sunday night at 8.
Albany Double Feature
The Hollywood Drive-In & Jericho Drive-In have held over their Albany double feature this week. Salt & The Other Guys are playing at the Hollywood all week. We caught the latter earlier this week, and for what it was-- it was a good time. Here's Lou's look at Salt.
More Film
The Tent Film Festival Continues at PS/21 in Chatham. The theme is "main street" and this weekends films classic. Tonight they're screening Chocolat, Saturday is Cinema Paradiso and on Sunday they'll show State and Main. Free.
Kid pick: East Greenbush is having a free screening of Cloudy with a Chance of Meatballs tonight at 8:45 in the town park.
Roller Derby
The Hellions of Troy will be at Rollerama in Schenectady on Saturday night at 7 (doors open at 6.) $12 ($10 in advance), $3 for kids.
Comedy
Mop and Bucket Company perform their weekly improv show tonight at 8 Underground at Proctors. $14, $6 for students and seniors.
Daily Show correspondent John Oliver does his stand-up act at The Colonial Theatre in Pittsfield on Saturday night at 8. $45
Art
Today is Free Friday at The Albany Institute of History and Art, and every Saturday this summer is buy one admission get one free day.
Check out Leonard Nimoy's photo exhibit, Secret Selves at Mass MoCA -- but remember the Wilco crowd.
Take a drive out to Williamstown to check out the Picasso meets Degas Exhibit at The Clark.
Saturday looks like a great day to check out the fields outdoor sculpture at Omi.
Take a drive to Hudson and drop on Carrie Haddad's Edward Avedisian retrospective which includes abstract paintings by Avedisian, a minimalist artist whose work hangs in the Metropolitan Museum of Art, the Whitney, the Guggenheim and MoMA. While you're in town, grab a taco.
Festivals
The 11th Annual Carama Caribbean festival is scheduled for Saturday from noon to 8:30 in Schenectady Central Park. Reggae and calypso music, Caribbean foods and more.
.
Today is Friday the 13th but they're celebrating Halloween at the Saratoga Racecourse. Costume contests, a costume parade and trick or treating.
The 5th annual Canal Splash is a weekend of events along the Erie Canal. music, regattas, walks, tours and exhibits. Yes, some of the events include things that are available all the time, but there are some special events scheduled as well, but many of those are offering discounts this weekend.
Water Ski Show
The US Water Ski Show Team is putting on a show on Sunday afternoon at 2, behind Jumpin Jack's in Scotia.
Baseball
The Tri-City Valley Cats are at home this weekend with games tonight, Saturday night at 7 and Sunday at 5. Fireworks after Sunday's game.
Polo, anyone?
There are matches in Saratoga tonight and Sunday at 5:30. Here's what to know if you're a first timer.
Rock n' Roll Burlesque
It's the second Saturday of the month -- which means Scooter Pie at Midnight presents her rock 'n roll burlesque show at Valentine's on Saturday night/Sunday morning at midnight.
Theater
The Femme Show comes to Steamer 10 on Saturday night. The popular cult show explores gender, queerness, and sexuality with "sass, seriousness, and sophistication." It's a little bit burlesque and a little bit drag with spoken word, puppets, props, music, and more. 18+. $12 at the door, $10 in advance. 9:30
This is the last weekend to catch Park Playhouse's free production of Annie Get Your Gun.
Summer theater festivals this weekend include:
Altar Boyz at The Theater Barn
Mame at Mac-Haydn
Fifth of July on the main stage at Williamstown Theatre Festival
The Last Goodbye on teh Nikos Stage at Williamstown Theatre Festival
Macbeth on the main stage at Berkshire Theatre Festival
Stargazing
On Saturday night at 9, weather permitting, you can view the night sky through a powerful telescope with the guidance of an amateur astronomer at the Thacher Nature Center
The Hirsch Observatory at RPI is open to the public on Saturday nights from 8-10PM
Toga Tours
If you're heading up to the races, SPAC or just to hang out in Saratoga, you might want to hop on a tour if you've got a little time to kill:
+Catch a free tour of the Oklahoma Training Track at Saratoga.
+Wander over to the main track during breakfast and pick up a tram for a free tour of the backstretch.
+The Saratoga Springs Preservation Foundation is running a Sunday morning walking tour. The tours change from week to week. This week is focused on Saratogas East Side and Horses. 10:30am at the corner of Union and Nelson Ave (148 Union) $5 per person.
Swim
Cool off at a pool, beach or sprinkler near you.
Walk on Adventure
Don't have a Kayak of your own? Try a walk on adventure.
Take a ride in the way back machine
Take a kid to Hoffman's Playland. It's retro-fun
Scenic Railroad
Hop an Adirondack Scenic Railroad train and take a ride through the Adirondacks.
Stay-cation
These folks have lots of great tips on how to get the most out of summer in the Capital Region.
Dine Al Fresco
Find a nice patio and soak in a little sunshine. Check the map before you go.
Ice Cream!
Take the Capital Region Ice Cream Tour or hit up a seasonal stand near you!
Road Trip
Spend 12 hours here, here or here. Or take a shopping trip to Northampton or Woodstock.
* The Albany Institute of History and Art advertises on AOA
* SPAC advertises their classical and extended season with AOA
Say Something!
We'd really like you to take part in the conversation here at All Over Albany. But we do have a few rules here. Don't worry, they're easy. The first: be kind. The second: treat everyone else with the same respect you'd like to see in return. Cool? Great, post away. Comments are moderated so it might take a little while for your comment to show up. Thanks for being patient.