Items tagged with 'Cecilia Tkaczyk'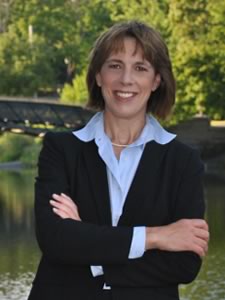 Democrat Cecelia Tkaczyk has won the election for state Senate 46th over Republican George Amedore (unofficially). More than two months after election day. After absentee ballot counts. After court challenges. After a counting of challenged ballots. By 19 votes (or so). [TU CapCon]
Tkacyzk had trailed Amedore by 35 votes, but she gained the advantage after 90 additional ballots were opened and counted in Ulster County Friday morning. [YNN] [Daily Freeman]
Said Tkaczyk in a statement: "It is an incredible privilege to have been selected by the people of the 46th District to serve as their State Senator. No one believed our campaign had a chance in a district hand-carved by Republicans, and yet the power of good ideas and a strong campaign proved itself."
Said Amedore to the Business Review after the count: "I just know one thing: This has got to stop. ... The election happened in November. It's mid-January. Let's get this behind us and just move on." [Biz Review]
The state Senate 46th covers a large chunk of western Albany County, and much of Schenectady County, Montgomery County, Greene County, and Ulster County (pdf map).
This result is notable for a few reasons: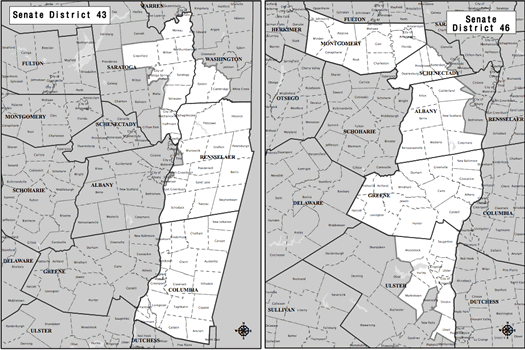 A couple of interesting things about two local state Senate races in the Siena poll out today:
Roy McDonald
Here's how respondents said they'd be voting in the state Senate 43rd election:
Kathy Marchione (R): 40%
Roy McDonald (I): 29%
Robin Andrews (D): 25%
(MOE +/- 4.4%)
Yep, Roy McDonald -- who stopped campaigning after narrowly losing the Republican primary -- polled ahead of the Democrat in the race, Robin Andrews. Two questions that occurred to us because of this result:
+ Could Roy McDonald have won the general election if he kept going?
+ And/or, is McDonald's relatively strong showing in the poll just an artifact of incumbency? Of all the candidates in the field, he's the one most likely to be known by voters. And 67% of respondents in the Siena poll said they didn't know about/didn't have an opinion of Robin Andrews.