Items tagged with 'religion'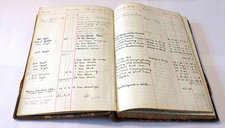 M. emails:
Do you have any suggestions for area law firms sensitive to the laws/financial regulations for religious organizations and who have experience working with small religious communities?
This might be a tough question because it's narrowly focused, but we're surprised how often when we get a question like this and then someone pops up with just the right suggestion. We're curious if maybe an attorney who often works with non-profits might also be of help.
So, got a suggestion for M.? Please share! And a sentence or two about why you're suggesting a certain attorney or law firm can be a big help.
photo: Flickr user Edinburgh City of Print (CC BY 2.0)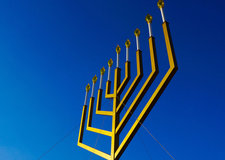 AH writes that her family is looking ahead to a move to Albany:
So I'd love to hear any suggestions of progressive, warm, and vibrant Jewish congregations/communities. Having a good religious school and/or activities for young families would be a bonus. We lean Conservative, but can be flexible on the denomination.
AH's question was prompted in part by the earlier question this week about progressive churches and the helpful responses it garnered.
So, got a suggestion for AH and her family? Please share! And a sentence or two about why you're recommending a specific congregration can be very helpful.
photo: Flickr user Ted Eytan (CC BY-SA 2.0) (cropped)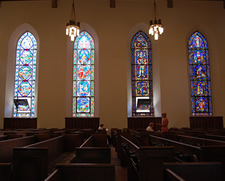 M. writes:
Hi I recently moved to Albany and I am looking for a good church hopefully one that is progressive, friendly and diverse.
We've had similar questions in the past, but it's been years since the last one and things change.
So, got a suggestion for M.? Please share! And sentence or two about why you're recommending a specific church can be very helpful.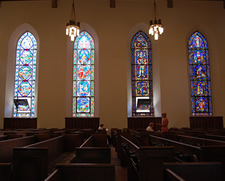 Liz emails:
I am looking to join a new church, and truthfully, one thing I'm really looking for is a congregation with a healthy number of members in their 20s and 30s who are active with the church and get together for fellowship activities (and fun). Can anyone recommend a church that skews a little younger or has an active group of younger congregants?
It's a bunch of years since we've had a church question, and it sounds like Liz has something specific in mind.
So, got a suggestion for Liz? Please share!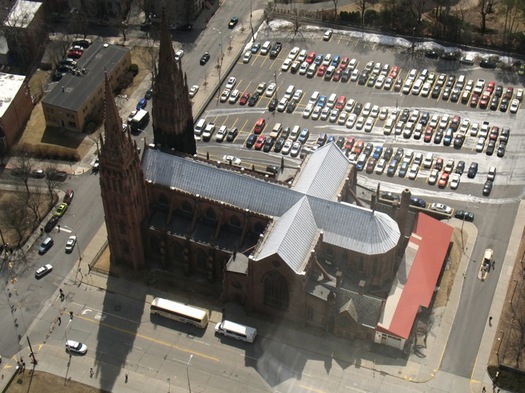 On Thursday the Albany Roman Catholic Diocese is got a new bishop -- Edward Scharfenberger -- and it's being treated as a Big Story by the local media. Example: The Times Union was running a special "Bishop Installation" box above all the other news items on the front page of its website.
Why so much attention? Well, probably because the Catholic church has been a prominent part of the fabric of this area over the last century, and a lot of people here are Catholic. The Albany area, like many parts of the Northeast, was the destination for many immigrants from traditionally Catholic countries in Europe such as Ireland and Italy. And you can still see the effects today: There are Catholic church buildings all around cities in the area, and the Cathedral of the Immaculate Conception is a part of the Albany skyline.
But the last decade has also seen significant change in the Catholic church's local presence. The 14-county diocese recently went through a multi-year process to consolidate and close 33 worship sites (about 20 percent of its total). In Troy alone, six churches were closed.
So we were curious about the local Catholic population now fits into the whole picture for this area. A few facts and bits...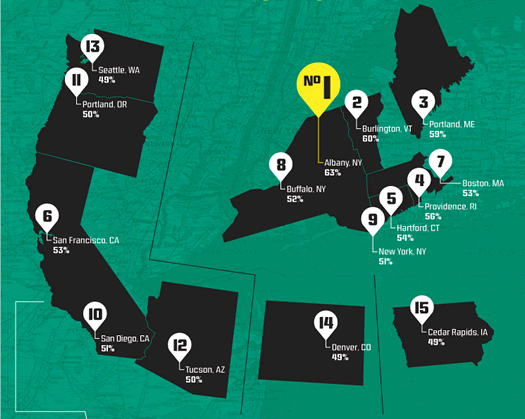 We don't necessarily put a lot of faith in these sorts of city rankings, but for what it's worth: Albany tops the chart as the most "post-Christian" city in a national ranking, according to survey analysis by the Barna Group. The research company bills itself as "a leading research organization focused on the intersection of faith and culture."
According to the survey, the Albany area headed the national chart with 63 percent of people tagged as "post-Christian." It appears the rankings were released this past April.
So what do they mean by "post-Christian." From a Barna explainer about its use of the term:
To shed light on this, the Barna team created an aggregate metric of post-Christian culture based upon 15 different measures of identity, belief and behavior. To qualify as post-Christian, individuals met 60% or more of the factors (nine or more out of 15 criteria). Highly post-Christian individuals met 80% or more of the factors (12 or more of these 15 criteria).
The 15 different measures range from "do not believe in God" to "have not donated money to a church (in the last year)" to "do not participate in a house church (in the last year)." You can see the full list at the first and third links above.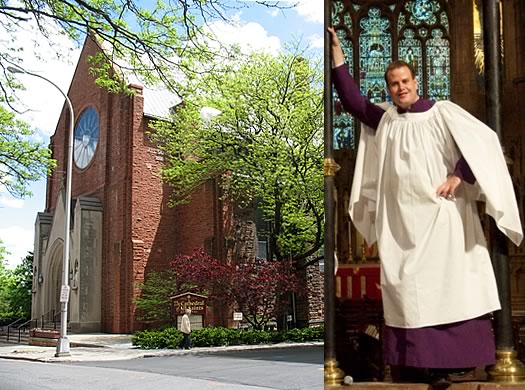 By Casey Normile
When Graham Schultz first learned he would be moving to Albany, the Cathedral of All Saints organ fellow says all he heard from people was, "Oh, Albany. It sort of sucks." Well, they were wrong. And Graham figured that out pretty quickly.
Originally from Arkansas, he didn't really know much about the northeast or upstate New York in general. But now, after three years here, he'd probably be one of the best people to ask about Albany.
"I consider myself from Albany now, but I wouldn't say I'm a New Yorker," he says.
Graham's final performance at the cathedral is during services this Sunday (May 19) and he leaves Albany shortly after that for a new post in Dallas. But talking with him about some of what he's learned about the city and its history reveals what happens when someone embraces their adopted town.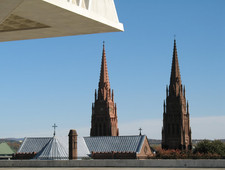 The Albany metro is among the "least religious" metros in the nation, according to a recent Gallup poll. Twenty-six percent of people were categorized as "very religious" based on their answers to a phone survey -- the national average was 40 percent.
Gallup tagged people as "very religious" if they said "religion is an important part of their daily life and that they attend religious services every week or almost every week."
The most religious metro in the nation in the poll was Provo-Orem, Utah -- at 77 percent. Burlington, Vermont was least religious, at 17 percent. From Gallup's write up of the poll:
Relatively few metro areas match the national religiousness average, instead reflecting substantial diversity, with a 60-percentage-point range between the most and least religious cities. This generally mirrors the variation in the average religiousness among the states of the union. Mississippi is the most religious state (58% very religious), while Utah is tied with Alabama in second place. Vermont (19% very religious) is the least religious state.
The Record's Danielle Sanzone talked with a few local religious officials about the results of poll -- it sounds like they weren't surprised.
Earlier on AOA: Report: New York the "least free" state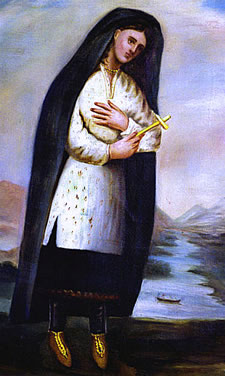 As you might have seen in all the local coverage, Kateri Tekakwitha -- a Native American woman born near Amsterdam, New York in 1656 (there's now a shrine at the site) -- was canonized by the Roman Catholic Church Sunday. She's the first Native American to be recognized as a saint by the church. Thousands of people were at the shrine in Auriesville to celebrate.
Sainthood is a big deal for Catholics. Saints are believed to have led lives of great faith, often in difficult circumstances. (In Kateri's case: converting to Catholicism, taking a vow of chastity, and becoming a paragon of faith after being left an orphan by smallpox and living through turbulent times.) And Catholics believe that God continues to act through these people after their deaths. (In Kateri's case: a boy in Washington State is said to have been cured of a flesh-eating infection after prayer to her.)
Local author Jack Casey was in Rome for the canonization of Kateri and he's written a series of posts about the experience on his blog. A book by Casey -- Kateri -- Lily of the Mohawks -- was recently published by Staff Picks Press, the imprint run by the Book House. It sounds like an overview of Kateri's story -- or, at least, a version of it.
Not surprisingly, the canonization of Kateri has reportedly prompted a range of reactions among Native Americans. From an interesting recent article by Renée K. Gadoua in the Syracuse Post-Standard:
"We've been waiting a long time for this," [Sister Kateri Mitchell, born on the St. Regis Mohawk Reservation] said of the canonization at the Vatican on Sunday. "It's a great validation."
Doug George-Kanentiio, also a Mohawk from St. Regis, was brought up Catholic, even serving as an altar boy. But he left the church at 14 when he began to practice longhouse traditions.
"I had a lot of anger at the church at the things they had done to the Native people and the world and the moral compromises they made," he said.
He, too, will travel to Rome for the canonization.
"It took me a while to begin to adopt a different approach to this, not one based on history, but compassion for a young woman who was determined she was going to emulate the suffering of Jesus Christ," George-Kanentiio said. "That passion is remarkable."
Alicia Cook grew up on the Onondaga Nation, married a Mohawk and now lives at St. Regis, also known as Akwesasne. She has always practiced longhouse religion and has no interest in Kateri's story.
"The church has been telling us for years we're heathens," Cook said. "The white man has hurt us enough. They intruded on our land here."
And here's another perspective, from a site called American Indians in Children's Literature, lamenting the stereotypes that have popped up in coverage of Kateri.
portrait by Father Claude Chauchetière, S.J., ca 1696 via Wikipedia