Items tagged with 'Albany Archives'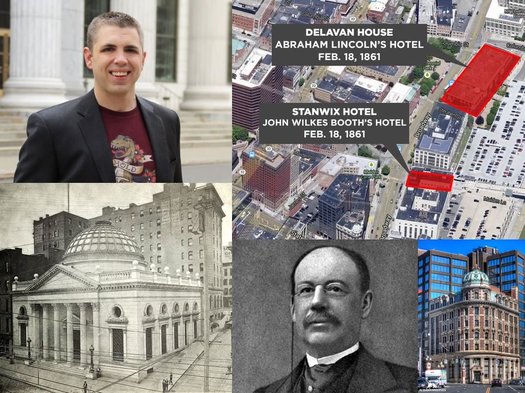 Our all-time favorite local Twitter account might be Albany Archives. For years Matt Malette -- no longer anonymous! -- has shared all sorts of interesting bits of local history, often with a cheeky wit.
This Sunday he'll be at the Albany Institute for a talk about local history and how he goes about digging up stuff for Albany Archives.
So we thought it'd be fun to play a game of Five Favorites with Matt about local history...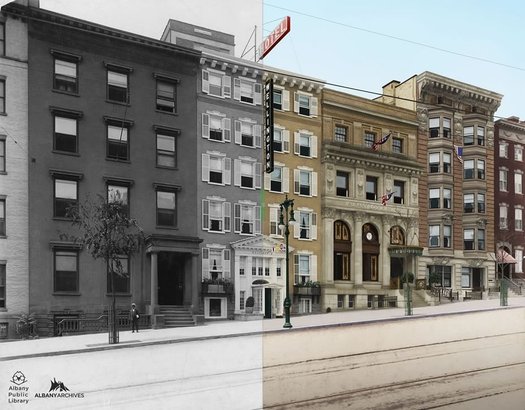 Check out this circa 1915 photo of Wellington Row on State Street in Albany that Albany Archives colorized. Here's a large-format "sliding" before and after photo.
We asked Matt Malette -- the man behind the curtain at Albany Archives -- how he figured out the colors from the black-and-white photo, which is from an archive at the Albany Public Library. "I went back through old postcards to see what colors the buildings were. If I couldn't find any extra guidance I winged it and made an educated guess on the shade of gray."
The (altered) facades of these buildings still stand today -- even if the rest of the original buildings don't. They were knocked down as part of the Wellington demolition, and they've since been replaced by new buildings fronted by old facades.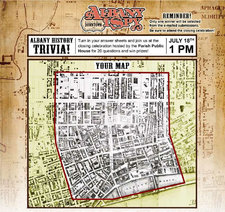 The clue sheet and map for this year's Albany I Spy, the popular photo scavenger hunt from Albany Archives and the Albany County Convention & Visitors Bureau, is now posted online.
Here's how it works (emphasis added):
Step 1: Download the form
This is your Master Albany I Spy Clue Sheet. Sounds important, right? It is! Be sure to write your name and contact information where indicated because this is how we will contact the winners.
Step 2: Set your course
You'll use the clues on this form to identify the mystery landmarks. Then, set your course each day - or wait for one spectacular day - to head to downtown Albany to spy and write the name of the landmark on your Master Clue Sheet.
Step 3: Get extra clues
Stumped? Don't worry, we're here to help! Each day, we'll be posting a special extra clue on our social media sites: Albany Archives, Discover Albany, Downtown Albany Business Improvement District, and All Over Albany, or search using the hashtag: #albanyispy.
The contest runs through July 18. And there are prizes from Cider Belly, Parish Public House, Wolff's, Bombers, the ValleyCats, The Olde English, and City Beer Hall.
This year's end-of-contest event -- where you can submit your answers -- is at the Parish Public House in downtown Albany on Saturday, July 18 from 1-3 pm with drink specials, and Albany history trivia.
(You can also email your answers -- details at the link above -- but only one entry submitted this way will win a prize in a drawing.)
AOA is a media sponsor of Albany I Spy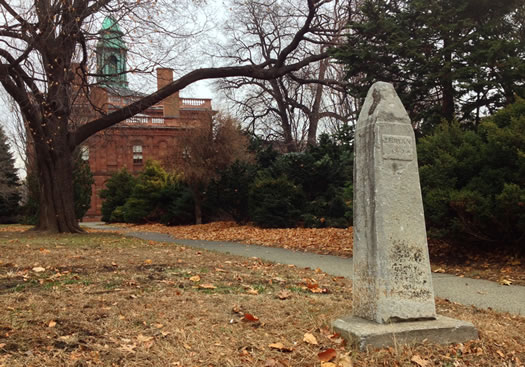 By Albany Archives
A city as old and rich in history as Albany is bound to have its mysteries. Many are easily explained -- others remain unsolved.
If you've been paying close attention, there is one such mystery that stands on the edge of LaFayette Park along Washington Avenue, across from the Capitol. It's the Bryan Stone.
If you aren't familiar with it you aren't alone. Hiding in plain sight, most Albanians don't have any idea it even exists. Tested and worn from surviving almost 200 winters, this marble mystery has held its secret for more than 100 years.