Items tagged with 'Hudson Valley'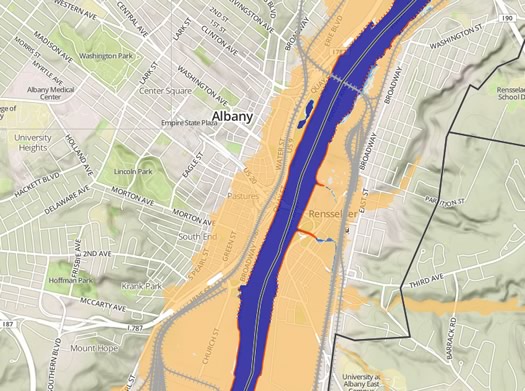 After seeing this National Geographic continent-level map based on projections of sea level rise from melting ice, we were curious how rises in sea level could affect the Hudson Valley.
Wait, the Hudson Valley? Yep, it's tidal all the way up to the Federal Dam at Troy. From a Scenic Hudson report (link added):
Over the past century, sea level on the Hudson has risen about a foot--more precisely about 3.2mm per year--a rate greater than the global average. The best data available indicates that we can expect the Hudson's water levels to continue rising up to six feet by the end of this century, and perhaps that much again during the next century.
To help people get a better understanding on the implications of the rising water levels, Scenic Hudson has posted an interactive "Sea Level Rise Mapper." It's good -- it allows you to zoom in on a specific area to see what areas will be threatened, along with projected numbers for affected acreage and households, for the Hudson Valley from just north of NYC all the way up to Troy.
The short story for this area, based on the Scenic Hudson map: Even with a six-foot rise in sea level, many parts of this area along the river would still be protected from permanent inundation (though those low-lying areas of East Greenbush and Schodack along the train tracks get swallowed up). But the area in potential danger during a large flooding event would increase, covering significant portions of Green Island, Troy, Watervliet, Rensselaer, and downtown Albany.
[via Buzzfeed]
Politics Recent argument from Bruce Gyory, a political consultant here in Albany and adjunct professor of political science at SUNY Albany: Climate change will become "the fundamental factor realigning American politics." [City & State]
Earlier on AOA: Photos of Irene flooding in Troy
map: Scenic Hudson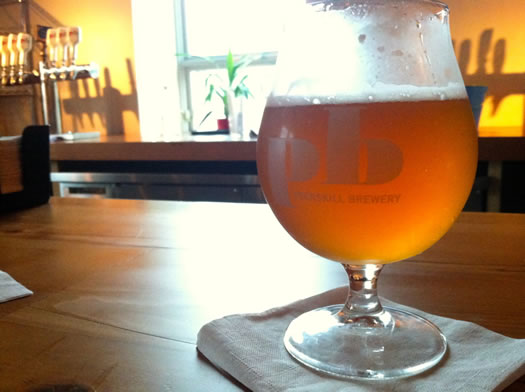 By Casey Normile
Have you ever tried a beer and thought to yourself: "This is the best beer around."
Well, this year at TAP NY, they made it official. For the first time, the New York beer festival awarded the Governors' Cup to a brewery for best craft beer in New York State.
The winner: the Peekskill Brewery in Peekskill, for its Higher Standard IPA.
So I obviously had to try the best beer in the state... you know, for journalism.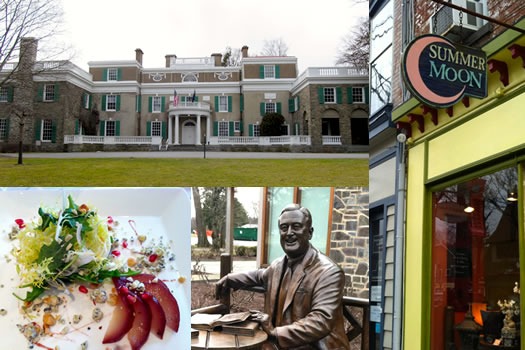 By Casey Normile
Upstate New York is clearly the most interesting part of the state. Clearly. But, begrudgingly, we have to admit that downstate has a lot to offer as well.
One example: our recent destination, Hyde Park -- pleasantly situated on the east side of the Hudson, just north of Poughkeepsie, about an hour-and-a-half drive from Albany on I-87.
The surrounding area is full of food, scenic views, historical sites, and shopping...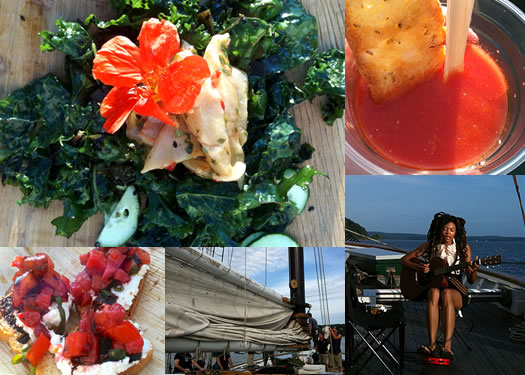 By Daniel B.
Most days I don't think about the Hudson River. I don't ponder its historical significance. I don't fret about the health of the fishery. Nor do I long to spend any time on its banks. And I'm not alone.
This is why more than forty years ago, folk singer Pete Seeger decided to build a boat. And not just any boat. His boat would be a 106-foot wooden replica of the ships that traversed the Hudson River 200 years ago. It would be called the sloop Clearwater, and its goal would be to bring people to the river.
The boat itself is stunning. It casts a striking figure on the water with its 108-foot mast and 3,000 square foot mainsail. This vessel would be a stunning museum piece, but it is in active use on the river, sailing as far south as New York City and as far north as Albany. The general public can even buy a ticket for a day sail. Money raised from such activities helps to fund the organization's core objectives of environmental education and advocacy.
Recently the Chefs Consortium, a regional group of local food advocates, organized a dinner for thirty people on board the Clearwater sailing out of Kingston.
So what's it like to eat the Hudson Valley's bounty while sailing on the Hudson?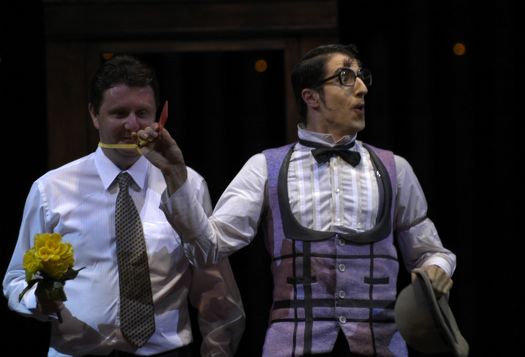 Voki Kalfayan spent four years in a private school in the Hudson Valley, and two years studying at Vassar, before he discovered his life's ambition during an audition for Ringling Bros. Clown College.
Kalfayan never looked back. He's spent 15 years traveling the world as a clown, actor and humorist, and he'll be back in the Capital Region on Wednesday night in Cirque de Soleil's "Quidam" at the TU Center.
He took a few minutes to talk with AOA last week about the myth of Krusty the Clown, the difference between East and West Coast clowns, and the serious business of being funny.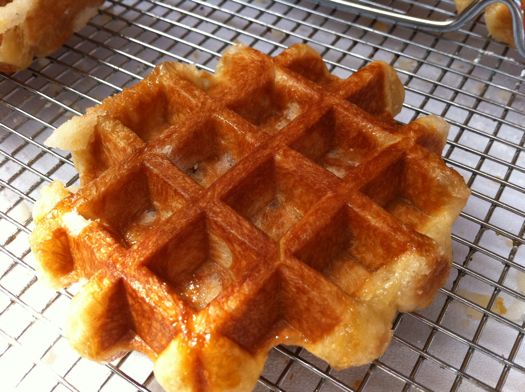 A couple of Saturdays ago, on a stroll through the Troy farmer's market, we tried our first Liège waffle. They're made fresh at the market by the people from Pika's Quiche.
This past Saturday, the Liège waffles were calling to us before we opened our eyes.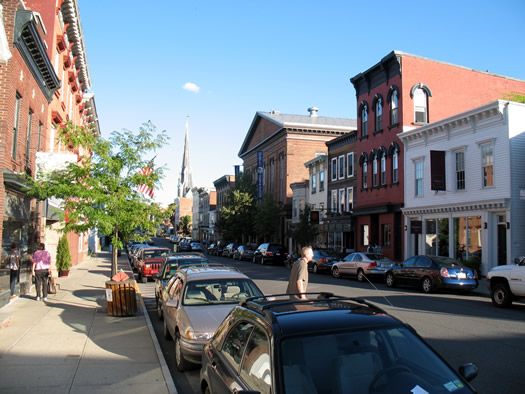 The NYT's Peter Applebome has a interesting story today about the "Brooklynization of the Hudson Valley, the steady hipness creep with its locavore cuisine, its Williamsburgian bars, its Gyrotonic exercise, feng shui consultants and deep clay art therapy and, most of all, its recent arrivals from New York City."
Prominently featured is the Basilica Hudson, which is co-owned by Melissa Auf der Mauer (yep, the same):
The Basilica is the kind of space and scene that the artist and musician Patti Smith (no stranger to Hudson) had in mind a few months ago when she advised young artists that "New York has closed itself off to the young and the struggling" and that they should find their futures someplace else, like Poughkeepsie.
"A bunch of my friends from Montreal came to visit and they said, 'You told us you moved to a small town, but you didn't tell us you moved to a magic David Lynch town. What is this place?' " Ms. Auf der Maur said. ...
Not long ago, Hudson was notorious for drugs, prostitution and post-industrial torpor. Now, Warren Street, with its antique stores, galleries and hip eateries, is a vision of the Hudson Valley reborn. And it was the scene of perhaps the last great battle between the old industrial Hudson Valley and the new one, when a coalition of interest groups came together to defeat a proposed coal-fired cement plant with a 40-story smokestack capable of producing two million tons of cement a year. Opponents said it would be an environmental disaster that would cut off access to the river and go against everything Hudson was becoming. They made an overwhelming case. But in the housing projects and poor neighborhoods just off Warren Street, strangers in the new landscape, it doesn't seem so clear.
It's easy to snark about this "trend" (we're surprised Gawker hasn't already taken a shot at it) -- but it's been going on for years, especially in places such as Beacon and Cold Spring (we worked on a story about just that during the middle of the last decade). And it seems like every time we're in Hudson now, we overhear someone talking about how they're up from NYC or moved from the City or how some place in Hudson is like some other place -- in the City.
The NYT article does a good job highlighting some of the problems related to the -ization -- specifically, "it takes more than art, farm stands and caffeine to make an economy work." Definitely worth reading -- some of it is applicable the core Capital Region, too.
[via @DanielleSanzone]
Earlier on AOA:
+ 12 hours in Columbia County
+ Etsy to Hudson
+ Albany-NYC: strong potential for high-speed rail? (note Tim's comment)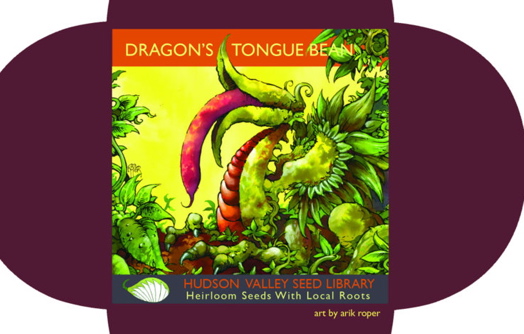 By Jessica Pasko
The AOA elves are back to help you with your holiday shopping. For the next couple of weeks we'll be bringing you fun, interesting, local gift ideas for the holiday season. Today Jess kicks things off with flowers and veggies from the Hudson Valley Seed Library.
These aren't your -- excuse the pun -- garden-variety Burpee packets. Think varieties like Kaleidoscope carrots, Green Zebra Tomatoes, and Dragon's Tongue Beans.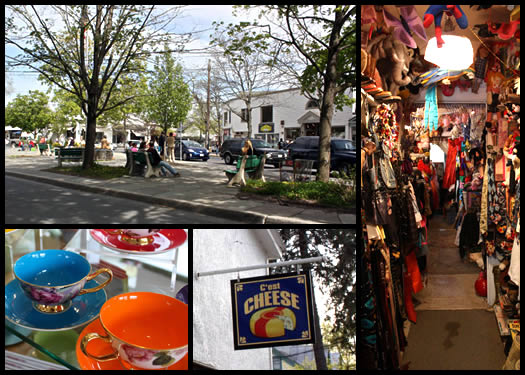 By Kaitlin Resler
Just in time for the weekend, with its promises of good weather, a shopaway guide for a morning in Woodstock.
It's one of the quickest day trips from the Capital Region -- even if it's just for dinner or that "get-out-of-town" feeling. And even if you don't leave with bags and bags of goodies, it's the perfect place to wander on a warm spring day.
We were quite happy to recently come across AirBnB, a site that's "an online marketplace allowing anyone from private residents to commercial properties to rent out their extra space." For two reasons:
We got to feed our desire to gawk at real estate
It allowed us to indulge in a little daydreaming about heading off to the country for a long weekend. For example, at this gorgeous place in Coxsackie (photo on the right).
There aren't a ton of regional properties listed. But there are a handful, many of them in Western MA and the Hudson Valley. And, of course, there's always Montreal...
[via Swiss Miss]