Items tagged with 'Lincoln Park'
That photo above is from Albany's Lincoln Park in 1930 and shows the large skating rink the city would create there in the park's "bowl" that was the scene of a big winter sports carnival. (A tip of the hat to the Albany Muskrat for highlighting the photo from the Albany Group Archive.)
Here's another pic that give a sense of the crowds the carnival attracted.
What'd they come to see? All sorts of events on ice. There were hockey games, speed skating races, "fancy" skating. And the event brought in stars. Olympic gold medal speed skater Charles Jewtraw and the world record holder for barrel jumping -- Edmond Lamy -- were there in 1927. And in 1928 figure skaters Gladys Lamb and Norval Baptie -- "famous for the airplane spin" -- performed for crowds.
If winter ever decides to be winter again, Albany should really think about bringing back barrel jumping.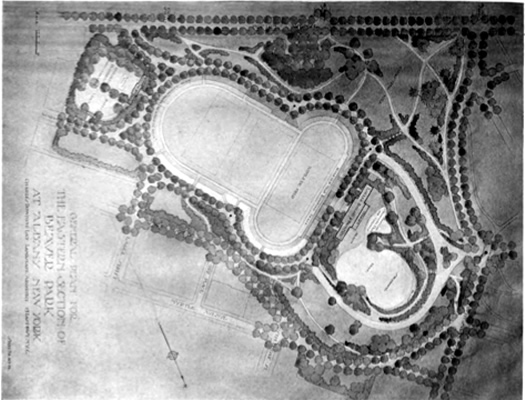 By Carl Johnson
Sure, the Washington Park has the Olmstead pedigree, the stately splendor, and a spooky rep as a former graveyard. But the land that became Albany's Lincoln Park has the more interesting history -- a history that includes beer, bricks, borrowing and... the beaver.