Items tagged with 'Menands'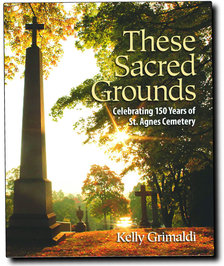 This is the 150th anniversary of that historical "rural" cemetery in Menands.
No, not that one. The other one: St. Agnes Cemetery. And oo mark the anniversary, there's a new book and tours this fall.
First, the book -- These Sacred Grounds: 150 Years of St. Agnes Cemetery -- by the cemetery's historian, Kelly Grimaldi. Blurbage:
In the Victorian era, lot owners of all socio-economic means took great pride in creating sacred grave spaces. Over the years, burial practices have changed and the landscape of St. Agnes Cemetery reflects those changes in its funerary art and architecture that fill its 114 acres. Large, ornate family grave lots with neo-classically designed mausoleums and memorials gave way to smaller lots with respectable monuments more uniform in size and bronze markers in shrine sections. Additionally two beautiful Community mausoleums bathe thousands of individual crypts and cremation niches in natural light while protecting the remains of those entombed or inurned within the polished marble walls.
The wealthiest citizens gave us much to admire with their stately burial lots but the ordinary citizens and the poor played an important part in the shaping of history and their modest graves tell their own story. Sometimes these stories are sad stories of high infant mortality; tragic workplace accidents; ravaging infectious diseases; and some are stories of triumph, inspiration, perseverance and success. Today each memorial provides us with a lesson in art and in history that we explore within the book.
Starting next week, Grimaldi will be offering tours of the cemetery through the fall. They're free, but there's also a catered lunch-on-the-hill option for $20. See that link for details about how to reserve a tour.
Albany Rural Cemetery
Of course, the Albany Rural Cemetery is right next to St. Agnes in Menands. You could definitely stop by both in an afternoon. They're beautiful spots to walk in the autumn.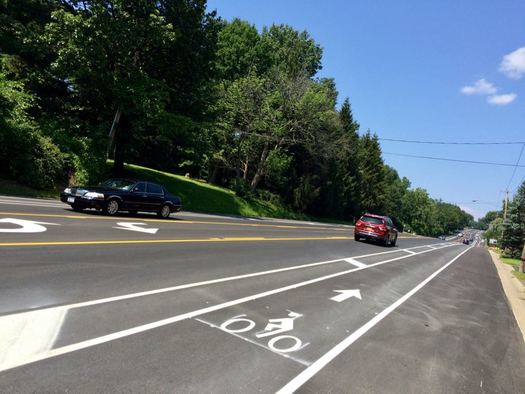 We got a chance the other day to to head over to Van Rensselaer Boulevard in Albany/Menands and check out the road diet reconfiguration there.
The state Department of Transportation paved and re-striped about one mile of the road this summer, from Northern Boulevard to Menand Road. The new configuration reduced the number of travel lanes from four to two with a center turn lane, buffered bike lanes along each side, and wide shoulders. The speed limit is now 45 mph, down from 55 mph.
A spokesman for NYSDOT says there are still a few minor details to finish up, including some signage.
The goal is to make the street -- which borders a residential neighborhood -- friendlier to pedestrians and cyclists. It was the scene of two fatal crashes in recent years, one involving a pedestrian. Neighborhood residents had been pushing for changes to make the stretch safer. [TU x2]
The planning project for the future of I-787 -- and the waterfront -- has a pair of public workshops lined up for later this month. As the flyer for the events says: "Help Us Visualize the Future of the Corridor."
Expanded blurbage:
Join us at one of two public workshops on June 24th in Albany or June 30th in Watervliet to discuss the future of the I-787/waterfront corridor. The purpose of the workshops is to introduce the study and its objectives, to share information on existing land uses and the transportation system and to provide opportunities for input on short and long term transportation and land use strategies.
Along with a brief presentation, workshop attendees will be able to view study area maps and data, can offer initial input on strategy and evaluation criteria and can participate in a hands on "map your ideas" station.
The first workshop is June 24 at the Albany Public Library main branch on Washington Ave from 4-7:30 pm (with presentations at 4:30 pm and 6:30 pm).
The second workshop is June 30 at the Watervliet Senior Citizen Center (1541 Broadway) from 5-7:30 pm (presentation at 5:30 pm).
The I-787/Hudson Waterfront Corridor Study is sponsored by Capital District Transportation Committee, the state Department of Transportation, and the city of Albany. Its focus extends from the Port of Albany along the riverfront north to Watervliet. And its aims include helping develop strategies for improving waterfront access and guiding future transportation planning.
Whenever we ask people here at AOA about things they'd like to see changed about area, 787 gets mentioned. A lot. So this could be a good opportunity to get your concerns and ideas on the record with planners.
Furthermore: A lot of cities have been facing the issue of what to do with their urban (often elevated or waterfront) highways. Just down the Thruway, Syracuse has been trying to sort out what to do with I-81, an elevated highway that runs right through the middle of downtown, a process that's included conflict between the city and its suburbs. (Here's the latest on the I-81 storyline.)
As part of the planning process for the next I-81, the Syracuse Metropolitan Transportation Council put together a bunch of case studies about how other cities have handled remaking urban highways -- it's worth a look if you're interested in the topic.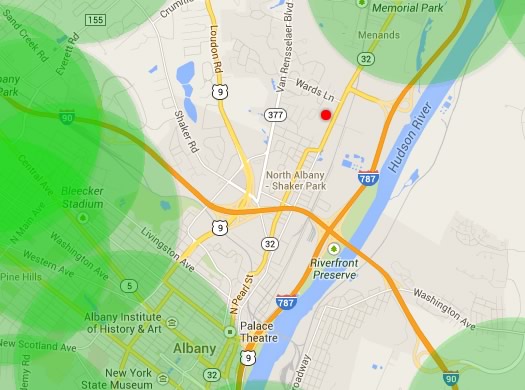 Word started circulating this week that an Ideal Food Basket supermarket is set to open on Broadway in Menands sometime in the next month. It'll be the first location for the Long Island-based chain, which already has stores downstate, as well as in Connecticut and Massachusetts. [Biz Review]
We'd never heard of Ideal Food Basket, and after some poking around -- and admittedly without stepping into one -- we get the impression it's a pretty average "neighborhood" style supermarket, maybe with slant toward being a discount market. The thing that did stand out, though: Where it's decided to set up here.
The Ideal Food Basket is going in to the former Save-A-Lot space at 100 Broadway in Menands. That spot is notable because it's located near areas in North Albany and Arbor Hill that are designated as "food deserts" by the federal government. What's that mean? Well, in the simplest sense, it means there isn't a supermarket within a 1-mile (or half-mile) radius of those neighborhoods (the whole definition is a bit more involved). A map we created last year about Capital Region supermarket geographic distribution might make it clearer.
The chain's parent organization has apparently decided to focus in part on opening stores in such areas. Said the company's CEO to the Times Union: "We get into areas where most organizations don't go into ... We go into underserved areas. We hire only from the neighborhood." Just this past month it opened a store in Nassau County on Long Island that was hailed as bringing a supermarket to an area with a "critical food-access issue." [TU] [Newsday]
For all the booming that's happened on the local supermarket scene in the last few years, the development has almost entirely focused on high-end products (Fresh Market, Whole Foods) and/or areas that already had other supermarket choices (ShopRite). It's interesting to see a company looking at areas not currently served as a business opportunity.
Earlier on AOA:
+ Where the supermarkets are -- and aren't
+ The big box gets smaller
+ Soapbox: Oh, Whole Foods, why Colonie Center?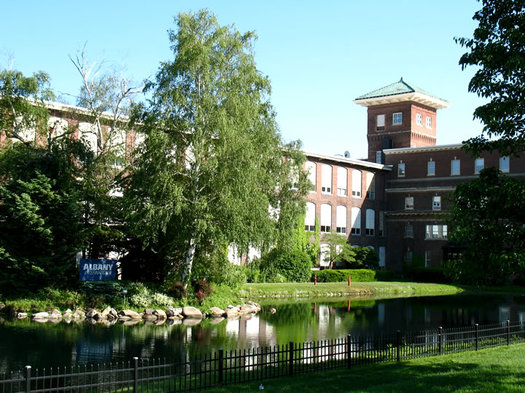 The Albany International Corp is under contract to sell its century-old facility in Menands. The company says it agreed to the contract in March and expects to close the deal this summer.
An Albany International spokesperson, Susan Siegel, said the sale is for the entire Menands property, which spans the Menands/Albany line. She could not confirm or deny the other party in the deal.
AOA talked with developer Uri Kaufman today and he confirmed that he is the buyer. Kaufman said his plan is to transform the Albany International complex into a residential development with "a couple hundred apartments." He said his company is currently doing due diligence on the deal. He said the purchase price was not yet public.
Kaufman has pursued a handful of mill/factory conversions in this region over the last few years -- most notably the Harmony Mills apartment conversion in Cohoes, which completed a second phase last year. He's also currently involved with the Victory Mill in Saratoga and the Marshall Ray Building in Troy. [Biz Review]
All of these projects rely on a series of tax credits and grants. Kaufman says he expects they'll be able to line up the necessary credits for the Menands property after closing. "Absolutely," he said today, "tax credits are everything." [Daily Gazette 2009]