Items tagged with 'Steve Noisseau'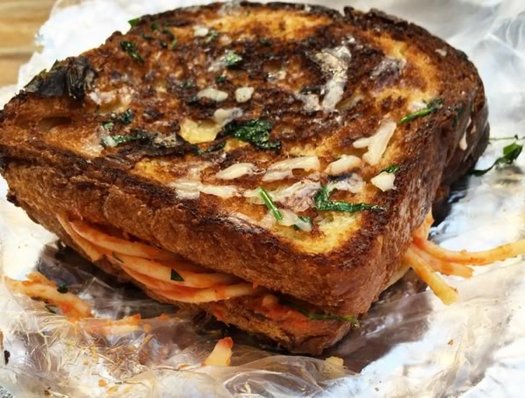 By Steve Noisseau
I woke up this past Wednesday, and as I usually do (and I'm sure many of you do as well), I grabbed my phone and checked for any notifications. I'm very active on Facebook, and my wife who was up before me, shared Steve Barnes' post to my timeline about Peck's Arcade launching a food cart they're calling the Alleycarte.
I'm a huge fan of Peck's, and particularly head chef Nick Ruscitto. I enjoyed his food when he was the chef at The Wine Bar and Bistro on Lark, and I followed him over to Peck's when he became the chef early last year. I've dined at Peck's three times since they've opened, and I've become convinced it's one of the best restaurants in the area. Needless to say, I was excited about the food cart and decided I'd head over for lunch.
There were two items on the opening day menu, one of which was a spaghetti sandwich.
A spaghetti sandwich?