Items tagged with 'cooking'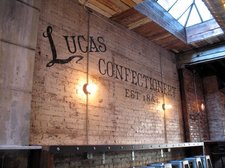 This could be fun: The Confectionery is offering a holiday cookie decorating party hosted by its pastry chef, Starla Bradshaw. The event is Sunday, December 15 from 4-6 pm. Tickets are $20 ahead (available at The Grocery) / $25 at the door.
Blurbage: "Cookies and decorating supplies will be provided, as well as your choice of a glass of mulled wine or sipping chocolate."
Getting together with some friends to decorate cookies and have some wine could be fun wherever you do it. But we suspect there could be some interesting twists for these cookies. Bradshaw has been using some unusual flavors in her creations for the Confectionery. Example: macarons in flavors such as pine (ground pine needles and sugar), bee pollen, charcoal and smoked vanilla bean, and spirulina.
Oh, and the Confectionery's patio now has a retractable glass roof.
Earlier on AOA: Checking out The Grocery in Troy
The Confectionery was a stop on the AOA Historic Bad Boys, Broads, and Bootlegger tour.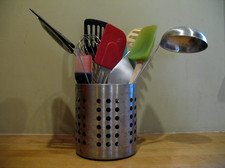 We've pulled together a list of upcoming cooking classes that look interesting or fun a few times before and people seem to like it.
So, here's a new batch of classes for the next few months -- from hard cider, to cooking basics, to gourmet cheese, to food allergies, to desserts on fire, to finding your soulmate in the kitchen...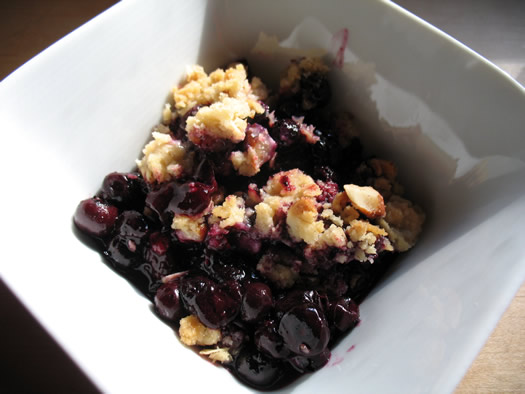 By AOA Greg
We interrupt our regularly scheduled programming (whatever that is) for this moment of cooking bloggery.
One of the great things about this time of year is the almost overflowing bounty of good local produce. There are all the vegetables, sure. But the thing I really associate with summer is the fruit. Strawberries early in the season, cherries, peaches, blueberries and raspberries -- and then just as summer's ending, apples.
And when we have an abundance of summer fruit, it's time for crumble. It's easy to make. Here's how.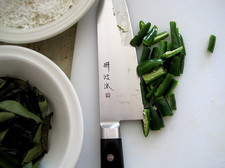 Anonymous emails:
I'd love to do a couples cooking class but don't know who might offer classes, and especially for couples? Let me know if you or your readers have any tips!
There are a lot of cooking classes around the Capital Region -- more than you can shake a whisk at. We haven't noticed any recently that were couples classes, per se -- but maybe some could work that way.
Also: places that offer cooking classes -- hey, maybe this is an idea for you.
So... got a suggestion for Anonymous? Please share!
Earlier on AOA: A sampling of cooking classes, fall 2012
photo: Flickr user bhamsandwich (cc)