Items tagged with 'festivals'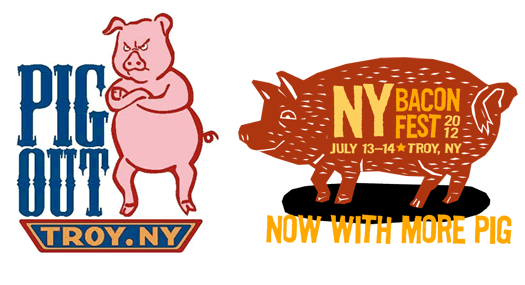 Oink: The Troy Pig Out is combining with Bacon Fest NY for a two-day porktacular in Troy's Riverfront Park July 13-14.
The Pig Out is an annual barbecue competition and tasting. The first Bacon Fest was last year in Hudson -- it was very popular, which turned out to be a problem as there weren't enough samples to go around. It sounds like that experience played a role in the decision to team up with the Pig Out this year.
And, as Troy Downtown BID exec director Elizabeth Young notes in the press release: "Adding bacon just made sense - because really, what isn't better with bacon?"
The bacon portion of "what may be most ambitious pork festival in the state of NY" will be "Bacon Alley," according to the press release -- "a dedicated portion of festival grounds to hail the accomplishments of chefs, artisans and craftsman from around the region as they pay homage to the glory of bacon."
Admission is free. Samples are $1 for the People's Choice rib taste off, and other BBQ samples will be $1-$5.
Earlier on AOA: Strategy for crowded food festivals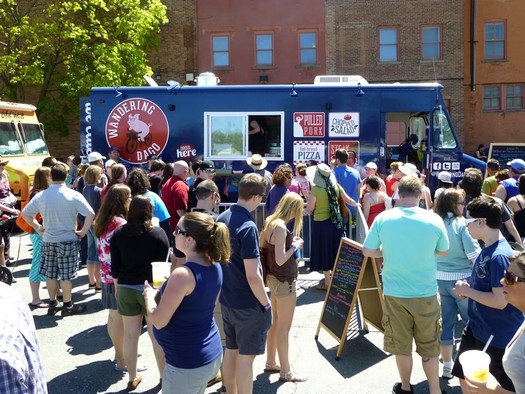 By Daniel B.
Saturday was the first Food Truck Festival of NY in Troy, but it was not the first food truck festival ever.
These things happen all over the place all the time, and they come in many shapes and forms. Occasionally, like Tulip Fest, they aren't exclusively food events, but simply have a food component. Other times the festivals may not be focused on trucks but rather a specific ingredient... like bacon.
Events like these can be amazing or they can be agonizing. Sometimes the difference between the two is as simple as having a strategy.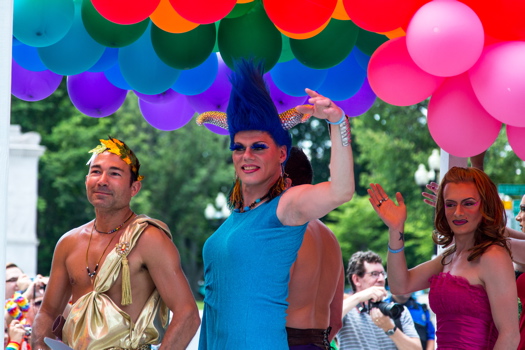 By AOA Mary
Everyone should get a chance to sit on a parade reviewing stand and have passing drag queens toss candy at them.
Seriously, it's a little bit awesome.
That's how I spent my Sunday afternoon -- alongside blogger Alan Ilagan and Tom Thomas from Coors/Decrescente,as a judge for the Capital Region Pride Parade.
The Pride Parade and Festival wrap up the Capital Region's week long Pride celebration, and the parade is one of my favorite Lark Street events. It ranks up there with the Santa Speedo Sprint. I love it for the fun and the colorful costumes and the creativity.
But mostly, I love it for the joy and community spirit.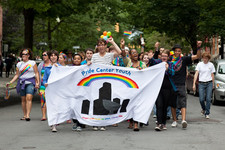 The annual Capital Pride celebration is this week (it actually started this past weekend). As usual, there's a full slate of events and activities all this week.
For a lot of people the highlight of Capital Pride is the Pride Parade and Festival. It's this Sunday in Albany's Washington Park. The parade starts at noon at State Street and Sprague Street, heads down State, turns right on Lark, and then right on Madison back up to the entrance of Washington Park (map). And check it out: AOA Mary will be one of the parade float judges this year.
The festival starts right after the parade in the park. The headliner entertainment this year is American Idol finalist Kimberly Locke.
Earlier on AOA:
+ Last year, Leigh wrote about why Capital Pride is one of her favorite local events
+ Capital Pride parade photos 2011
photo: Sebastien Barre