Items tagged with 'horse racing'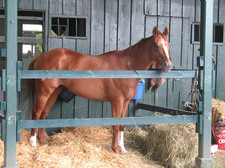 Two important recent developments about horse racing in New York:
State takeover of NYRA
The Cuomo admin announced today (Monday) that Andrew Cuomo has signed the legislation that creates the "NYRA Reorganization Board" -- basically the committee that will carry out the three-year state takeover of NYRA, a plan that was announced this past spring. This is important because NYRA is the org that runs the Saratoga Race Course, Belmont, and Aqueduct. From the press release:
"New York State's racing industry is a major economic driver in the state, supporting thousands of jobs and attracting tourists from around the world," Governor Cuomo said. "New York taxpayers and the betting public deserve a racing industry that is managed competently and does not neglect the health and safety of the horses. The NYRA Reorganization Board will restore public trust, accountability, and transparency to the racing industry in our state, so New York can continue to offer one of the most exciting, enjoyable, safe horse racing experiences in the nation."
The reorganization board will have 17 members -- Cuomo gets to pick seven of them, the Senate and Assembly two each, and the current NYRA board five, with a chairperson nominated by Cuomo.
NYRA has been a scandal-plagued trainwreck for years, so it will be interesting to see if the state takeover smooths things out.
Horse safety
On Friday the Cuomo admin announced a series of reforms aimed at promoting the safety of horses racing on tracks in New York.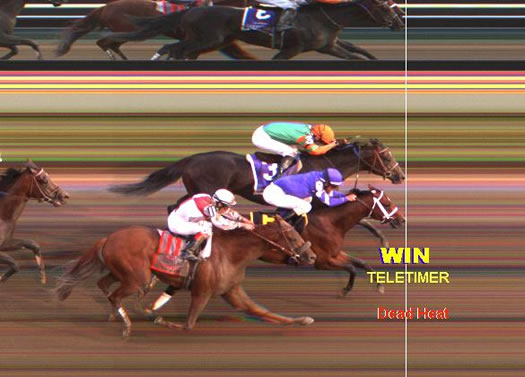 If you didn't catch it this past weekend: this year's Travers Stakes ended... in a tie. The horses Alpha and Golden Ticket both crossed the line at the same time. That's the photo finish camera image up top.
Video of the race is embedded post jump, as is another photo showing how close it was.
It's the first "dead heat" in the race since 1874.
As a 2-1 favorite, Alpha's spot sharing the winner's circle wasn't unexpected (except the sharing part). But Golden Ticket was a 33-1 longshot. A $2 bet on Golden Ticket returned $26.80 -- the seventh-highest payoff in Travers History, according to NYRA.
We wonder what they're going to do with the canoe now. Update: NYRA's Twitter feed said Saturday they'd have a second canoe. (Thanks, BMC!)
NYRA says attendance for the Travers was 46,528, up a little more than 8 percent from last year. The amount bet at the Track that day -- the "handle" -- was $8.74 million, up 7 percent from last year.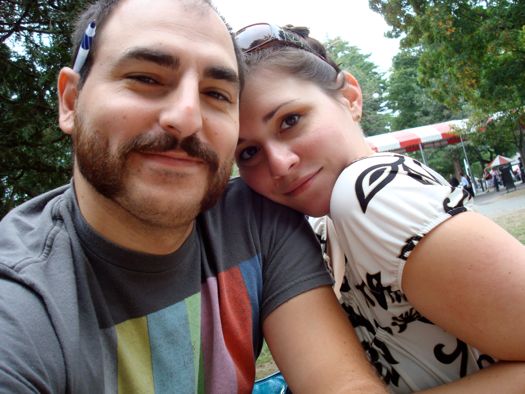 By Crystal Capritta
AOA is taking a little R & R this week. While we're enjoying a little summer, we've rounded up a few experts to share their tips for making summer fun simpler. Enjoy!
Mention Saratoga Race Track and many people think fancy clothes and spending a lot of money. But you can have a lot of fun at the track without spending a ton of cash.
My husband has gone to the track every summer of his life, and I've been right along with him since the first summer we met. Over the years I've won a few of the bets I've placed, and my husband has been known to hit a rare trifecta.
Here are some of our insider tips to having a good time at the track on the cheap.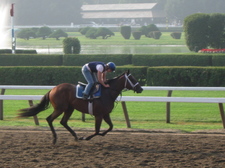 Andrew Cuomo and the legislative leaders announced today that they've agreed to create a "NYRA Reorganization Board" that will place horse racing org under direct state control. From the press release:
The NYRA Reorganization Board will be comprised of a majority of publicly appointed directors, with a Chair nominated by the Governor. The Board will be in effect for 3 years to restructure and reorganize NYRA, following which NYRA will revert back to majority private control. The current NYRA Board will be dissolved. The NYRA Reorganization Board will go into effect when a majority of the new public directors are appointed. Once appointed, the new board will conduct a national search for a new CEO and General Counsel for NYRA.
The short story behind all this: NYRA has been a train wreck.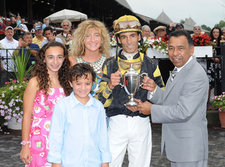 The 2011 racing season at the Saratoga Race Course ended Monday. Here are the final numbers from NYRA:
Total attendance: 871,772
That's down less than one percent from last year, but this year's meet included only 39 days (instead of 40) because of the Irene-canceled day. (This number includes people who entered multiple times in order to score giveaways.)
Average daily attendance: 22,353
Up almost 2 percent from last year.
Amount bet at The Track: $121,101,664
The on track "handle" was up 5.6 percent from last year.
Daily average bet at Track: $3,105,171
Up more than 8 percent from last year.
Amount bet, all sources: $526,251,818
This is amount that was bet on Saratoga races both at the Track and from simulcast locations all over the nation. It was down 4.6 percent from last year. (But, you know, still half a billion dollars.)
NYRA introduced a Facebook game called Play Saratoga today. It's being touted as a "social racing league," but as far as we can tell, it's kind of like fantasy horse betting.
Fantasy sports are so big right now that we figured there had to be fantasy horse racing/betting. There seem to be a few games -- but it doesn't look there's the wide field of options like there is for sports such as football, baseball, and... golf (really -- there's fantasy everything now).
The Saratoga game looks fairly straightforward: you're just picking races. The better your results, the more points you get, the more points the better your chances of winning prizes. Picks for a day's races have to be in before the first post time.
It starts Wednesday. It's free. And: it's not Farmville.