Items tagged with 'Albany Pine Bush'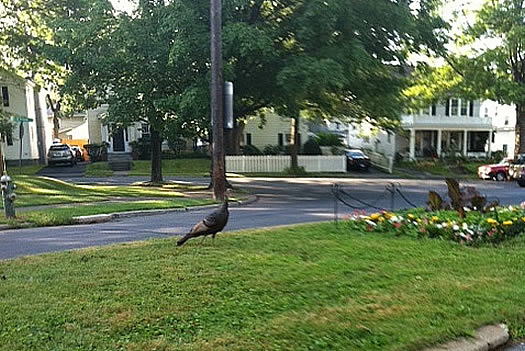 The turkey is, of course, a centerpiece of many Thanksgiving meals. But the birds have a long and varied history in this country. Among their admirers was Ben Franklin, who once wrote that he preferred the turkey over the bald eagle as a symbol:
For in Truth the Turkey is in Comparison a much more respectable Bird, and withal a true original Native of America... He is besides, though a little vain & silly, a Bird of Courage, and would not hesitate to attack a Grenadier of the British Guards who should presume to invade his Farm Yard with a red Coat on.
So turkeys go with this country like cranberries go with, uh... turkey.
Even so, we're always a bit surprised -- and it makes us smile -- to see wild turkeys hanging out in residential areas of the Capital Region. As they peck their way through a neighbor's yard, the turkeys are just like, "What are you looking at?"
The Albany Pine Bush Discovery Center has a program coming up about wild turkeys. So we bounced a few questions about the birds to Jacqueline Citriniti, an environmental educator at the center.
It turns out wild turkeys a more interesting than a Butterball.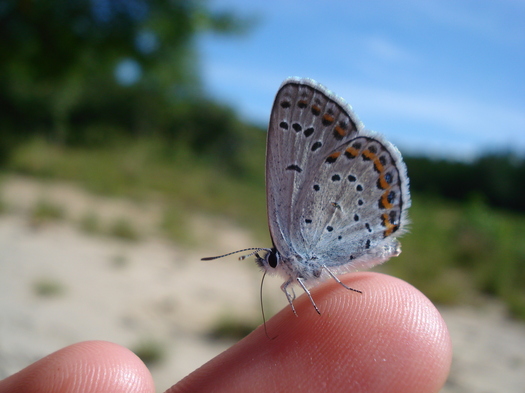 Another effect of the non-winter/early spring: Karner Blue butterflies have managed to squeeze out an extra generation this summer. From an Albany Pine Bush Preserve press release:
Karner blue butterflies typically have two broods per year, one in May/early June and the second in July. The discovery of a third brood is both remarkable and a bit alarming to Preserve scientists because the eggs produced by the July brood of adult Karners typically overwinter to produce adult Karners the following May. An early and very warm spring is the suspected cause of earlier broods this year and the additional late-season butterflies currently flying in the Preserve. The impacts of a third flight of adults to the long-term recovery of the species are unknown. ...
Only time and continued monitoring will determine if the late 2012 hatch will have an impact on the 2013 butterfly population and the longer-term recovery of the species. "We had no idea a third flight in a single season was possible before 2010" said [Albany Pine Bush Preserve Conservation director Neil] Gifford. According to Gifford, it was in 2010 that Karner blue butterfly managers from Wisconsin to New Hampshire suspected that the late season adults they were seeing may be a previously unknown third flight. "We don't yet have a good understanding of what the implications of a third brood will mean for the recovery of the species" said Gifford, adding "it will likely depend on whether the changing climate brings such conditions more frequently."
The preserve says this spring's emergence of Karner Blues was the earliest on record -- 10 days earlier than the previous record, and 21 days earlier than the 20-year average.
To say that the weather over the past year is odd would be an understatement. A handful of the signs and side effects: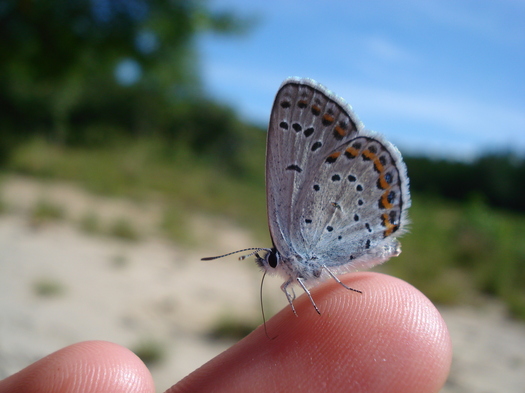 The Albany Pine Bush Preserve Commission announced today that it has 600 Karner Blue butterflies emerging from their cocoons right now. From the press release:
Adult female Karners are captured from New York sites and immediately transported to the rearing facility in Concord, NH. Eggs produced by these butterflies are raised to chrysalises and returned to the Albany Pine Bush Preserve. The adults that emerge are released into restored habitat to begin new colonies. ...
"This is a very exciting, and very limited chance to see this Federally endangered butterfly," says Discovery Center Director Jeffrey Folmer. "One question visitors often ask is 'Where can I see the Karner blues?' These beautiful, but tiny butterflies are rare, hard to spot, live only three to five days and are difficult to distinguish from other similar non-endangered butterflies. We now have 600 of them emerging from their chrysalises one by one and they're on view until they all emerge."
The commission says butterflies will available for viewing at the Albany Pine Bush Discovery Center until mid-July. Admission is free.
The Albany Pine Bush -- a sandy inland pine barren -- is one of the Karner Blue's native habitats (there aren't many remaining). In fact, the butterflies are called "Karner Blues" because of the no-longer hamlet of Karner, New York. Vladimir Nabokov -- yep, the author -- stopped to study the butterflies there in 1950 and ended up naming them. Nabokov once described the insects as being "like blue snowflakes."
Earlier on AOA:
+ The Karner Blue
+ Why the Albany Pine Bush is sandy
+ On state animals, vegetables and whatnot
photo: courtesy of the Albany Pine Bush Preserve Commission