Items tagged with 'Historic Albany Foundation'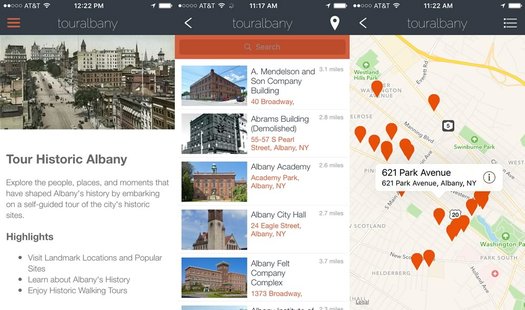 Driving through downtown Albany on weekends, Susan Holland has noticed groups of people looking up at the buildings. And as the executive director of the Historic Albany Foundation, she has plenty she could share with them about the history of what they're looking at.
But: "I would look like a freak if I stopped my car and was like, 'Do you want to know about this?'"
Now there's a different option: A new mobile app called Tour Albany that pulls together a bunch of historical info about Albany including maps, building histories, walking tours, and podcasts.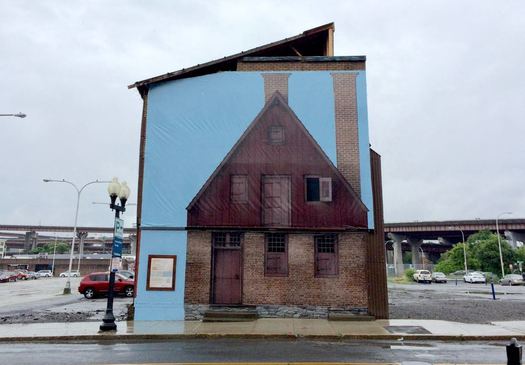 The Van Ostrande-Radliff House at 48 Hudson Avenue in downtown Albany -- which dates back to 1728 -- now has a scrim that depicts how it might have looked back in the long ago day. The new look is part of an effort by the Historic Albany Foundation, which owns the building, to raise money for its preservation and renovation. Blurbage:
Installed on the north side of the building is a large, durable fabric scrim depicting in real size what 48 Hudson Avenue might have looked like at the time of its construction ca. 1728, showing features typical of an urban Dutch dwelling. The rendering is based on research from the historical record conducted by Dr. Charles Gehring and Dr. Janny Venema of the New Netherland Research Center about contemporary houses in Dutch Albany, the Netherlands, and New Netherland, of which Albany was a part from 1614 to 1664, when control of the region was transferred to the English. The building is an example of the persistence of Dutch culture in the Hudson Valley long after the close of the Dutch period, and is a rare link to this foundational period in American history.
Money for the scrim came via the Dutch consulate, as part of an effort to promote Dutch arts and culture in the United States.
Historic Albany figures the whole project preserve and restore 48 Hudson will cost $2 million. It got a grant last year from the state Office of Parks, Recreation and Historic Preservation for $268k for the first phase. It needs to raise about $89k as part of its match for the money -- and it's collecting donations online.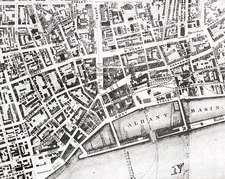 A couple of upcoming Historic Albany Foundation events that could be interesting:
March 7: Cool Maps of Albany
"Delve into three centuries of Albany history through beautifully executed cartography. Join Deputy County Clerk Craig Carlson & City Historian Tony Opalka for a show-and-tell of the maps housed at the Hall of Records, including one measuring 23 feet!" 5:30 pm -- $10
April 20: Lincoln's Visit to Albany
"On February 18, 1861, President-elect Abraham Lincoln made a historic visit to Albany, NY on his way to Washington, DC for his inauguration. Retrace his steps in a walking tour that will take you from Broadway to East Capitol Park. Learn about the buildings and the people he came in contact with, and how this one day in Albany ultimately tied to events that led to his assassination." And it's being led by none other than Albany Archives. 5:30 pm -- $10
Space is limited for both events and reservations are required (theses sorts of events seem to fill up often): Lisa at 518-465-0876 ext. 14 or info@historic-albany.org.