Items tagged with 'Jimmy Fallon'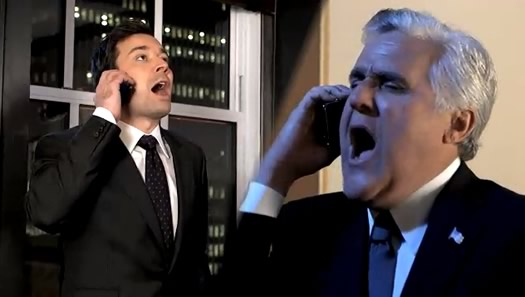 In what has been rumored for weeks -- and the subject of New York State budget legislation -- Jay Leno announced today that he's leaving the Tonight Show to be replaced by Jimmy Fallon. The NBC is expected to announce the switch will happen in February, and the show will move to New York City. [CNN] [NYT]
As you know, Jimmy Fallon is a St. Rose alumnus and appeared on a few episodes of a local TV show back in the day. He left school one semester short of graduating in 1995 to go to LA, but returned in 2009 to graduate -- and give the commencement speech -- after the school awarded him credit for work experience.
The Fallon-for-Leno switch wasn't really a secret -- at least, not functionally. When the New York State legislature is debating a tax credit for your show to move from LA to New York -- the "Jimmy Fallon tax credit" -- the cat has gotten out of the bag and driven off, leaving the bag in way back in the rear view. Fallon and Leno even did a skit together recently making fun of the situation. [NYDN]
In other news, Conan O'Brien is recovering from repeatedly smacking his head on a desk.
Earlier on AOA:
+ Jimmy Fallon's first TV appearance
+ Jimmy Fallon is going to graduate
+ Jimmy Fallon's commencement speech (video)
+ Playing the President. With Jimmy Fallon.
screengrab: NBC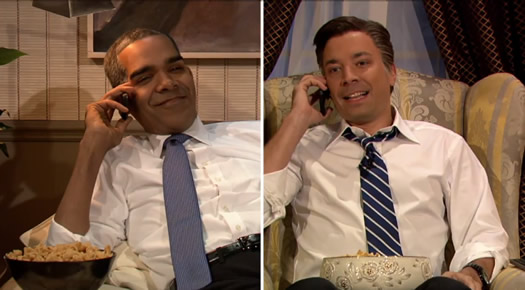 You might have caught the Romney/Obama sketches that Jimmy Fallon's been doing recently on Late Night.
Fallon plays Mitt Romney. And the guy who plays Barack Obama?
He's Dion Flynn -- a UAlbany alum and a friend of Fallon's from back in his Saint Rose days.
WCDB's Ethan Ullman recently interviewed Jimmy Fallon -- about knocking over soda machines on the downtown UAlbany campus, getting booed off the stage at Bogie's and working for Metroland: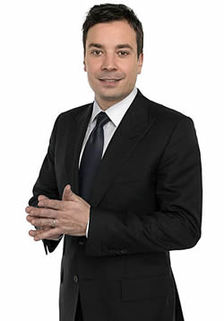 From a transcript on the Albany Student Press:
JF: If you spit salt water into the dollar thing that you put the dollars into, it's just ridiculous. I mean, me and my friends getting a mouthful of salt water and going: (spitting noise). Spitting in the dollar thing, trying to short out the machine.
So we broke into the downtown campus at SUNY and we went into some place that was -- I want to say there were like ten soda machines.
ASP: How many did you steal?
JF: Well, what happened was, it didn't work for some reason. So we were just spitting salt water and nothing worked, and so my friend tried to pull and shake the machine, and it fell on his leg.
So we were like, "Oh my god! What do we do?" And he was like, "Dude, it's broken, I know it's broken!" We're like, "Oh my gosh!" So we limped him out of there and we're running. It was so "Animal House," it was ridiculous. And then he laid in the street. I'll never forget this. It was snowing out, and he laid in the street in Western Avenue, and he called the cops and said that he got hit by a car.
That was so his parents wouldn't find out that he broke into SUNY and tried to spit. It's just the dumbest thing ever. But, that guy's a teacher now, I'm not kidding.
Here's part two.
Earlier on AOA: A whole bunch of items about Jimmy Fallon and his time in Albany
Jimmy Fallon has pledged his support for Siena's basketball team in this year's NCAA tournament. As part of his effort to support the Saints, his show last night featured facts about the college, an ode to coach Fran McCaffery ("he even scores with a woman's name") and the audience intoning "Siena" as if they were blowing one of those horns from the Ricola commericals:
As you would expect, Siena is trying to make the most of Fallon's support. Michelle Kim reports the school sent down a whole truckload of Saints swag to the show yesterday.
A lot of small schools see college basketball -- and the NCAA tournament especially -- as a way to market themselves to wider audiences. Xavier University in Cincinnati -- a school similar to Siena (smaller, Catholic) -- has apparently had success with this approach. As Paul Daugherty wrote for SI.com last fall, Xavier has used its basketball program as "a coast-to-coast billboard to attract students and money" (while seemingly not sacrificing academics).
Of course, you don't get the attention if you don't win.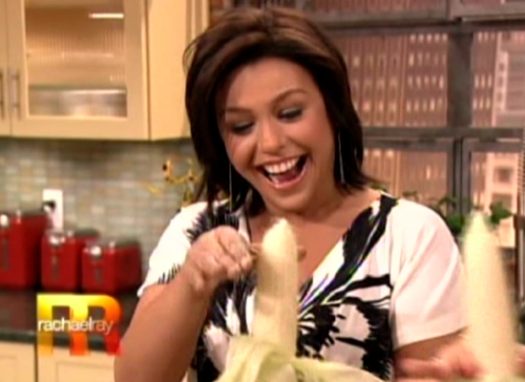 By Arielle Trimm
Sure, everyone knows that Jimmy Fallon went to St. Rose, and that Rachael Ray grew up near Lake George. But as it happens, this area makes quite a few more cameo appearances in the story of American pop culture.
Here are a few celebs to help you maintain your Capital Region cred the next time your friends from other parts of the country start name dropping.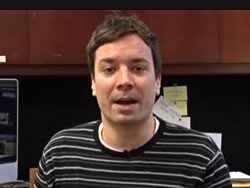 By now you're well aware that late night host and SNL star Jimmy Fallon is a St. Rose Graduate and former Metroland receptionist. You may also have heard the stories of his A-Town hijinx and local stand up appearances.
Here's what you may not know. Fallon made his television debut right here in the Capital Region, in a locally produced sketch comedy show called "Metroland's Loose Camera."
Armory Garage owner Don Metzner and Metroland founder Peter Iselin executive produced the show.
Fallon is the best known of the "Loose Camera" cast, but not the only one to go on to bigger things. Mike Goudreau, another St. Rose grad and one-time writer for Metroland contributed to the sketches. He went on to went on to produce a show called 40 Whacks which starred members of the Loose Cannon cast (including Fallon). These days he writes and develops programs for MTV Networks. Other cast members included writer/ comedian Dion Flynn of "The Big Gay Sketch Show."
So what was "Loose Camera" like? Thanks to You Tube, we know. After the jump, clips of Fallon in Loose Camera's signature "Donkey Boy" sketch, a radio morning show sketch, and a sketch about--Lenny and Sqiggy impersonators. High brow stuff, indeed.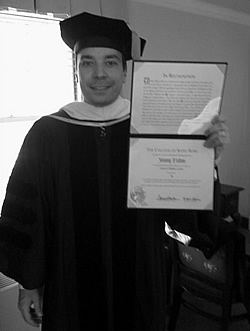 Jimmy Fallon did finally graduate from St. Rose this past weekend. During his commencement speech, he talked about how hard it was to get the college to give him his degree (he was 15 credits short after dropping out):

I'm on national TV, can I have a degree now?

'No, you keep laughing at all the jokes.'

And then I made a bunch of movies... they actually took credits away from me.

The video of Fallon's speech is embedded after the jump. It was pretty funny.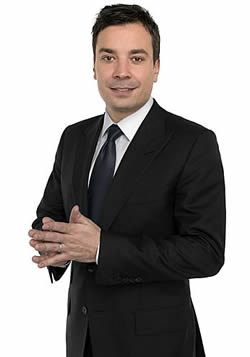 When we heard that Jimmy Fallon was going to be the commencement speaker at this year's St. Rose graduation, we thought it was a little funny (in both the ha ha and strange way) because... Fallon dropped out of St. Rose.
But CSR is on top of this -- it's awarding Fallon his degree on the same day. From the press release:

Fallon attended Saint Rose from 1992 through 1995, starting as a computer science major before switching to communications. He left just one semester shy of graduation to pursue a career in comedy in Los Angeles. Fallon earned his bachelor's degree after presenting College officials with a portfolio of his work in TV and film, satisfying the College's requirements for the outstanding credits.

Also speaking at this year's CSR graduation: pollster John Zogby. In a poll of graduating St. Rose seniors, 32 percent were happy about that, 18 percent thought Nate Silver was hotter and 50 percent said they were undecided.*
*Yes, we totally made up that up.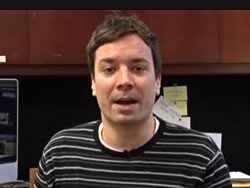 Check out this great anecdote from a St. Rose Chronicle story by Allison Maloney about Jimmy Fallon's time at the school back in the early 90s:

Fallon garnered attention off-stage, too. One time, at The Playdium, the closest bowling alley to campus, where Saint Rose students had gathered for community midnight bowling, he did something a lot of people may have the impulse to do, but never act on.

"All of the sudden, you see this person sprinting down the bowling lane. [Fallon] dove like a Pete Rose slide, head first, and knocked all the bowling pins over. He got up and he did a big X like he got a strike and the whole place went nuts and starts clapping," said Eaton.

As you can imagine, that didn't go over well with the alley's owners -- and they kicked him out. But Fallon managed to get the last laugh.
Previous AOA items about Jimmy Fallon.
image: NBC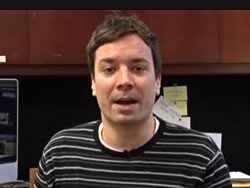 Jimmy Fallon takes over as host of Late Night tonight on NBC. (He's replacing Conan who's replacing Leno.)
The St. Rose dropout (15 credits short of a computer science degree) and former Metroland receptionist told Paul Caiano on WNYT recently that he misses Albany -- the Patridge Pub, in particular (it has a different name now).
By the way: Late Night with Jimmy Fallon is being touted as "a talk show for the Twitter era."
screengrab: NBC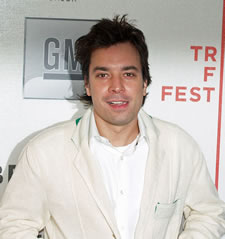 NBC will start running a series of five-minute videos featuring Jimmy Fallon tonight on the new website for his upcoming role as the host of Late Night.
The network hasn't officially announced when the one-time St. Roser and Metroland receptionist will take over for Conan O'Brien, but the rumored date is March 2, 2009. And apparently The Roots will be his house band.
photo: David Shankbone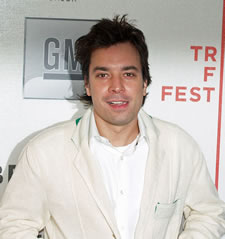 Jimmy Fallon's career has hit a few speed bumps over the last few years. First he was the next Adam Sandler, but of course that meant being the next Adam Sandler. Then he scored a spot doing SNL's Weekend Update, but he got overshadowed by Tina Fey. And then there was that Queen Latifah Taxi movie, which has probably taken thousands of dollars in therapy to forget.
Well it looks like things may be turning around now for Jimmy. The buzz is that the Saint Rose dropout (apparently he's 15 credits short of a computer science degree) and former Metroland receptionist is on the short list for the Late Night chair when Conan takes over for Leno. (Which prompts us to daydream about what we could have done with all those tuition dollars.) Fallon's been on the list for a while now, but with the late night shuffle just one year away he's still hanging in there. And apparently he's the top choice of SNL producer Lorne Michaels, the guy who put Conan in the seat in 1993.
photo: David Shankbone, used under a CC Attribution / Share Alike license