Items tagged with 'NYS Department of Environmental Conservation'
Because it's video of a bear cub being rescued. From the state Department of Environmental Conservation FB page:
[Tuesday] morning, Environmental Conservation Officer Anthony Glorioso was called to Windham Mountain Village (WMV) in the town of Windham where a bear cub was stuck in a tree high above ground. With the assistance of a local construction company's boom crane, Officer Glorioso went 65 feet up to get a better look at the situation. The officer attempted to free the cub but quickly saw his neck was stuck. Once the "v" was cut out of the tree using a chain saw, Officer Glorioso grabbed the cub and brought it into the bucket. As soon as the bucket came down, the cub ran back into the wooded area.
The Watershed Post talked with the townhouse development's property manager about the situation -- the bear had been stuck in the tree since Monday and had been calling for its mother.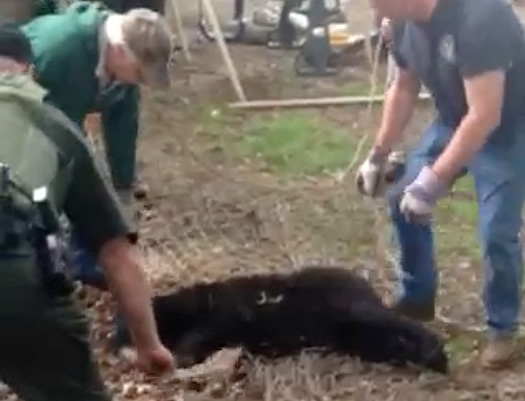 Updated 5:10 pm
The black bear that had been caught in a tree in Albany since Tuesday fell to the ground Wednesday just before 1 pm after being hit with tranquilizer darts. The state Department of Environmental Conservation reported later Wednesday afternoon that the bear had been euthanized.
A statement from DEC director of media relations Emily DeSantis:
The state Department of Environmental Conservation strives to relocate wildlife in situations where they enter urban and suburban settings. In this case, wildlife biologists determined this course of action is more humane and necessary to preserve public safety because of the bear's injuries and its history of returning to urban and suburban settings.
The video still above is from the scene just after the bear hit the ground. A witness sent the video to AOA -- the full clip is posted after the jump (thank you, Dawn). While not graphic, the video is a bit hard to watch knowing the context.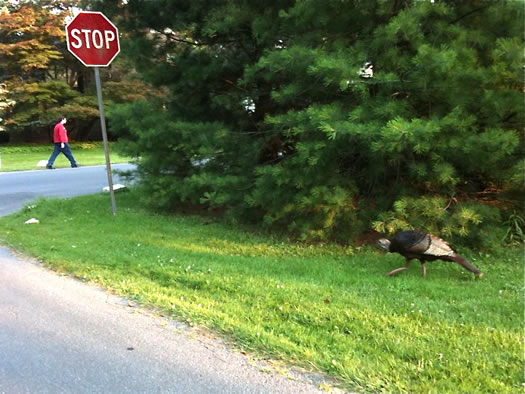 The state Department of Environmental Conservation says wild turkey populations have declined in many parts of the state over the last decade. In an effort to figure out why, DEC is planning to capture some hens to fit them with ID bands -- and in some cases, satellite radio-transmitters. DEC is also asking the public to report wild turkey sightings via a survey.
It's estimated that the wild turkey population in New York State could be as large as 300,000. And it's not uncommon to see them around the Capital Region -- we've seen them a bunch of times in residential neighborhoods in the city of Albany. But turkey's weren't always so common here -- at least, at one time. From a DEC backgrounder on wild turkeys:
The wild turkey is native to North America. Turkeys were widespread when the Europeans arrived and may have predated the earliest human inhabitants. At the time of European colonization, wild turkeys occupied all of what is currently New York State south of the Adirondacks.
Turkey habitat was lost when forests were cut for timber and turned into small farms. The early settlers and farmers also killed wild turkeys for food all year round, since there were no regulated hunting seasons at that time. The last of the original wild turkeys disappeared from New York in the mid-1840's. By 1850, about 63 percent of the land in New York was being farmed. This trend continued until the late 1800s when about 75 percent of New York State was cleared land.
In the early 1900s farming began to decline. Old farm fields, beginning with those on the infertile hilltops, gradually reverted to brush land and then grew into woodland. By the late 1940s, much of the southern tier of New York was again capable of supporting turkeys. Around 1948, wild turkeys from a small remnant population in northern Pennsylvania crossed the border into western New York. These were the first birds in the state after an absence of 100 years.
The state's wild turkeys are descendants of those migrants from Pennsylvania.
In studying what's up with wild turkeys, the DEC shouldn't rule out that the birds have just decided to go back to school (you know, because of the economy). Back in September a turkey expressed interest in attending Mater Christi in Albany.
Earlier on AOA: Wild about turkeys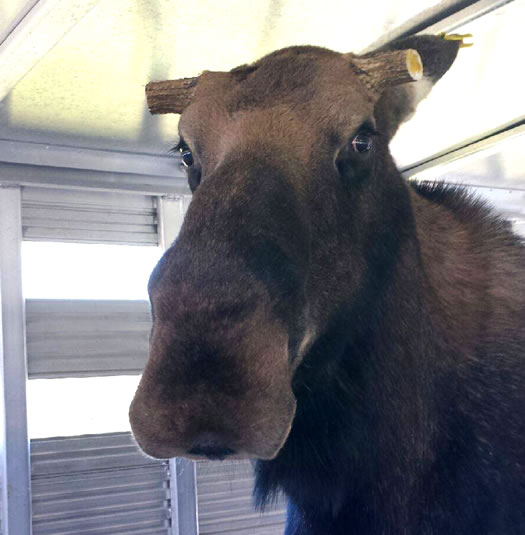 Today's moment of moose: The Department of Environmental Conservation posted a photoset from today's moose re-location in Halfmoon. After tranquilizing the moose and getting him loaded into the trailer for transport to the Adirondacks, the moose apparently decided to pose for a portrait. (And then he stared into our soul.)
What happened to the antlers? The DEC says it removed the moose's antlers to minimize injury during transport. (Meese* drop their antlers around the start of winter and regrow them in the winter spring, anyway.)
* Yes, we know that's not the plural. But it should be.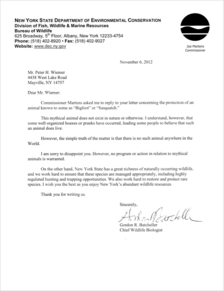 We were forwarded this letter Tuesday by Peter Wiemer, director of the Chautauqua Lake Bigfoot Expo. It's correspondence from the state Department of Environmental Conservation regarding Wiemer's concerns that bigfoots* currently don't have strong enough protections from hunting, especially considering a recent $10 million bounty on sasquatch:
Dear Mr. Wiemer,
Commissioner Martens asked me to reply to your letter concerning the protection of an animal known to some as "Bigfoot" or "Sasquatch."
This mythical animal does not exist in nature or otherwise. I understand, however, that some well organized hoaxes or pranks have occurred, leading some people to believe that such an animal does live.
However, the simple truth of the matter is that there is no such animal anywhere in the World.
I am sorry to disappoint you. However, no program or action in relation to mythical animals is warranted.
On the other hand, New York State has a great richness of naturally occurring wildlife, and we work hard to ensure that these species are managed appropriately, including highly regulated hunting and trapping opportunities. We also work hard to restore and protect rare species. I wish you the best as you enjoy New York's abundant wildlife resources.
Thank you for writing us.
Sincerely,
Gordon R. Batcheller
Chief Wildlife Biologist
We contacted DEC about the letter and agency spokesman Rick Georgeson confirmed it's real. Also: "We have no further comment on this issue."
Earlier correspondence between Mr. Wiemer and DEC indicated that if sasquatch were real, they would be protected by state law. Good to know.
From Mr. Weimer's press release this week: "We have had nine eyewitnesses to date, of Bigfoot sightings in Chautauqua County come forward resolving themselves of the burden of knowing what they saw and were afraid of or not willing to tell because of fear of ridicule. All but one wished to remain anonymous."
Update: The TU's Casey Seiler talked with Wiemer about his concerns.
By the way: The second Chautauqua Lake Bigfoot Weekend & Expo is scheduled for for April 26, 27, and 28. Well played, Mr. Wiemer.