Items tagged with 'RPI Field House'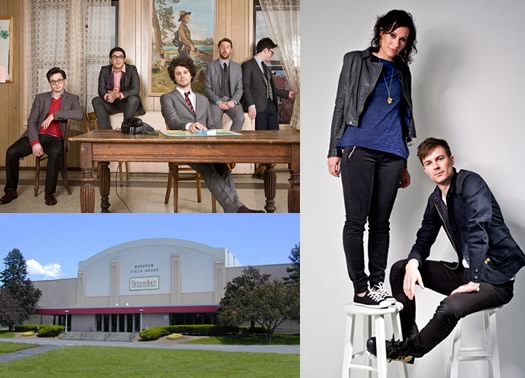 Two bits of concert news:
1. Passion Pit -- along with Matt & Kim -- will be back in town for a show February 11. Tickets are $35 ahead, $38 day. They go on sale this Friday. (Passion Pit played Upstate Concert Hall this past April, Matt & Kim played Pearl Palooza.)
2. The show will be at RPI's Houston Field House. The arena was renovated recently as part of RPI's upgrade of its athletic facilities. And it sounds like it's back in circulation for concerts. Step Up Presents, which is promoting the Passion Pit/Matt & Kim show, says in the press release that it hopes to use the facility for more events in the future.
The field house has a long a history of hosting all sorts of events. At one time it apparently even earned the nickname "the Madison Square Garden of Upstate New York". It was once a major concert venue area for the area. And it's hosted a few concerts in recent years -- including Girl Talk in 2010. (Was that the last show there? We're sure someone here knows...)
Bonus bit: Here's a clip on YouTube of what's described as a 1978 Emerson, Lake, and Palmer show at the field house. Man.
photos: Passion Pit - Justin Borucki; Matt & Kim - Jonathan Mannion; Houston Field House - RPI