Items tagged with 'Sean Rowe'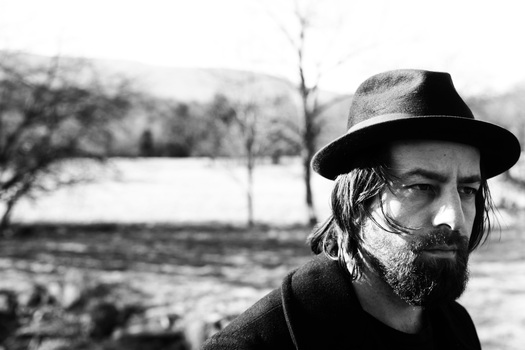 Drawing's closed! Winner's been emailed!
Sean Rowe is set to play a show at the Troy Music Hall April 12. The opener is MaryLeigh Roohan. It should be a very good show.
We have a pair of tickets for the show -- and we're giving them away. But, wait -- there's more. The winner will also get two tickets to the pre-show reception/meet and greet with Rowe at the Rensselaer County Historical Society. But, wait -- there's more more. The winner will also also get a $25 gift certificate for The Confectionery, which is just down the street from the music hall. So, this is pretty much a whole night out.
To enter the drawing, please answer this question in the comments:
Because Sean Rowe is from Troy, and is back playing a show there, what's your favorite thing about Troy?
It could be anything. We'll draw one winner at random.
The show at the Troy Music Hall is on Saturday, April 12 at 8 pm. Tickets are $20 and up. It's a benefit for the Rensselaer Land Trust. Tickets for the show + meet and greet are $100.
Important: All comments must be submitted by 10 am on Wednesday, April 2, 2014 to be entered in the drawing. You must answer the question to be part of the drawing. (Normal commenting guidelines apply.) One entry per person, please. You must enter a valid email address (that you check regularly) with your comment. The winner will be notified via email by 5 pm on Wednesday, April 2 and must respond by 5 pm on Thursday, April 3.
Earlier on AOA:
+ A bunch of items about Sean Rowe
+ Hey there, MaryLeigh Roohan
The Troy Savings Bank Music Hall advertises on AOA, and AOA is a media sponsor of this show.
photo: Marius Bugge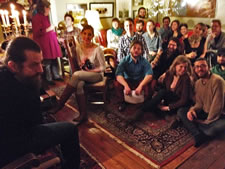 Sean Rowe has been playing a string of house shows over the last few months. And along the way the Troy-based musician been writing about them on a blog. A clip from one of the entries about two recent shows in Pennsylvania:
I think one of the big things that makes these house shows really stand out is just how oddly cool it is to show up at a near stranger's house and set up musical camp right there in the living room. It's like I'm some kind of a bearded salesman, going door to door but instead of vacuums I'm selling all these little feelings that come attached to songs. Friends...you're keeping me in business!
It's interesting to read about the people who've been booking these small shows, inviting him into their homes. (And sometimes they greet him with beer.)
In April Rowe is playing a venue just a bit bigger than a living room: The Troy Savings Bank Music Hall. The April 12 show's a benefit for the Rensselaer Land Trust>. Opener is MaryLeigh Roohan.
Yep, AOA is a media sponsor of the April 12 show.
Earlier on AOA:
+ A whole bunch of items about Sean Rowe
+ Hey there, MaryLeigh Roohan
photo from Sean Rowe House Concerts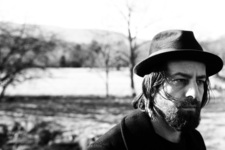 Announced today: Sean Rowe is playing Helsinki Hudson November 16. Tickets are on sale now -- they're $15 ahead / $18 at the door. It's a 21 and over show.
Rowe is also set to play a show at the Troy Musical Hall next April 12 (as mentioned). Tickets for that show are also currently on sale.
Because Rowe is 1) really good and 2) from the area, his recent shows in the Capital Region have had a big and/or full crowds. If you're thinking about going to either show, getting tickets sooner rather than later is a good idea.
Phantogram
With a new album coming out soon (?), it looks like Phantogram is scheduled to appear on Late Night with Jimmy Fallon October 3. The show has a "band bench" drawing for the appearance -- winners get "the exclusive chance to come down to the studio floor and surround the musical guest during their performance." The entry details are at that link. Phantogram also played on Jimmy Fallon back in 2011. [via @SaratogaIdiots]
Oh, and they played the Hollywood Bowl last night with M83.
photo: Marius Bugge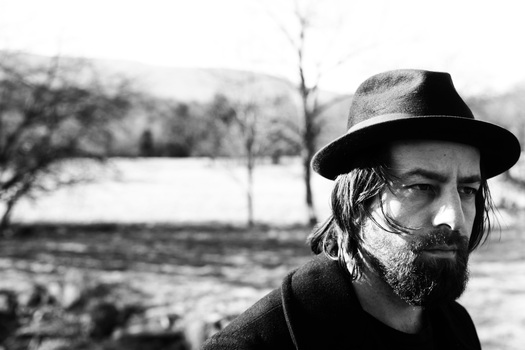 The Troy Savings Bank Music Hall announced today that Sean Rowe is set to play the hall April 12, 2014. Tickets are $20, $25, $30 -- they go on sale to the general public September 3 (and are currently on sale to music hall members).
It's fitting that Rowe is playing the Troy Music Hall. He's probably played almost every other venue and bar in the city. (We remember seeing him play to just a handful of people in Riverfront Park one time.) Now he's touring the world, appearing on TV, and getting promoted by NPR. It's all well earned.
The show is a benefit for the Rensselaer Land Trust. That also makes sense -- Rowe has a pretty clear appreciation for nature, and he's an expert on wild edibles. (See his recent excitement about finding black walnuts and mushrooms.)
We gotta think this show has a chance of selling out. So if you want to go, it's probably a good idea to get tickets sooner than later.
photo: Marius Bugge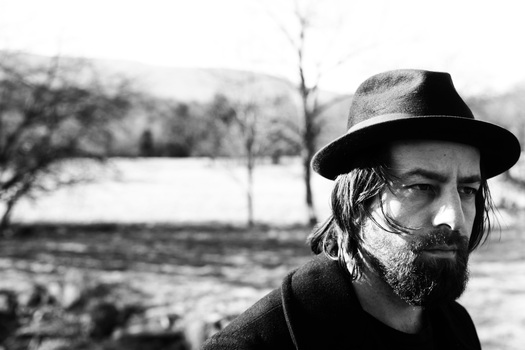 Anti- announced today that Sean Rowe will be on Jimmy Kimmel Live March 4 (next Monday -- Kimmel's on ABC at 11:35 pm.). It will be his first national TV appearance. He says on Facebook that Railbird will be backing him up.
It's kind of amazing how much Sean Rowe's profile has risen over the last few years. From a local fave to a record deal, touring Europe, being gushed over on All Songs Considered, a profile in the Wall Street Journal, a spot on Weekend Edition, having his music in TV shows, a well-received second album, sharing a recipe in a national magazine (?!). And now on a spot on national TV. Good for him.
Sean just played a sold out show at Caffe Lena this past weekend. He's headed out a national tour next week.
photo: Marius Bugge
Updated
Check it out: Sean Rowe's playing a show at Putnam Den November 23 (yep, the day after Thanksgiving). Tickets are $10 at the door. Show's at 9 pm.
Rowe's been on tour in the US recently -- to good reviews. From the Philadephia Inquirer this week:
Equally thrilling was the show-opening set of spectral Americana by hand-picked tourmate Sean Rowe. Bearded, burly, and wrapped in well-worn flannel, Rowe resembles a distant relative of Bigfoot. With a dulcet baritone perched between the subwoofer-shaking pipes of Mark Lanegan and Leonard Cohen, he commands the the kind of gravitas associated with fiery-eyed Old Testament prophets or mud-caked Delta bluesmen. When he opened his mouth to sing, the din of clinking glasses and idle chatter and, for that matter, time itself, stopped dead.
And, of course, his new album came out a few months back.
The Putnam Den show might the last chance to catch him locally for awhile -- it it sounds like he's headed back to Europe to tour after the new year.
[via the Idiots]
But, wait, there's more... The opener for the show at Putnam Den is Matthew Carefully.
And speaking of Mr. Carefully, he and Hunter Sagehorn -- as Rosary Beard -- are playing with Katie Haverly at the Foundry in Cohoes the next day (November 24). Show's at 7:30 pm. It's $5.
Oh, hey, look... It's a new Phantogram video.
photo via Sean Rowe Facebook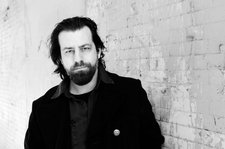 NPR is streaming a first listen this week of Sean Rowe's upcoming album The Salesman and the Shark. Gushes the mothership's Bob Boilen:
There are moments when I want someone to sit down nearby and sing only to me. And in those moments, I want a voice to pierce my heart. There are recordings in my collection I reach for when I need that intimacy. Nick Drake made some; Richard Thompson, Lisa Hannigan and M. Ward are all my hi-fi friends. Most recently it's been Sean Rowe, whose bass-baritone rattles the soul. This man can sing, and his new album The Salesman and the Shark is a masterwork of song, production and voice.
NPR's been a fan for a while. It invited Rowe to play a Tiny Desk Concert last fall.
The Salesman and the Shark is out August 28. And, yep, he's playing at Valentine's September 8. Railbird opens.
photo via Sean Rowe Facebook
How about this: Sean Rowe is featured on NPR's Tiny Desk Concert series today.
From the text accompanying the video:
On paper, Sean Rowe's music should be the stuff of ineffectual self-parody: He is, after all, a bearded guy who sings acoustic folk-rock songs, complete with themes revolving around humanity's relationship to nature. But this is big, bold, muscular stuff -- a closer relative of Man vs. Wild than the nearest coffeehouse. When Colin Meloy's beard is cornered in a dark alley, it summons the assistance of Sean Rowe's beard.
Heh.
Sean has a few tour dates in the US this September before heading to Europe in October and November.
(Thanks, Melissa!)
Earlier on AOA: Sean Rowe takes LA
Sean Rowe is a talented singer-songwriter with a profound baritone voice. I remember the first time I heard a song on our show, I was immediately riveted not just by the voice, but by his writing. His songs have a reflective depth to them. Intrigued, I wanted to see if his live show would match the debut I was falling in love with so headed over to McCabe's Guitar Shop where played an enchanting set, fully cementing my appreciation for his music.
Don't be fooled by the quiet nature of Sean Rowe's music. These are songs that are unexpectedly disarming. First, Rowe's baritone commands attention -- a deep, lived-in, worn-out and seen-it-all voice, one belonging to a barroom storyteller with a slyly understated grasp of melodic twists and turns. Then, his lyrics don't leave much room for a listener to turn away.