Items tagged with 'Stewarts'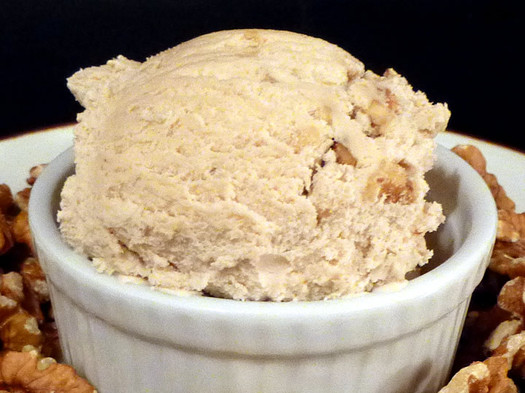 By Daniel B.
Slurpees are the defining product of 7-Elevens around the country. Every now and again I'll miss having easy access to this remarkable frosty beverage that so skillfully rides the line between two phases of matter.
When I first moved to the Capital Region I would have traded all of the Stewart's for even just one 7-Eleven if given the chance. But now, in no small part to Mr. Dave's romanticizing of the shop, I can finally see Stewart's as a cultural anchor of upstate New York. And despite my predilection for organic milk, eggs from free-roaming chickens, and ice cream made without additional gums, thickeners or emulsifying agents, I find myself regularly at my local Stewart's buying milk, eggs, and ice cream.
Amazingly, the reason isn't because Stewart's is convenient. It's because these staples are just really good.
Their maple walnut ice cream would have never even made it onto my radar had it not been for an event from last summer. Hands down, it's my favorite flavor in their case. And now is the perfect time to eat it.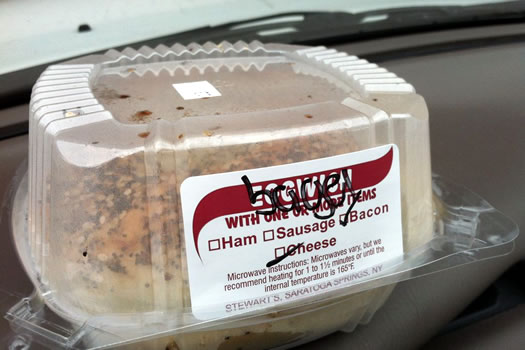 By Casey Normile
Stewart's is a local favorite, of course. Whenever you see their famous maroon and white signs, you know there's a place to get a cup of coffee, a buttered hard roll, snacks, or ice cream.
But a part of the Stewart's lineup I had never tried was their spinning shelves of hot food -- things like the eggwich, hamburger, and... pizza.
So I decided to try it.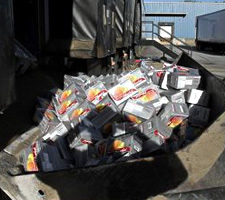 Stewart's posted on its Facebook page today about what's happened to all that ice cream it had to recall:
We are disposing of the recently recalled ice cream at an area landfill, as well as a burn plant. We can only send 40 tons of recalled ice cream, a day, to the burn plant -- more than that will put out the fire. We are destroying a total of 250 tons of ice cream!
In other Stewart's ice cream news, Jessica spotted Crumbs Along the Mohawk, back in circulation. (Crumbs has reportedly changed lives.)
Earlier on AOA: Stewart's ice cream recall info
photo: Stewart's Shops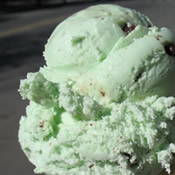 Stewart's announced Friday afternoon that it's recalled 19 ice cream products that were made in its Greenfield plant since May 19. From the company website:
This action is a result of an equipment failure at the plant resulting in the possibility of foreign material being present in the ice cream. This recall is a precaution taken by Stewart's Shops. To date there have been no reports of any objects being found in the ice cream flavors listed below or any injuries associated with this problem. The products being recalled are clearly coded.
Product info is after the jump.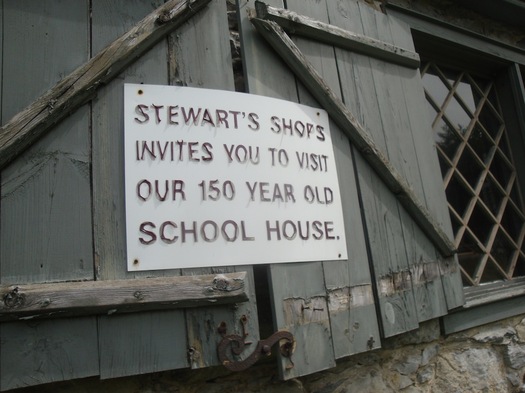 By Akum Norder
Incongruity pleases me. So when I saw an old stone building cheek-by-jowl with a Stewart's shop in Hoosick, where Route 7 meets Route 22, I had to pull in and have a look.
Even before you notice the date of 1842 carved above the doorway, it's clear the place is very old. It's built of weathered stone, with a heavy lintel and a sloping roof. Along the Route 22 side of the building is a peeling sign: "Stewarts Shops invites you to visit our 150 year old school house." Curiouser and curiouser.
So I walk into the Stewart's. "What's up with that schoolhouse? Do you own it?"
"It's on our property," says the cashier. "I don't know much about it, but I can let you in if you want."
She gets the key, goes out to unlock the place for me, and leaves again.
And from one side of the parking lot to the other, I've stepped out of Stewart's and into the past.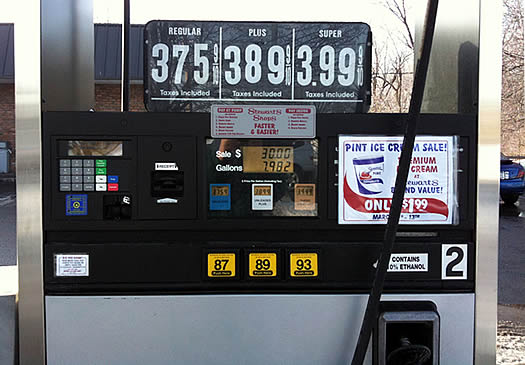 Gary Dake, the president of Stewart's Shops, dropped a tweet last week that made us stop for a second:
Yesterday we sold 550,000 gallons of gas at an average margin of a 2 cent loss per gallon.
Yep, a regional chain -- with 271 gas station locations -- was selling gasoline last week at times for less money than it cost to buy and deliver it.
Curious about how that could happen, we called up Stewart's spokesman Tom Mailey for some background.