Items tagged with 'TU Center'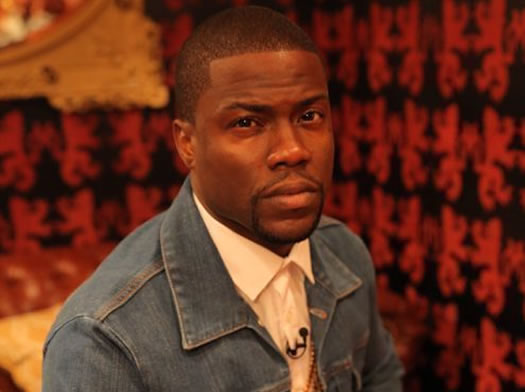 Comedian Kevin Hart is set a stand-up showat the TU Center August 27. Tickets are $49.50 and up -- they go on sale February 20.
Hart is easily among the most famous stand-up comedians working now, and he's appeared in a bunch of movies and TV shows. Along the way he's built an entertainment empire for himself.
This will be Hart's second appearance at the TU Center -- he was also there back in 2012.
Live Nation advertises on AOA.
photo via Kevin Hart Twitter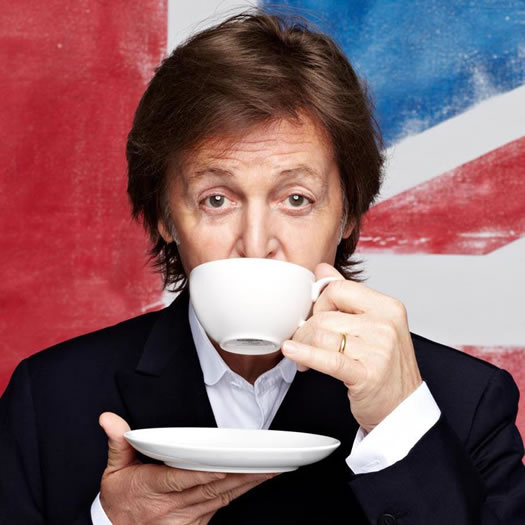 You might have heard: Paul McCartney is playing a show at the TU Center July 5. Tickets go on sale April 14 at 10 am (there's also a presale via registration at McCartney's site) -- the price range is $39.60 to $269.90.
McCartney is now 71 years old. It's been 50 years since he and the rest of the Beatles first came to the US -- their famous appearance on The Ed Sullivan Show that year is said to have been watched by 73 million people (about 40 percent of the US population at the time).
McCartney's tours continue to be very popular. His tour last year was the 16th highest grossing, according to Billboard -- $69.6 million on just 21 shows (with tickets sold at just a bit under 100 percent capacity).
The hype
The TU Center had been touting this show as "the biggest event to come to Albany in the past decade," setting up the announcement for a press conference with local officials. And local media outlets were all buzzing about it Tuesday morning. That was especially so after mention of the date popped up on an "unofficial fan site" Facebook page for the McCartney tour, winning the FB page links from a bunch of outlets citing it as the official tour site.
As it happens, it appears that "fan page" FB page is a front for a ticket brokerage and SEO company.
photo: Paul McCartney FB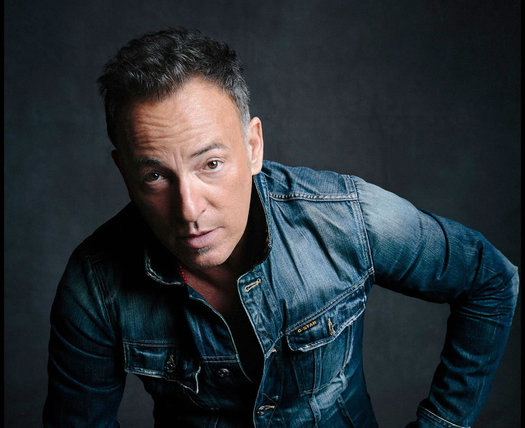 Announced this morning: Bruce Springsteen is set to play the TU Center May 13. Tickets go on sale this Friday (February 14) -- the price range is $38-$121.
The show in Albany will be with the E Street Band, as you'd probably expect. Springsteen has been touring in support of his new album, High Hopes.
The Boss last played Albany in 2012 at the TU Center.
By the way: This is shaping up to be a year of big-name concerts at the arena. Among the shows this year: Kanye West (February 19), Justine Justin Timberlake (July 16), and Bruno Mars (July 20).
Live Nation advertises on AOA.
photo via Bruce Springsteen FB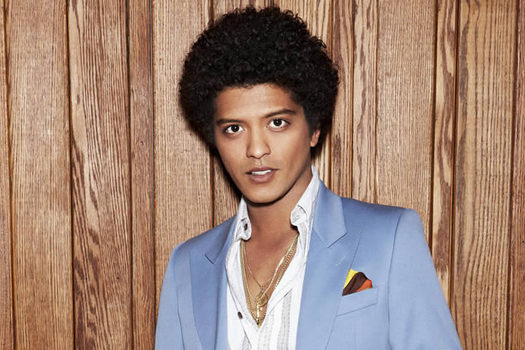 Pop star Bruno Mars is set to play a show at the TU Center July 20. Tickets go on sale February 3 -- they're $43 and up.
Mars is one of the biggest pop acts currently in circulation. His most recent album hit #1 on the Billboard 200 chart. He's had five #1 singles. He pulled off the rare host-and-perform on SNL. He's nominated for song of the year and record of the year at this year's Grammys. And he's playing the Super Bowl halftime show this year.
The opener for the July 20 show at the TU Center is Aloe Blacc.
Live Nation advertises on AOA.
photo: Kai Z Feng via Bruno Mars website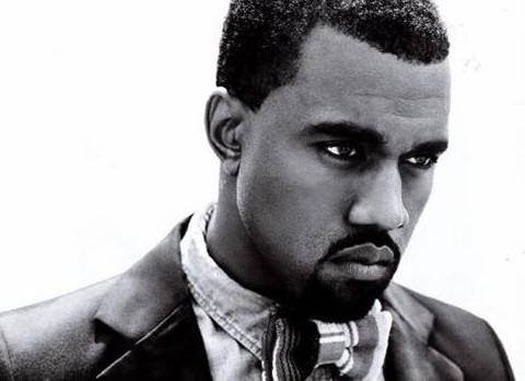 Just announced: Kanye West will play a show at the Times Union Center February 19. Tickets go on sale this Friday (January 10) at 10 am -- they're $49.50 and up.
The Albany stop is part of two-week tour through the Northeast, an extension of his tour for Yeezus. It's a solo tour.
There's a strong argument to be made that West is the biggest figure in pop culture now (it's gotta be him or Beyonce) -- because of his music, his public persona, his relationship. It's not every day/every year/every decade someone like that makes a stop in the Capital Region.
photo via Kanye West FB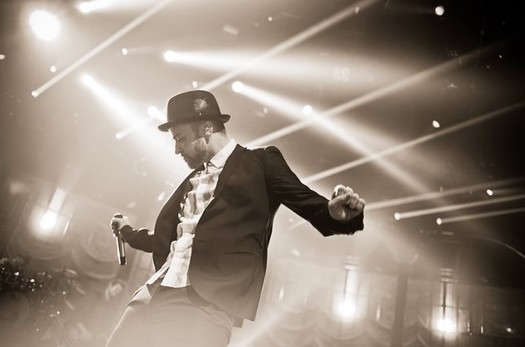 Announced today: Justin Timberlake will be playing a concert at the TU Center July 16, 2014. Tickets go on sale next Monday (November 18) at 10 am -- they're $48 and up.
Back in the late 1990s if you had predicted that Justin Timberlake -- the guy from 'N Sync with the frosted tips who broke up with Britney Spears -- would end up being a hugely successful solo musical act and actor in 2013, it would have seemed unlikely. The trajectory post-boy band rarely takes such a successful direction. Yet here he is. And Timberlake has even ended up with a public persona that's kinda funny and likable.
photo via Justin Timberlake FB page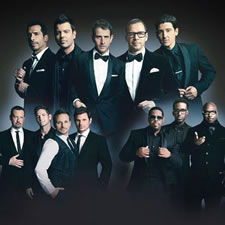 Through some sort of wrinkle in time, New Kids on the Block, Boyz II Men, and 98º have been transported from the 90s to the present day and will be at the Times Union Center August 1 for a show. Tickets for this time travel event go on sale to the general public February 23 -- they're $29.50 and up.
Unfortunately -- and somewhat mysteriously given what little is known about time travel -- the transport from an earlier decade has aged the members of the three groups. When NKOTB emerged from the wormhole, reportedly it was as 40something men. And Nick Lachey was talking about how he excited he is to be dating Jessica Simpson.
Sadly, Marky Mark didn't make it through the wormhole. Please join the Funky Bunch and Donnie Wahlberg in a moment of silence.
Oh, and their fans? Haven't aged a day.
Live Nation advertises on AOA.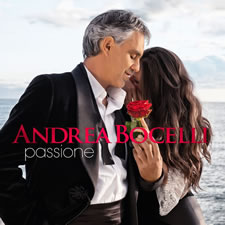 Tenor Andrea Bocelli will be at the TU Center June 13. Tickets start at $78 -- they go on sale this coming Monday, January 28 (there's currently a pre-sale).
Bocelli has sold something just short of a zillion albums (OK, the number is 80 million). And he's a huge PBS fave. As it would happen, he has both a new album and PBS special coming out soon:
The June 2013 Tour will come in support of Andrea Bocelli's upcoming release Passione which will be released on January 29, 2013 along with a brand new PBS television special of the samename in March 2013. Passione is a lush collection of Mediterranean love songs featuring duets with global pop stars Jennifer Lopez, Nelly Furtado, and the late Edith Piaf.
Is it too much to hope for an Edith Piaf hologram?
The show at the TU Center will probably sell out. And the upper end of the ticket price range is $353. Over at Nippertown, Greg notes some context for that price.
Speaking of shows the PBS crowd is totally stoked about: "The Tenors" will be at the Palace May 4. Tickets start at $39.50 -- they go on sale to the public February 9. The quartet currently has the #1 album on the Billboard classical chart. Also: obligatory PBS special.
Speaking of the Billboard classical chart: The current #2 album on the list is from Lindsey Stirling, who's playing at Upstate Concert Hall March 20. Of course, Stirling isn't really "classical" in the classical sense, other than the fact that she plays a violin -- she's famous for incorporating dubstep and playing covers of video game music.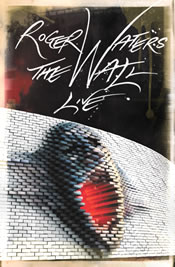 Roger Waters will be playing the classic Pink Floyd album The Wall at the TU Center June 28, 2012. Yep, that's a long time from now. But tickets go on sale November 14. They start at $58.
Waters has been touring The Wall since last year. As you might expect, the show is apparently quite the spectacle. Here's Waters on why he touring the album.
On the subject of old English rock stars: Peter Frampton is playing the Palace February 10.
And on the subject of rock stars who have seen better days: Guns N Roses at the TU Center November 23 (if Axl can make it that long)
Earlier on AOA: The Capital Region as retro music land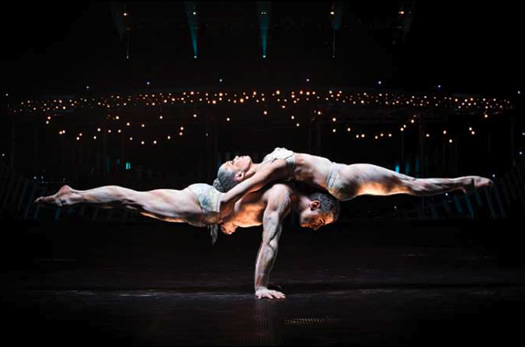 Update: The drawing's closed. The winner has been emailed!
The Cirque du Soleil show "Quidam" starts a five day run at the Times Union Center this Wednesday. From the blurbage:
Young Zoé is bored; her parents, distant and apathetic, ignore her. Her life has lost all meaning. Seeking to fill the void of her existence, she slides into an imaginary world - the world of Quidam - where she meets characters who encourage her to free her soul.
You know, through acrobatics and improbable flexibility.
The promoters of the show have offered us a pair of tickets to the first night performance on Wednesday at 7:30 pm -- and we'd like to offer them to you. To enter the drawing, please answer this question in the comments:
What local situation or place is a circus?
Think broadly -- it could be anything crazy good or crazy bad. Example: the checkout lines at the supermarket ahead of an icy, snowy apocalypse. We'll draw one winner at random from the comments.
Cirque du Soleil's "Quidam" will be at the TU Center Wednesday through Sunday. Tickets start at $30.50.
Important: All comments must be submitted by 9 am on Tuesday (September 27, 2011) to be entered in the drawing. You must answer the question to be part of the drawing. One entry per person, please. You must enter a valid email address (that you check regularly) with your comment. The winner will be notified via email by noon on Tuesday and must respond by 6 pm that same day.
By Liz Clancy Lerner
Part ice resurfacing machine, part intermission entertainment, it's no wonder everyone loves the Zamboni.
I had the chance to talk with Kevin Appler, a Zamboni driver for the Times Union Center, this week at an Albany Devils game. And I learned quite a bit: how the Zamboni works, how someone gets a job as a driver, and the fact that Zambonis don't really have brakes...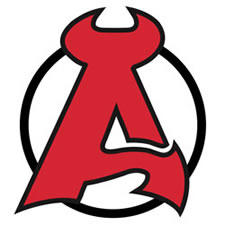 The NHL's New Jersey Devils officially announced today that they're moving their minor league affiliate in Lowell, Massachusetts to Albany and the TU Center. (The River Rats scurried off to North Carolina earlier this year.)
The new team name: the Albany Devils. That's the logo on the right.
We're now wondering what the mascot will be. Buzzy Beelezubub? Dev the Devil? Pitchfork Pete? The parent club's mascot is the creatively named...N.J. Devil.
This is the second time New Jersey's had a team based here -- the Rats had been their minor league team for 13 seasons, ending in 2006.
Earlier on AOA: Rowdy the Rat goes searching for a new home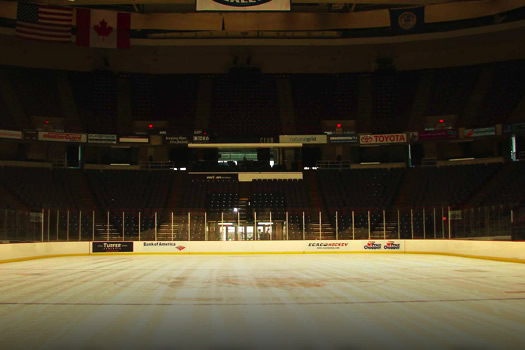 This could be fun: the TU Center is holding open ice skating sessions February 16-18 (that's next Tuesday, Wednesday and Thursday). There will be three sessions a day:



12 pm - 2 pm


2:30 pm - 4:30 pm


5 pm - 7pm


Admission is $5 for adults, $3 for kids 12 and under. (The tickets will only be sold day of.) Skate rental is $5. If you print out this flyer, you can park in the TUC garage for $3.
More info: 487-2000.