Items tagged with 'Vermont'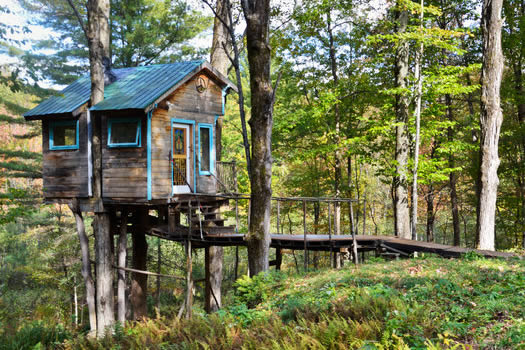 Jamie pointed this out in a comment earlier this week: it's a tree house in Vermont -- that you can rent.
The "Tiny Fern Forest Treehouse" -- in Lincoln, Vermont (near Middlebury) -- is available via AirBnB. From the description:
The treehouse is indeed a cozy little place perched on four maples 30 feet above a blanket of ferns. Access is by a ramp 70 ft. from the main house, where you'll have a private bathroom with shower. This quiet place in the woods has heat, electricity, and a small refrigerator. The main floor has a single bed, or CLIMB THE LADDER to the loft with a queen sized futon and down comforter. Enjoy the comfy reading rocker or sit on the deck and gaze at Mt. Abraham and the Green Mountain National Forest. The hot tub is a sweet new addition to the place.
There are a bunch photos at the profile page. It's $149/night and includes breakfast. It's also booked up/unavailable until December.
The reviews -- of both the tree house and its hosts -- are overwhelmingly positive. (Seriously, we don't think we've ever seen online reviews that positive. We're not sure what these people are putting in the pancakes.)
Update: Sebastien's stayed at the tree house and has an account of his visit (and photos), along with some thoughts on using AirBnB.
photo: AirBnB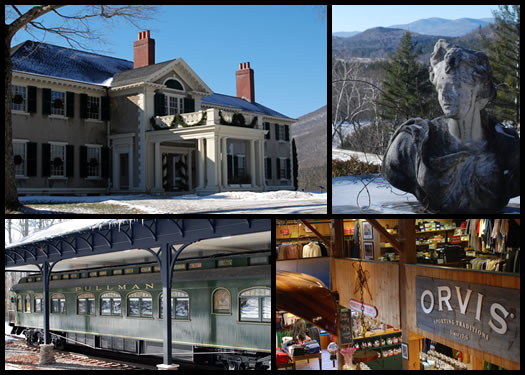 By Nicole Lemperle Correia
My husband and I have an unfortunate habit of taking trips to places where the weather is worse than it is in Albany: Michigan in February, Washington DC during a three-digit heat wave, and this recent trip: Vermont during a very very cold snap of single digit and negative temperatures.
Luckily, Manchester offers more than just cold weather. A beautiful New England village nestled in the mountains, it's a ski town (Stratton and Bromley are just up the road) that has grown to offer a little bit of everything. Due to the extreme cold and very little snow, we opted for indoor activities and dedicated our time to wandering, shopping, browsing, and taking in some history. For us, Manchester also offered a getaway from our daily life as parents of a toddler -- she went off to the resort paradise of a weekend with her grandparents while we headed east for 36 hours in Vermont.
We were in Manchester from Friday night through early in the day on Sunday, but at just under an hour and a half away it also makes for an easy day trip.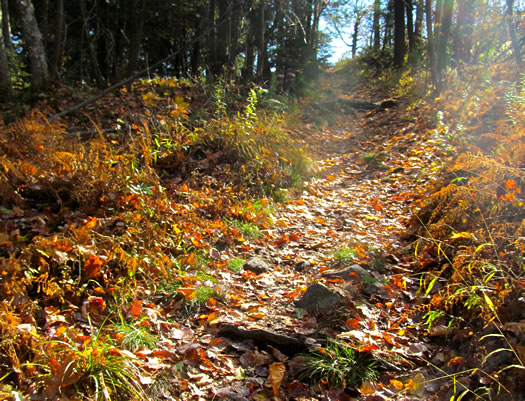 By Casey Normile
Autumn in upstate makes almost everything more beautiful. The leaves change colors and all of the sudden you notice that the exit you take on the Thruway isn't just a dingy road, it's a gorgeous sun-soaked landscape.
But while you can enjoy the fall colors all over, the best views are, indisputably, in the woods. So if you really want to enjoy the autumn landscapes, take a hike.
Fall hiking isn't always like looking through an L.L. Bean catalog. You have to be prepared for almost any weather. Hiking in the fall means you can park at your trailhead in the warm sun, find yourself trudging through mud halfway through, and then find ice and snow on the summit. So prepare for sun, rain, mud and snow. Especially after this month's rainfall, be ready for some wet trails.
But there are some great perks to fall hiking. Hiking in the summer usually means black flies, mosquitoes and walking through spider webs for most of the day. But in the fall, you're insect free! It's also great because the temperature is very hike-friendly. It's right between summer's 80-degree-sun-burnt-dehydrated weather and winter's biting-cold-can't-feel-my-toes weather.
Here are a few good options for fall hikes...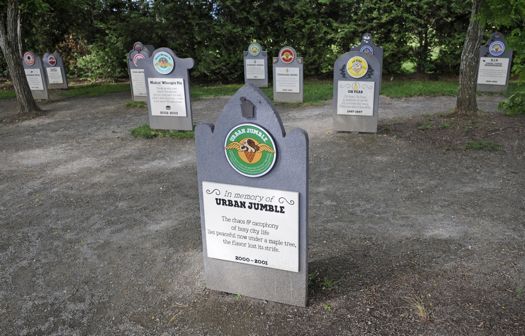 By Nick Fahrenkopf
I love checking out new places, but it's kind of hard for me to get away for more than a day. So my fiance and I made a list of things we'd like to try that are closer to home. The list included a lot of factory tours, and a bunch of them were on the way to Burlington, Vermont. So we took a little road trip.
Burlington is about a 3 hour drive from Albany -- but if you're the kind of person who likes to see how things are made, it's well worth the time. There are lots of factories along the way that offer tours and samples.
It's a fun trip that's just a little bit out of the way, but you can totally do it in a day.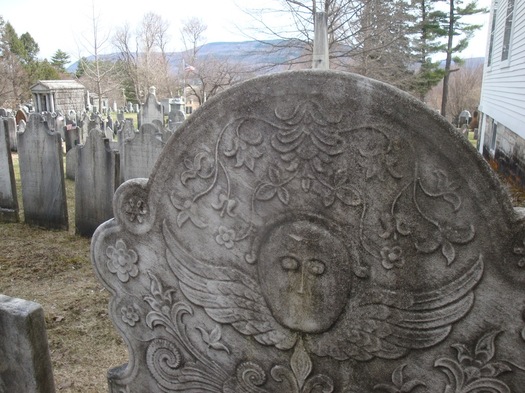 By Akum Norder
Oh, give us pleasure in the flowers to-day;
And give us not to think so far away
As the uncertain harvest; keep us here
All simply in the springing of the year.
-- Robert Frost, "A Prayer in Spring," 1915
Why do I like cemeteries so much?
There's a satisfactory melancholy to a cemetery ramble on an autumn day. But in the spring, there's a different feeling. Here come the tips of green, poking through the earth. The branches are still bare, but they're lively with chickadees. And the tombstones' shadows stretch in the cool light of April.
Renewal is in the air. A perfect time to stop and think about the inevitability of death.
Taking a ramble in an old, old cemetery is a privilege that's easy to come by here in the Northeast. And the Old First Church cemetery in Bennington, Vermont, is one of the best.
This church could be the Platonic form of New England churches. Its cemetery is beautifully maintained. And it's made especially good by the preponderance -- and the readability -- of epitaphs inscribed on the tombstones. The epitaphs tantalize us to imagine beyond names and dates; they offer glimpses of the deceased that help humanize the past.
Plus, Robert Frost is buried here, under a memorable epitaph of his own.