Items tagged with 'Washington Ave and Fuller Rd'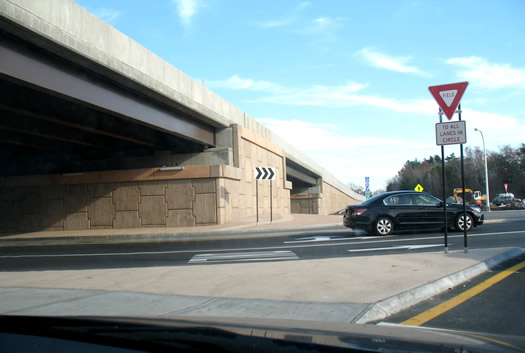 The new flyover/circle at Washington Ave and Fuller Road in Albany opened Monday morning. The final section -- the re-routed eastbound side of Washington Ave Extension north of the new nanotech buidling -- was connected over the weekend. It's an important intersection -- about 30,000 vehicles pass through it each day, according to NYSDOT.
We happened to be out that way yesterday so we gave the florcle a few spins.
A few initial impressions...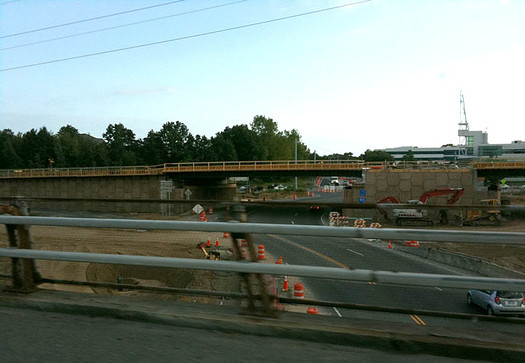 This should keep things interesting at the busy Washington Ave/Fuller Road intersection in Albany: Fuller Road will be closed between Washington Ave and the ramps for I-90 from today until the morning of September 25.* (Fuller will be open from the ramps north to Central Ave.)
If you've passed by there recently, you've probably noticed the progress on the new circle/flyover (we're calling it a "florcle") that's part of the re-alignment of Washington Ave. The road is being moved to open up space for Albany NanoTech.
*The message boards on I-90 yesterday said the road would be closed until September 23. The September 25 date is from NY511 (full text post jump -- it'd be great to be able to permalink stuff there).
Twin Bridges
Speaking of closures: the weekend closure of the northbound side of the Twin Bridges starts this Friday night. Northbound traffic will be routed over the southbound bridge. Both directions will be sharing the same bridge (heartwarming, right). That means there will be one lane for each direction, which will probably mean traffic backups at times.
This weekend is the first of six weekend closures as part of the deck replacement for the bridge. The southbound bridge will get the same treatment next spring.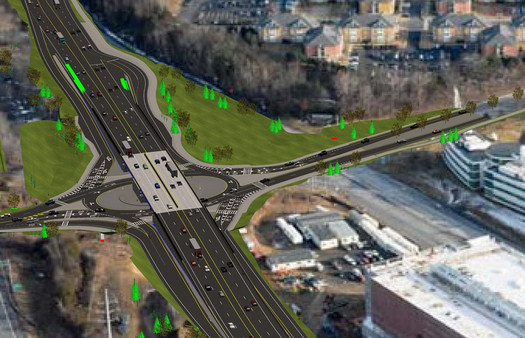 The state Department of Transportation announced today that the realignment of the Washington Ave Ext/Fuller Road intersection has started. (You might have noticed the recent tree clearing around the site.) From the press release:
NYSDOT will realign Washington Ave. Ext. to the north and install a two-lane roundabout at the Fuller Road/County Road 156 intersection. A flyover bridge will be built to carry through-traffic, thereby removing 20,000 cars daily from the intersection and providing improved access to CNSE's Albany NanoTech Complex, which is currently engaged in a $366 million expansion project. Nearly 30,000 vehicles travel through the intersection each day.
Pedestrian and bicycle access will be improved with new sidewalks and a new, 10-foot bicycle lane that will connect to existing bike trails. Reduced congestion will enhance transit schedules; new bus bays on Washington Ave. Ext. will provide safer stopping areas for riders.
Most of the work can be done without impacting traffic. More than 3.5 miles of Washington Ave and Washington Ave. Ext. will be reconstructed, together with a half mile stretch of Fuller Rd.
NYSDOT says it's an $18 million project, funded by the Fuller Road Management Corporation -- a not-for-profit org created to manage the nanotechnology facilities at UAlbany's CNSE -- Albany County, and the state. It says FRMC is picking up 45 percent of the cost.
The project is expected to be "substantially completed" this fall -- with minor work on Fuller Road next summer. The re-alignment will open up more space for Albany NanoTech. (The area under the bridge that currently spans Wash Ave Ext will become a parking lot.)
Large-format renderings are after the jump.
So, what's this intersection called? We were hoping that a flyover bridge over a roundabout had a special name or transpo planner slang -- you know, like SPUI. So we checked with NYSOT spokeswoman Carol Breen -- and, alas, it does not. Of course, that's an opportunity to coin one. Florcle? FlyAbout? Roflyover?