Items tagged with 'gyms'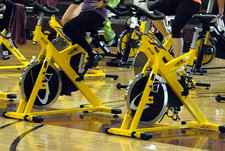 Caitlin emails:
I'm trying to find reliably good spin classes here in the Capital Region, and I find it's hard to search for lots of this stuff. Where do AOAers go to spin?
A straightforward question, and it's a good time of year for this sort of thing -- what with ongoing icy grip of winter making exercising outside less than enjoyable.
So... got a suggestion for Caitlin? Please share!
photo: Flickr user USAG- Humphreys (cc), cropped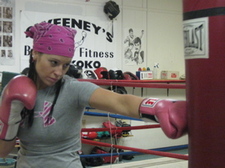 Sunny asks via Twitter:
Anyone have recommendations for a #boxing gym in the Capital Region?
We asked if Sunny was looking for boxing that was more fitness oriented, or for actual competitive boxing:
It's for serious fitness I guess--not looking for a foo-foo gym with boxing classes, but not to compete nec. either.
There seem to be a fair a number of gyms that offer some sort of boxing program, but we're guessing they include a wide range -- from the "foo-foo" (as Sunny puts it) all the way up to yep-we're-going-to-hit-someone-in-the-face programs.
So, got a suggestion for Sunny? Please share!
Earlier on AOA: A few years back we talked with pro boxer Sarah Kuhn (that's her in the pic), who had gotten into the sport because she was looking for a better way to get in shape.