Items tagged with 'ice cream'
By Deanna Fox
I have to be honest with you. I don't think there is much more that I could add to this story than this: There is a magical place on the western fringes of Albany proper that serves soft serve ice cream inside a glazed doughnut -- and then rolls the whole thing in sprinkles.
Really? You're still reading? You need more details than that? (sigh) OK, let me share with you that which I have tasted.
And by the way, it's called The Slider, and it is from Kurver Kreme.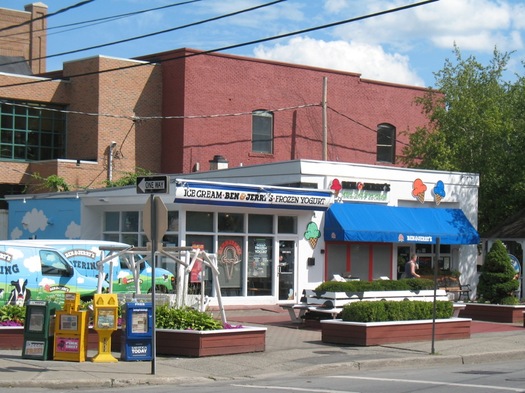 Today is Free Cone Day at Ben & Jerry's scoop shops, including the locations in Troy (Sage and 15th Street on the RPI campus) and Saratoga Springs (34 Phila Street). Both locations will be giving out free cones from noon to 8 pm.
Fun bit: The Saratoga Springs Ben & Jerry's was the first of the brand's shops outside Vermont to participate in Free Cone Day, starting back in 1984, according to the Ben & Jerry's website.
What about Albany? As you might have heard, the Ben & Jerry's shop that had been on Lark Street for many years is moving a few blocks to a location next to El Loco on Madison Ave, and its owners had previously posted they hoped to be open for Free Cone Day. But a recent post on the shop's FB page indicates it will not be open today, and they're aiming for an opening later this spring.
Earlier on AOA: Ice cream stand season 2016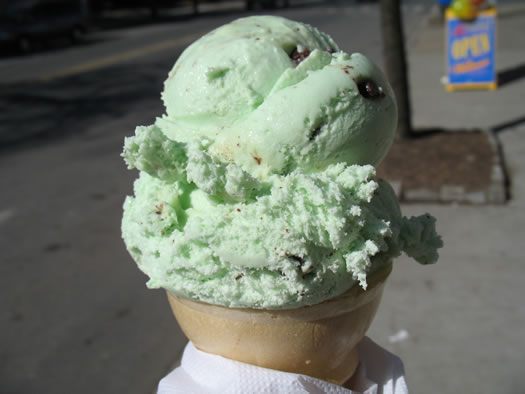 Stewart's is once again offering 50-cent ice cream cones today (Thursday), from open to close, for St. Patrick's Day. All you have to do is wear something green. The company says more than 68,000 people got 50-cent cones last year.
Ice cream stand season: Seasonal ice cream spots continue to open -- including Kurver Kreme in Colonie, Lickety Split in East Greenbush, and Bumpy's Polar Freeze in Schenectady -- and we've just updated our list of ice cream stands around the area.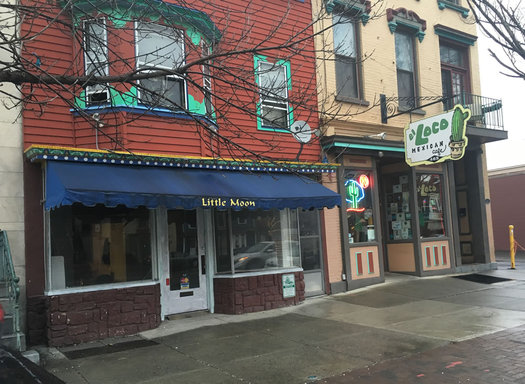 The Ben & Jerry's shop that had been on Lark Street in Albany for many years will re-open at a nearby storefront on Madison Ave, according to a post on the shop's FB page: "We are very excited about our new location and look forward to scooping for you in Spring!" In a comment, the shop says it's hoping to work out something for the annual free cone day, which is mid April.
The storefront is at 467 Madison Ave -- it's the space formerly occupied by the Little Moon gift shop, and it's nextdoor to El Loco.
Owner Richard Wilson stopped operating at the shop's longtime spot on Lark Street earlier this year because of a repair problem and reported dispute between the building landlord and an adjacent property owner. [TU]
Around that same time Wilson talked with AOA for that big collection of perspectives on the state of Lark Street and its future. He remarked that Lark appeared to be in a down period, but he also had some optimism: "It's our little Greenwich Village in Albany -- it would be great to get it back to that."
(Thanks, D)
Earlier on AOA:
+ Thinking about the future of Lark Street
+ It's never too cold for free ice cream (2008)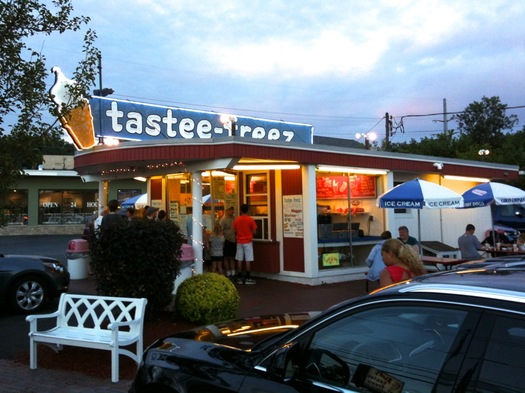 Updated March 17
Spring, it is near. And ice cream stand season has started!
A few stands are already open (or will be very soon), and more will be opening in the next few weeks.
Here's our annual rundown of a bunch of seasonal ice cream stands, with opening dates. In some cases the dates are TBA, or we just couldn't find out (yet). So if you can fill in some of the information in the comments, we'd very much appreciate it.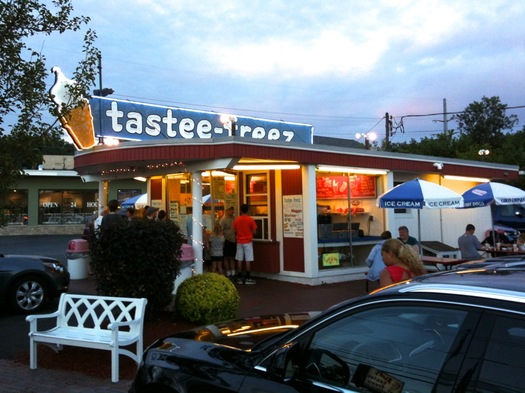 Breaking: Ice cream stand season has started.
Jim's Tastee Freez is already open. The Snowman opens later this week. And a bunch of other stands will open over the next few weeks.
Here's our annual rundown of a bunch of seasonal ice cream stands, with opening dates. In some cases the dates are TBA, or we just couldn't find out (yet). So if you can fill in some of the information in the comments, we'd very much appreciate it.
Because ice cream.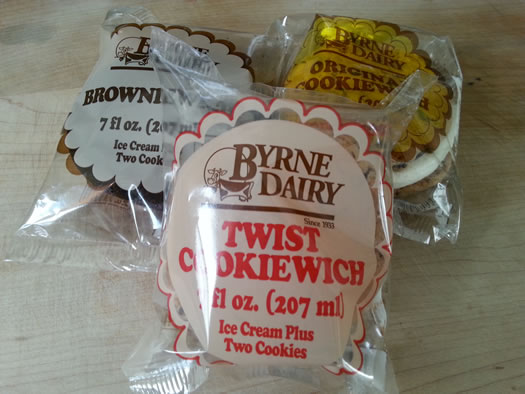 By Deanna Fox
Though milder weather is apparently on the way, ice cream probably still isn't at the top of your mind.
But, really, any time is a good time for ice cream. And if you need justification, try this one that AOA Mary told me her dad used for wintertime ice cream while she was growing up: Eating food that's roughly the same temperature as the air around you will help offset any unpleasantries that weather or temperature might bring by creating an equilibrium between the temperature of your insides and the temperature of your outsides. (Also: Eating ice cream is, in general, an excellent distraction from what's going around you -- including the cold.)
While we have a bevy of good ice cream places in the Capital Region, Stewart's is perhaps the best known for year-round ice cream availability. But let's not overlook that other great New York State regional dairy, Byrne Dairy, which claims the hearts of Central New Yorkers. (It's the official chocolate milk of the New York State Fair.)
And it has one thing Stewart's doesn't: ice cream sandwiches.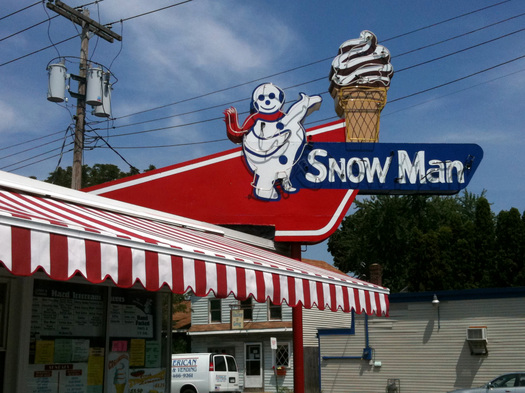 Updated March 25
Public service announcement: Ice cream stand season has started.
The Snowman in Troy opened today. Bumpy's in Schenectady opened yesterday. And a few other season stands will be opening over the next week or so.
Here's a round up of a bunch of season ice cream stands, with opening dates. In some cases the dates are TBA, or we just couldn't find out (yet). So if you can fill in some of the information in the comments, we'd very much appreciate it. Because ice cream.
Who wants sprinkles...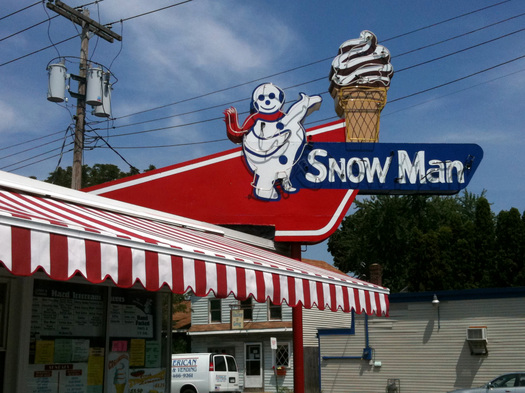 Updated March 11
We interrupt for this important announcement: ice cream stand season is upon us.
At least one stand is already open, and others will be opening soon. As we have in previous years, we've put together a list of opening dates for a handful of seasonal ice cream stands around the area.
If you have opening info about other stands, please share!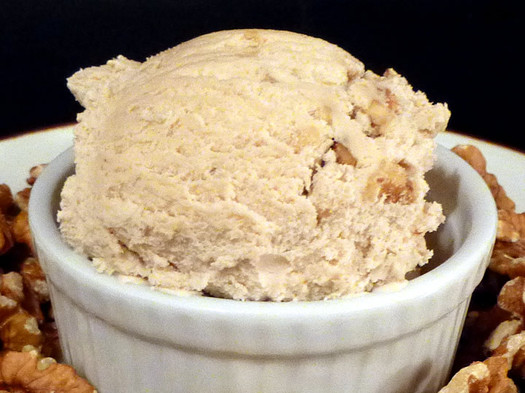 By Daniel B.
Slurpees are the defining product of 7-Elevens around the country. Every now and again I'll miss having easy access to this remarkable frosty beverage that so skillfully rides the line between two phases of matter.
When I first moved to the Capital Region I would have traded all of the Stewart's for even just one 7-Eleven if given the chance. But now, in no small part to Mr. Dave's romanticizing of the shop, I can finally see Stewart's as a cultural anchor of upstate New York. And despite my predilection for organic milk, eggs from free-roaming chickens, and ice cream made without additional gums, thickeners or emulsifying agents, I find myself regularly at my local Stewart's buying milk, eggs, and ice cream.
Amazingly, the reason isn't because Stewart's is convenient. It's because these staples are just really good.
Their maple walnut ice cream would have never even made it onto my radar had it not been for an event from last summer. Hands down, it's my favorite flavor in their case. And now is the perfect time to eat it.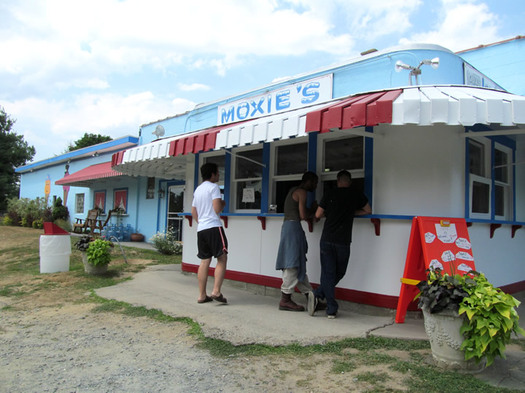 By Casey Normile
The first batch of Mexican vanilla ice cream that Moxie's ever made was technically illegal.
"But only a little illegal," Pamela Allie-Morrill explains. Ms. Pam, as she likes to be called, is the daughter of the eponymous Mohamed "Moxie" Allie -- she now runs the ice cream stand in Wynantskill. She says that original supply of Mexican vanilla hitched a ride into this country in her cousin's suitcase. It wasn't exactly an act of smuggling.

That Mexican vanilla has since been replaced with Mexican vanilla sourced via Illinois. But it's still an integral part of Moxie's Around the World of Vanilla -- a solar system of vanilla ice creams in a dish that surround Moxie's signature flavor, Blue Moon.
So, why vanilla? Pam says it's simple -- it was the most readily available flavor when she was looking to make her mark on Moxie's eleven years ago. And the vanilla sampler has been a popular staple at the stand ever since.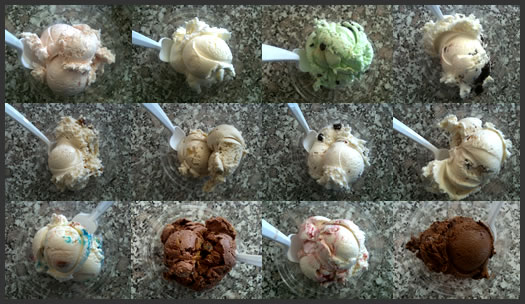 By Daniel B.
Blah, blah, blah, Bobby Flay, blah, blah.
So yeah, the Ice Cream Man was on cable. There was a "throwdown" and our Greenwich shop prevailed with a sundae made from vanilla ice cream, warm apple topping, whipped cream, gourmet nuts, and a cherry.
If you really want, you can buy one of those for $5.14, but then you would be missing out on what truly makes the Ice Cream Man special: they produce over 300 flavors of homemade hard ice cream. It's an audacious claim, but they make it proudly.
Now granted, they only keep about 30 of the flavors on hand at any given time. Twelve are set in stone. They are the same week in and week out. Up to six flavors can be dedicated to fat-free, sugar-free, soft-serve, yogurt, or sorbet, which might be fine if you are into those kinds of things.
That means every day hundreds of potential flavors are vying for a mere twelve spots on the menu board. After the Tour de Hard Ice Cream it became clearly evident that the Ice Cream Man sets the high bar for homemade ice cream in the region. But the question remained, what hidden delights are lurking on the menu.
To find out, I decided to eat an unreasonable amount of ice cream. Again.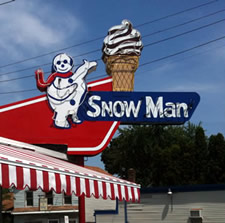 Important news: ice cream season has started in the Capital Region.
The Snowman in Troy opened this afternoon. It'll be open until 9 pm if you feel to need to stop by. It would be perfectly understandable.
We did quick check of a handful of other seasonal ice cream spots around the area, and it looks like the Snowman currently stands alone. Kurver Creme's Facebook page says it hasn't picked an opening date for this season, yet. And calls to a bunch of other spots went unanswered.
But now that it's March, it won't be long.
(Thanks, Danielle!)
Earlier on AOA: Eat this: The Boston Shake at The Snowman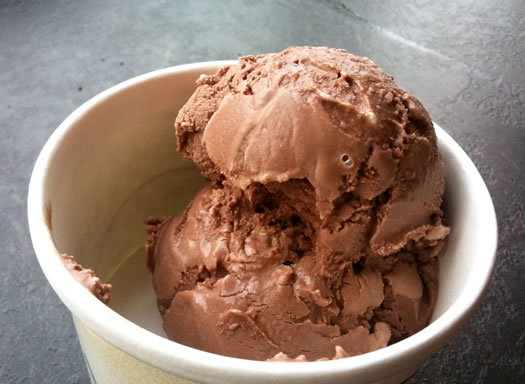 This summer we've paid a few visits to Chatham to indulge in what may be the best ice cream in the greater Capital Region: Golden Organics.
Why do we think it's so good? Here are five reasons. Plus one more.