Items tagged with 'public art'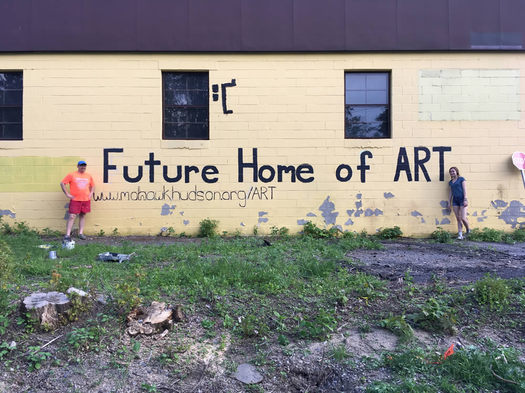 Quick update on that Helderberg-Hudson Rail Trail mural project: The three artists selected as finalists will be at a public meeting at Bethlehem Town Hall September 7 from 5:30-7:30 pm.
Press release blurbage: "The artists will be on hand at the community meeting, to discuss their proposals and address any questions from attendees. Each artist will bring their drawings and community members are invited to view each proposal and submit opinions to the committee."
Here are the three finalists selected by the Mohawk Hudson Land Conservancy's Art on the Rail Trail committee:
+ Andrea Hersh from Bethlehem

+ Michael Conlin from Albany
+ Dan Mehlman from Bethlehem
(You might remember that Conlin created the blue bird mural on the side of the Quackenbush Garage in downtown Albany.)
The mural site is a building at the corner of Adams Street and Hudson Ave in Delmar. If you've walked or biked along that section of the trail, you can't miss it. The land conservancy is hoping to have the mural completed by late October.
photo via Mohawk Hudson Land Conservancy
The Troy Summer Square series -- a string of public art events centered around a pop-up pedestrian area at Monument Square -- starts this week and runs through August 5. Blurbage for the program being coordinated by the Arts Center of the Capital Region:
During its 3 week run, we will coordinate programming with local cultural partners, host fun events and showcase "Explore Troy Projects," temporary projects created by local artists. We will be asking all who interact with us, both in person and digitally, "What Are Your Ideas for art in Troy?" Information gathered will be presented in a Master Plan for Public Art and the ideas generated will be exhibited at the Arts Center for all to see. The Square will be followed up this fall by "Pop-up" Squares, one night of similar programming in other Troy neighborhoods.
The first event is this Wednesday, July 19 from 6-8 pm. The winning project proposals for 14 public art projects around the city will be announced, city historian Kathy Sheehan will lead a walking tour of downtown monuments, and Geraldine Fuhrmann will tell stories about Troy's history.
On Friday, July 28 during Troy Night Out, there will be a reveal of 10 public art ideas for Troy, with discussion from public art experts Judie Gilmore, who's leading the Summer Square series and was the project director for Breathing Lights, and Todd Bressi, who's worked with Mural Arts Philadelphia.
That link above has the full list of events, which are all in the evenings.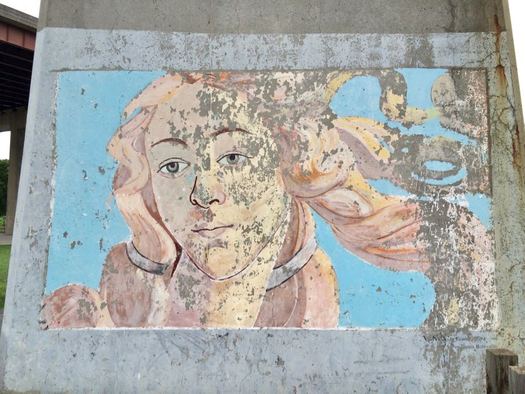 We had a few spare minutes in Rensselaer recently and happily spent them taking in the many, many murals painted on the Dunn Memorial Bridge overpass supports that stand in Riverfront Park.
Here are a few pics...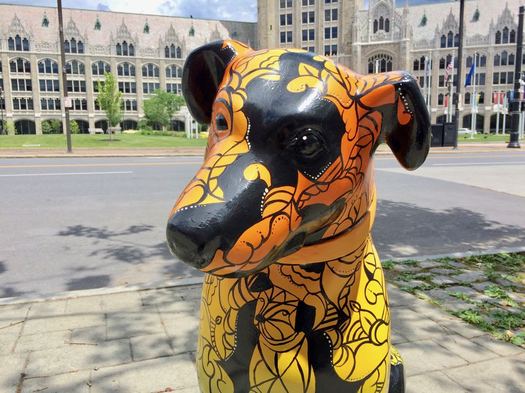 We got a chance during the past week to check out the new "Downtown is Pawsome" statues in downtown Albany as they sit in their new sidewalk habitats.
The three-foot-tall statues -- inspired by Nipper and decorated by local artists -- are part of the annual public art program coordinated by the Downtown Albany BID. Eight are already in place, two more will be out this week, and another ten are on their way.
Here's a quick photo gawk at the statues, along with a clickable map that we'll update as the statues appear. The pieces are all within walking distance of each other, so you could definitely string them together as part of your own walking tour some day this summer -- with, you know, maybe a stop for a drink or donut along the way.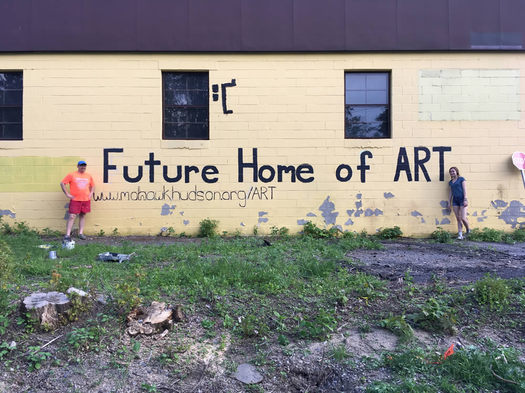 A group connected to the Mohawk Hudson Land Conservancy called Art on the Rail Trail (ART) has been working to set up public art projects along the Helderberg-Hudson Rail Trail. And it's now ready to move forward on its first project, with a call out for artists.
The mural site is at the corner of Adams Street and Hudson Ave in Delmar (map). ART has an open house at 90 Adams Street on June 29 from 6-7 pm for interested artists. Blurbage:
ART welcomes all artists who apply, but is specifically interested in those who have experience in public art, mosaics, and murals. The group is hoping to hire an artist who lives in the Capital Region in an effort to support local community members. ART is particularly interested in proposals which incorporate the themes of connectivity and movement. ...
Throughout the month of August, up to three finalists will be selected and a public presentation will be made. The committee is prioritizing transparency in the selection process, welcoming community members to voice opinions on the different proposals. By mid-October, the mural will be completed, and there will be a mural unveiling ceremony.
Here are the instructions for submitting an application. The deadline July 31 at 11:59 pm.
The online materials don't specifically mention the budget that ART has in mind. But we checked with the the Mohawk Hudson Land Conservancy, and here was the response: "ART's goal is to offer an artist fee, which will include all project management, labor, and material costs, of at least $3,000. The committee is actively fundraising and the budget may change over time. A finalized budget will be announced when finalist decisions are made in mid-August."
photo via Mohawk Hudson Land Conservancy