Items tagged with 'wild'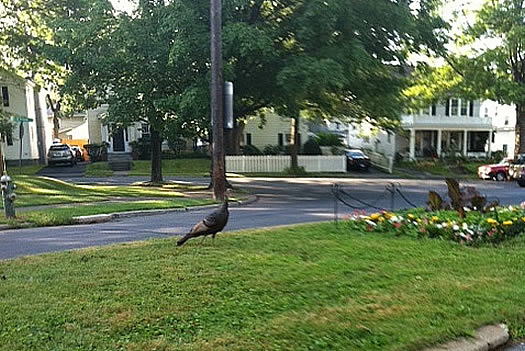 The turkey is, of course, a centerpiece of many Thanksgiving meals. But the birds have a long and varied history in this country. Among their admirers was Ben Franklin, who once wrote that he preferred the turkey over the bald eagle as a symbol:
For in Truth the Turkey is in Comparison a much more respectable Bird, and withal a true original Native of America... He is besides, though a little vain & silly, a Bird of Courage, and would not hesitate to attack a Grenadier of the British Guards who should presume to invade his Farm Yard with a red Coat on.
So turkeys go with this country like cranberries go with, uh... turkey.
Even so, we're always a bit surprised -- and it makes us smile -- to see wild turkeys hanging out in residential areas of the Capital Region. As they peck their way through a neighbor's yard, the turkeys are just like, "What are you looking at?"
The Albany Pine Bush Discovery Center has a program coming up about wild turkeys. So we bounced a few questions about the birds to Jacqueline Citriniti, an environmental educator at the center.
It turns out wild turkeys a more interesting than a Butterball.