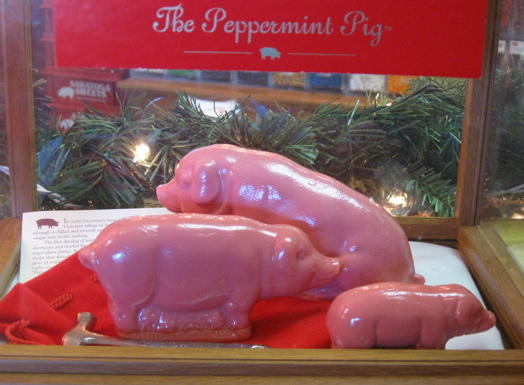 Drawing's closed! Winners have been emailed!
It's this simple: We are amused by Peppermint Pigs and we'd like to give some away. So we are. Maybe to you.
To enter the drawing, please answer this question in the comments:
What's something that brought you joy this year?
For a bunch of years we did a Festivus drawing, but we'd like to set aside the grievances this year. So consider this The Airing of Joys. (If you'd still like to gather around the ye olde aluminum pole, go for it.) It could be anything: something around the region, something in your neighborhood, something from your personal life, an experience you had, whatever.
We'll draw three comments at random and those people will receive a Peppermint Pig in the mail.
A Peppermint Pig? Yes, a Peppermint Pig. The seasonal treat is a pink peppermint candy pig. They're an old Saratoga tradition that was brought back by Saratoga Sweets a few decades ago.
Important: All comments must be submitted by noon on Thursday, December 20, 2018 to be entered in the drawing. You must answer the question to be part of the drawing. (Normal commenting guidelines apply.) One entry per person, please. You must enter a valid email address (that you check regularly) with your comment. The winner will be notified via email by 5 pm on Thursday and must respond by 5 pm on Friday.
Hi there. Comments have been closed for this item. Still have something to say? Contact us.