By Greg
Working on AOA over the past decade has been a life-changing experience for me and it's shaped the way I think about so many things. It will probably be years before I fully realize how much.
As part of my own effort to take stock of all this, here are a few thoughts I have about this place.
This is a good place to live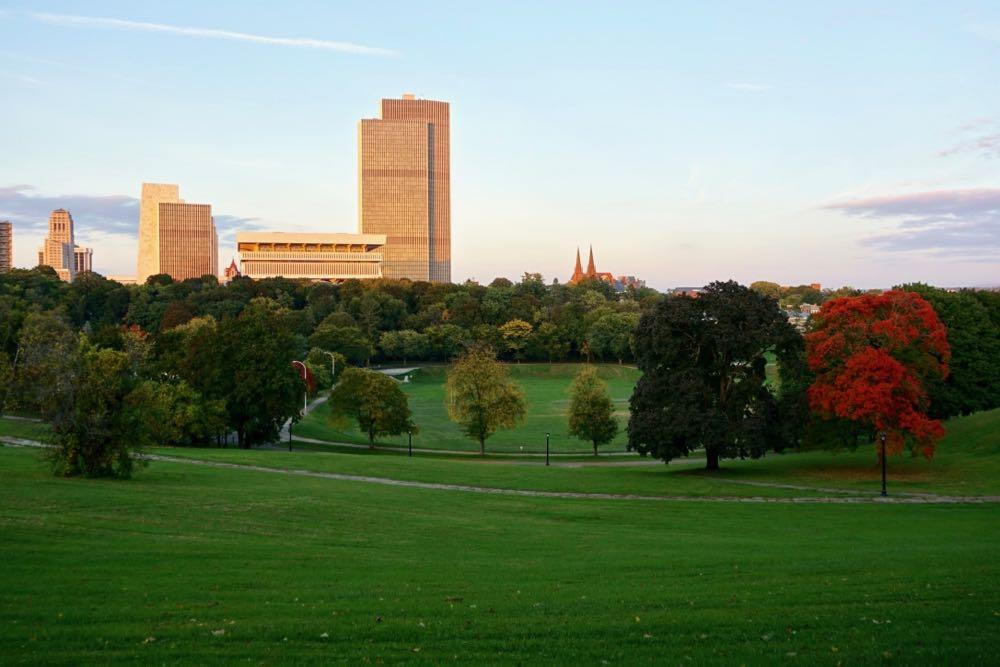 I believe that Albany is a good place to live. Working on AOA has made that belief even stronger.
It is a city of wonderful neighborhoods, compelling architecture, walkable streets, lovely parks, inspiring history, interesting places to eat, and diverse people working to make it a livable community. It's part of a region that includes all sorts of cities and towns and villages with their own distinct sense of place. You can wake up and be standing in a blueberry field 45 minutes later. You can hike a mountain and be back home for dinner.
Could this place be better? Of course. And it will never be like New York City or Seattle or San Francisco or even Austin. That's OK. It's fine that some people may prefer those larger cities over this one. Not every place is going to work for every person.
But those people will be missing out.
We all experience this place differently
One of the patterns I've encountered over and over again is that people who have moved here from somewhere else tend to be more optimistic about this place than people who have lived here a very long time. At first I thought it was just something I was reading into conversations, but I've had a bunch of fellow not-from-here people tell me something similar.
I don't have a good theory about why that might be. Maybe it's a product of actively making a choice to come here. Maybe it's people who have set foot in the grass on the other side of the fence and decided it's not actually as green as it appears. Or maybe people who have lived here a long time feel the weight of what have been some hard decades for the city.
All of this is to not make the case that some people are right and others are wrong in their perceptions. Instead, the point I take from this split is that we all experience this place differently based on who we are and our personal histories. And it's worth taking the time to listen to people and try to understand why they feel the way they do about this place.
Albany needs more people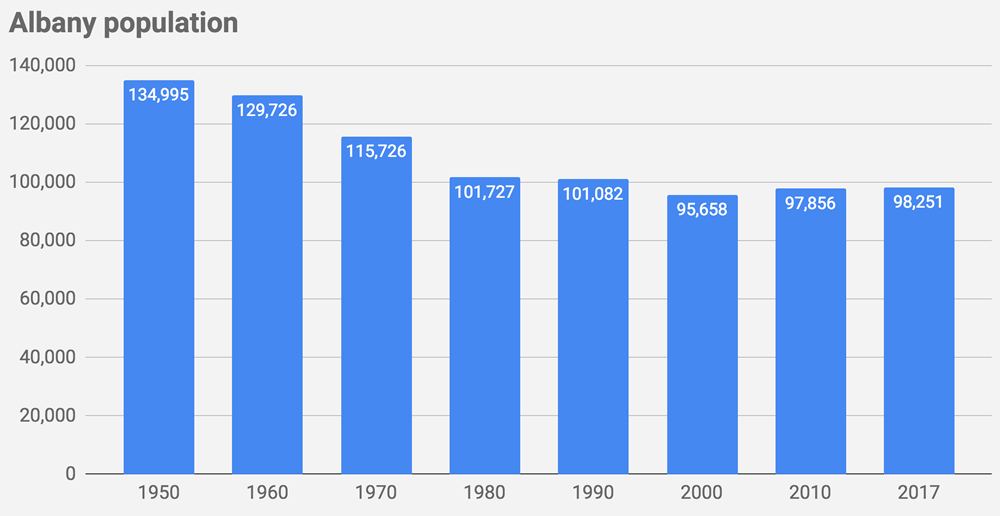 One of the characteristics of those hard decades: population loss.
The city of Albany hit a population of almost 135,000 people in the 1950 Census and then steadily lost population each decade until 2010 when it registered a small uptick. It's now at 98,251 in the latest Census estimates. (Troy and Schenectady have experienced similar population swings.)
The city's future depends in part on attracting more residents, to fill vacant buildings in hollowed-out neighborhoods, to help support neighborhood commercial strips, to provide new ideas, and yep, to pay taxes to keep the city afloat. That won't be easy, but after swimming against the currents of suburbanization and disinvestment for so long, it does look like the tide is starting to turn. This is the moment to paddle for the wave.
A significant population gain will mean some adjustments. One of them will be people getting used to the idea of increased density and congestion because it's going to be hard to add another 10,000 or 20,000 people to the city without denser neighborhoods. Good planning can help with some of the changes, but at some point more people are more people. The upside is that renewed density will make a lot of the things that people say the want -- like walkable neighborhood retail -- more possible.
Albany also needs to more explicitly argue its case as a place where people want to live. I'm not a fan of zero-sum thinking because it's often an inaccurate model of the world that ends up closing off opportunities where everyone can win something, but there is a zero-sum aspect of the population situation here. The Albany metro area's population is growing, but not quickly. Every municipality here is competing against the others for a slice of a pie that's staying roughly the same size.
Arguing Albany's case can take a bunch of forms. Part of it is continuing to set the stage for the development of new housing choices, including affordable options, and investing in quality of life improvements. Others could be more personal, like a network of families available to provide answers and encouragement to young families who are making the decision about whether to stay in the city. And some of it might just be as simple as repeatedly pointing out to all those people who stream into the city each day for work that they could be living in a nice neighborhood, near their job, with an easier commute.
We are all in this together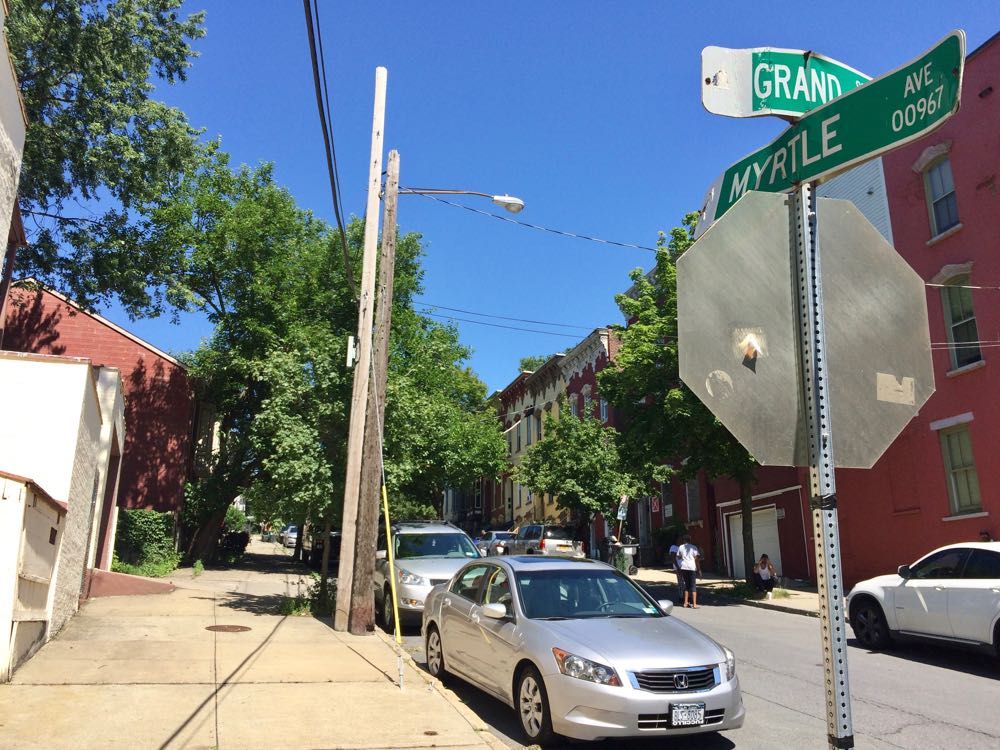 One of my favorite AOA posts was about walking the entire length of Myrtle Ave in one afternoon. Doing that really makes clear some of the ways the city's neighborhoods are connected.
The geographic structure of the Capital Region sometimes makes it feel like all the various parts of it -- even neighborhoods within cities -- are far apart from one another. That can make it seem like a problem or struggle across some border -- geographic, economic, racial -- isn't connected to where you're at. But it is. A walk can make that clear.
The future success of the city of Albany will in large part be judged on how well we all can help the neighborhoods and people who have struggled in recent decades find new life. Because all our fortunes are tied together.
There's a fractal quality to this situation. If you're concerned about this region, then you need to be concerned about its cities. If you're concerned about its cities, you need to be concerned about its neighborhoods. If you're concerned about the neighborhoods, then you need to be concerned about the blocks with vacant buildings. And if you're concerned about the blocks, then you need to be concerned about the people who live on them, their struggles and ideas for change.
In this sense, the problems of all these people, all these neighborhoods, all these cities are all our problems.
We need to invest in public spaces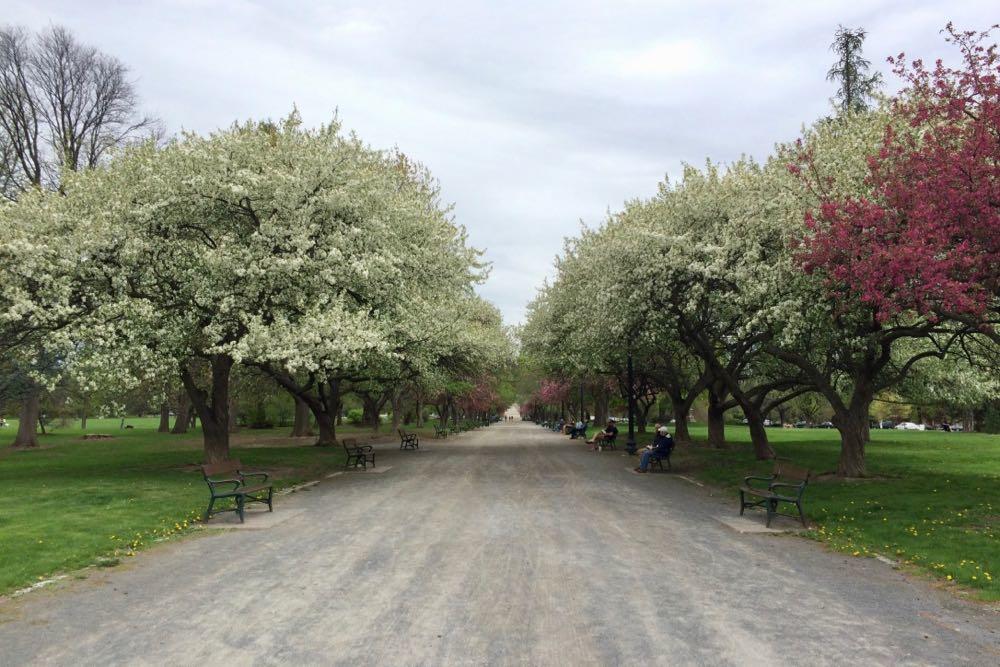 Maybe more than anything, working on AOA has convinced me of the need for investment in public spaces: parks, playgrounds, schools, well-designed streets, sidewalks, and so on.
These public amenities can greatly contribute to our quality of life. They can be places were all sorts of people should be able to interact. And they're a key part of making the city an attractive, vibrant, and equitable place to live.
To go along with this investment in actual physical public spaces, we also have to pay attention to the interactions of public life. Among them: local officials doing a better job of explaining their choices, police doing the work to develop healthier relationships with communities, and all of us making a good-faith effort to offer constructive feedback about how to solve problems.
We should be moving around differently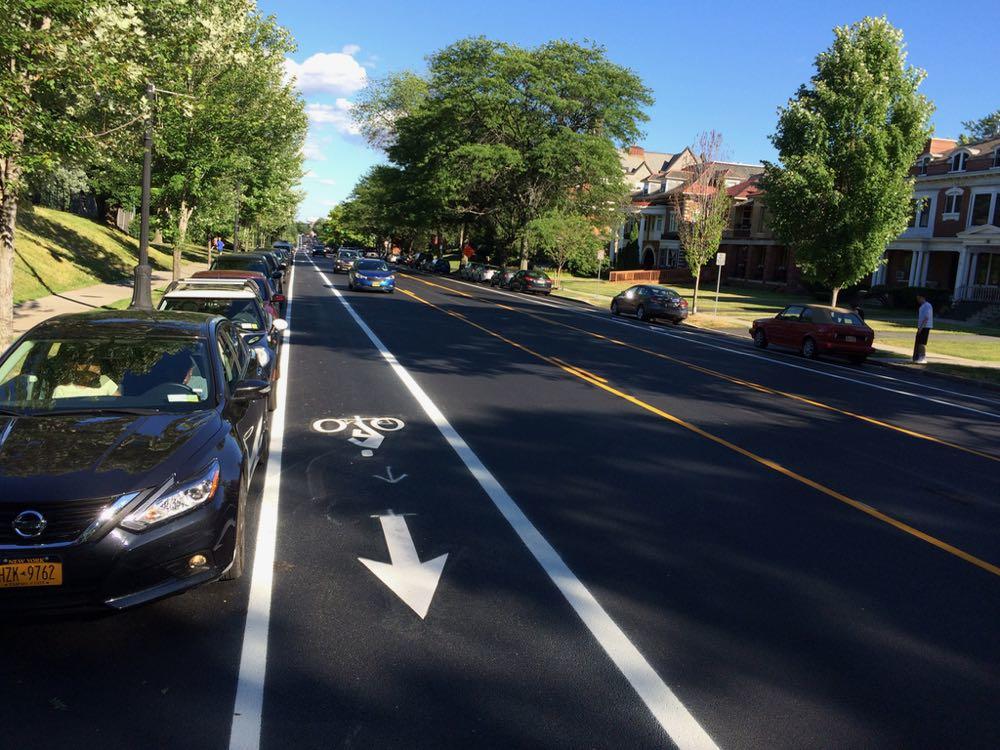 The "road diet" section of Madison Ave.
You know how much I love to walk and ride my bike because I never shut up about it. But in case I haven't been clear: I think the world would be a better place if people walked more, rode a bike more often, and took trips on the bus. Doing so would make for a safer, more humane city and a better environment.
So much of encouraging people to walk or bike is about choices we collectively make in how land is used, how streets are designed, and investments made in public transit. There need to be networks of infrastructure that both are safe and feel safe before people will make the shift.
That's entirely possible. We just need to make it a priority and follow through with our choices.
We've gotta show up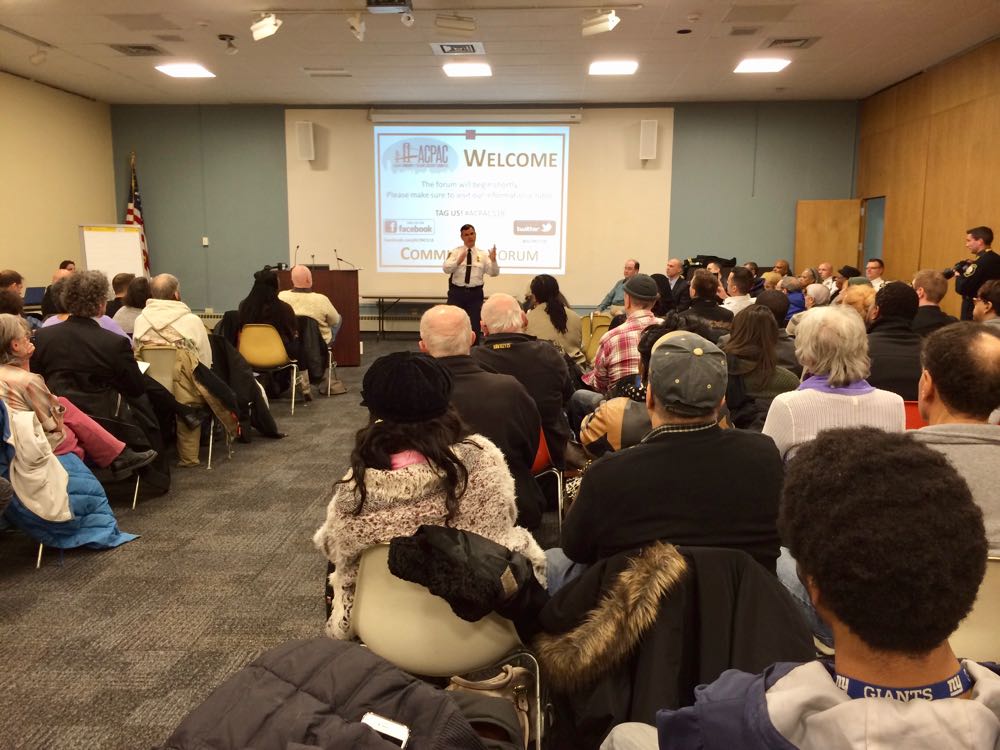 I have been to so many public meetings over the last decade and I'm always heartened to see a packed crowd of people listening and providing feedback on topics ranging from police body cameras to the design of a park. I've been impressed by the thoughtful input people have contributed and the time they've spent to be witnesses to the process of local government. Being present can shape the direction of the city.
It's often the case that people show up when they're upset about something. That's understandable. But I've also come to believe that it's important to show up if you support something because it provides a more accurate view of how the community feels about an issue. Otherwise the critics fill the frame.
Part of providing the fuller picture is having all sorts of people show up at meetings. That's especially true for younger people, because the crowds at community meetings often skew older. If this will be your city for decades to come, that's good reason to say something.
Another part of showing up is listening, making sure we don't have half the facts while being 100 percent certain, and then figuring out a way to offer constructive criticism. It's fine to say "not like that," but it's often better to say "more like this."
Change is hard -- and it's necessary
One of the hardest arguments to make is that you love something and also want it to be better. People will often hear the first part and ignore the second -- or they get hung up on the criticism while not acknowledging that you're working from a position of appreciation and respect.
But these sorts of arguments are vitally important because they're often how we map out a better future. That's hard -- change usually is, especially when a place has been a certain way for so long. It requires us to reexamine our assumptions and expand our imagination for what's possible. Stretching in those ways can be painful, but the alternative is to become brittle and stuck.
I think this place can be a better version of itself, that it can work better for more people.
And I believe that because I love this place.
Greg Dahlmann was one of the co-founders of AOA.
Hi there. Comments have been closed for this item. Still have something to say? Contact us.