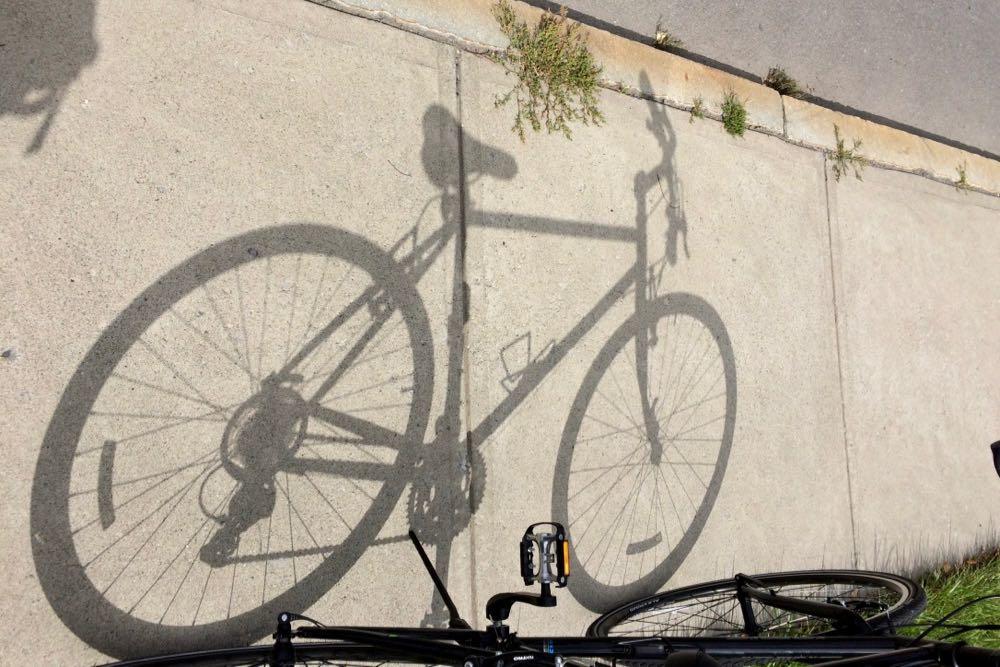 By Greg
About this time last year I shared how I ended up becoming a person who uses a bike as one of my primary ways of of getting around town.
A year later I am still that person. (Even the Times Union says I'm a cyclist.)
And here are a few thoughts about how that's worked out...
It becomes a totally normal thing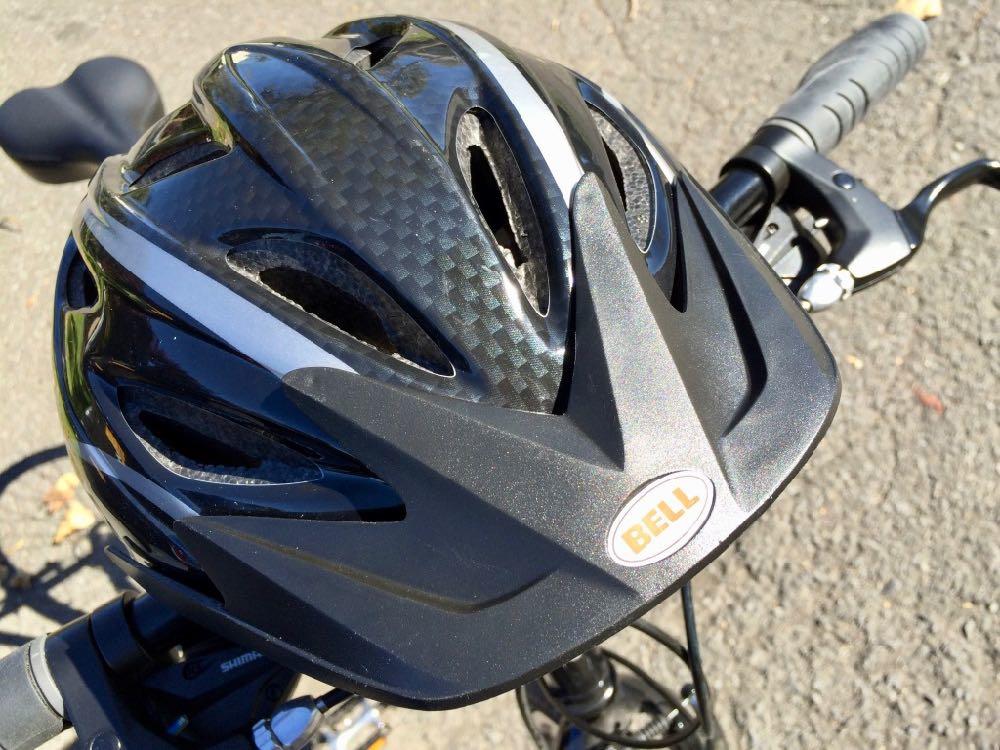 This continues to be my only piece of specialized bike apparel.
Back when I switched to being a bike-as-transportation person, I usually got a little bit excited to be able to ride my bike somewhere. It was different. It was fun.
Now it's just... normal. There are a lot of things I still like about it -- it makes me feel good, it's better for the environment, it's relatively cheap, and it's just more interesting than driving around in a car. But it's become an everyday thing and I don't really think too much about it. And I no longer get many of the "hey, you biked here" comments from people who know me.
That's OK. In fact, it might even be good. The Netherlands is one of the everyday-cycling capitals of the world and apparently people there have a totally yeah-whatever attitude about riding a bike around town. It's not remarkable in any way to them.
I'm not at that point. I think it's actually kind of hard to get to that point in the United States (more on that in a second). But I'm pretty firmly in the camp of people who just happen to ride a bike.
Bike + bus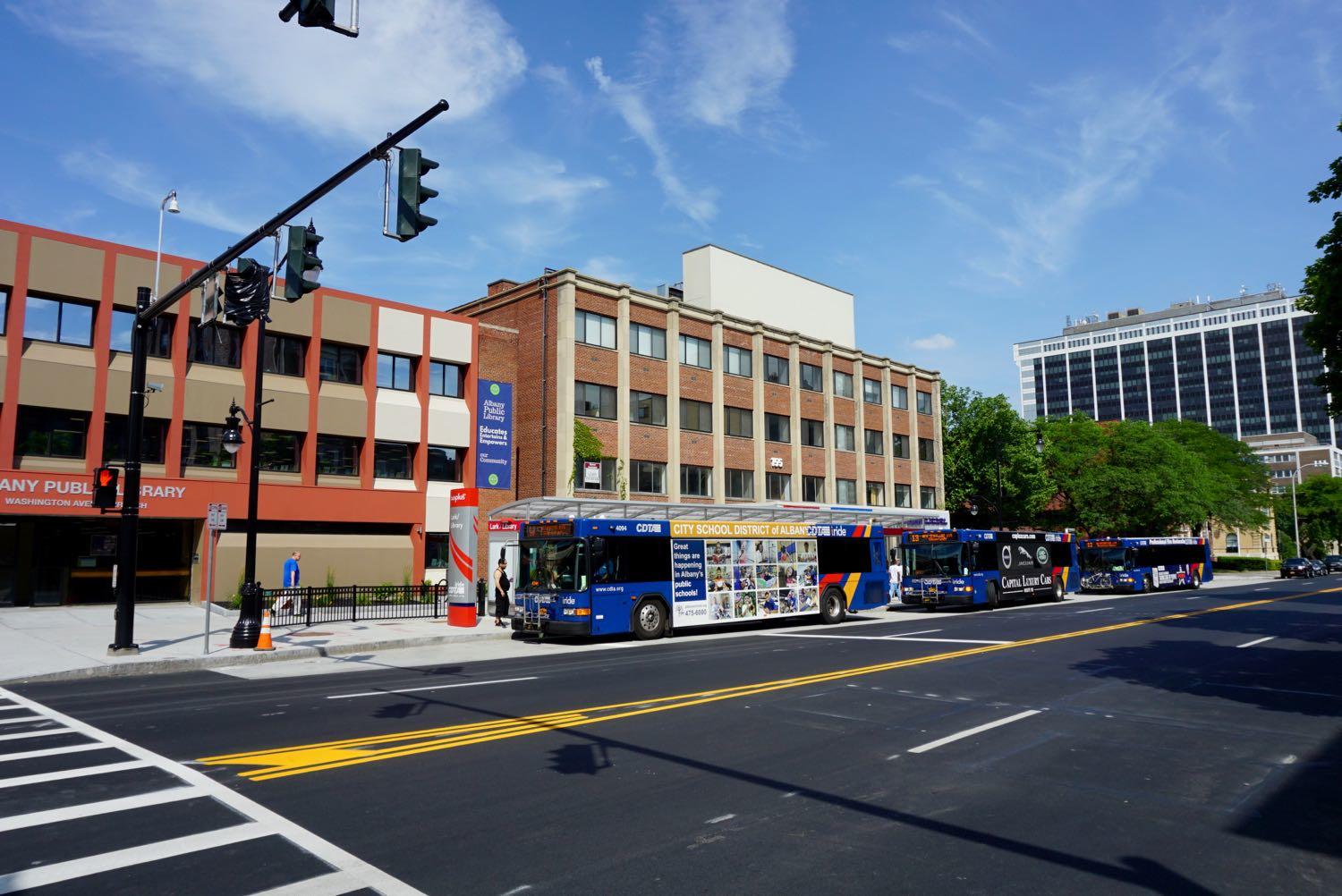 As I mentioned last year, one of the reasons for using my bike this way is that I'm part of a one-car household -- and happily so. We prefer only having one car and living in the city of Albany makes that relatively easy.
So, for me, bike riding hasn't necessarily been a substitute for driving. I was already taking the bus a fair amount, and I've found that bike riding has taken the place of most of my bus trips during warmer weather. (If I'm driving, it's usually because taking the bus or riding my bike isn't going to be practical.)
A lot of that is flexibility -- I can leave when I want on my bike and it often doesn't take me a whole lot longer to get where I'm going. This is sometimes true of car trips in the city, too, because of traffic and stop lights.
Also: If given the choice of the two roughly equal options -- a bus ride or a bike ride -- I'm probably going to pick the bike because of the exercise, flexibility, and fun. And I say that as someone who generally enjoys riding the bus. (Riding the bus can be nice. It's true. Try it.)
Maybe because of the bike/bus substitution, I've found the two modes also work together relatively well. There have been many times this year when I've ridden my bike somewhere and then racked my bike on the front of a bus and taken it the rest of the way (or vice versa) -- because I didn't want to ride up the giant hill from downtown Albany, or because I hate riding through rush hour traffic, or I was just tired and wanted to zone out.
So in some sense buses and bikes help extend each other.
One quick recent example: I was in downtown Albany during the after-work rush hour and was dreading both going up the hill and riding among all those cars. So I hopped on the #12 -- which runs something like every eight minutes during rush hour -- and took the bus up the hill and west. Then I hopped off and rode about a mile home. Easy.
Of course, winter will be here soon. Last year I rode my bike into early December. But after that it was bus-no-bike for the next few months.
The design of roads matters a lot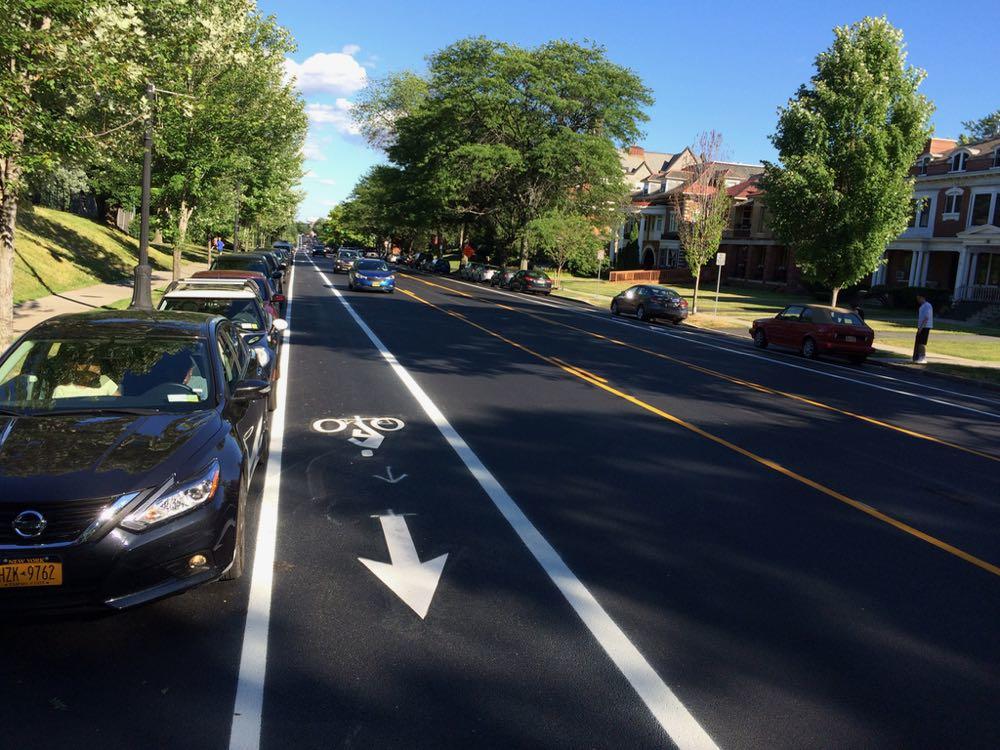 Madison Ave in Albany
Because a lot of people ask: Yeah, there have been times over the past year when I haven't felt safe riding my bike around here. And that's one of the reasons I think we're still a way off from the Dutch yeah-whatever-I-rode-a-bike attitude.
Sure, that's partly because of drivers. Some people are just unsafe or inconsiderate. Though in my experience, drivers in the city of Albany don't tend to be that bad with regard to bikes.
Rather, I think the real problem is the design of roads, which are largely set up for cars at the expense of pretty much everyone who's not in a car. (I'm far from the first person to arrive at this conclusion.) I often feel this way on foot, too.
Places such as Albany and Troy and even Guilderland have been making progress lately on this front. The Madison Ave Road Diet is an upgrade for cyclists and walkers, and I've happily pedaled along the bike lanes on Clinton Ave many times.
But there's a lot of room for improvement, both in terms of reach and degree. The city of Albany could really use more bike lane corridors, especially north-south. (North/South Lake, maybe?) And while simple bike lanes are better than nothing, they'd be even better if they were separated or protected bike lanes.
The biggest reason is safety. Just about a month ago I almost got hit by a car while riding in the bike lane on Madison Ave because the driver didn't see me (or didn't look) and veered into the bike lane before making a right turn. I jammed on my brakes and stumbled off my bike. (Also: There might have been some yelling.) If the lane was protected it would have been harder for the driver to do that.
Yep, it's a bigger task to build protected bike lanes because they take more money, space, and planning. I think they're worth it, though -- and not just because of the immediate safety reason.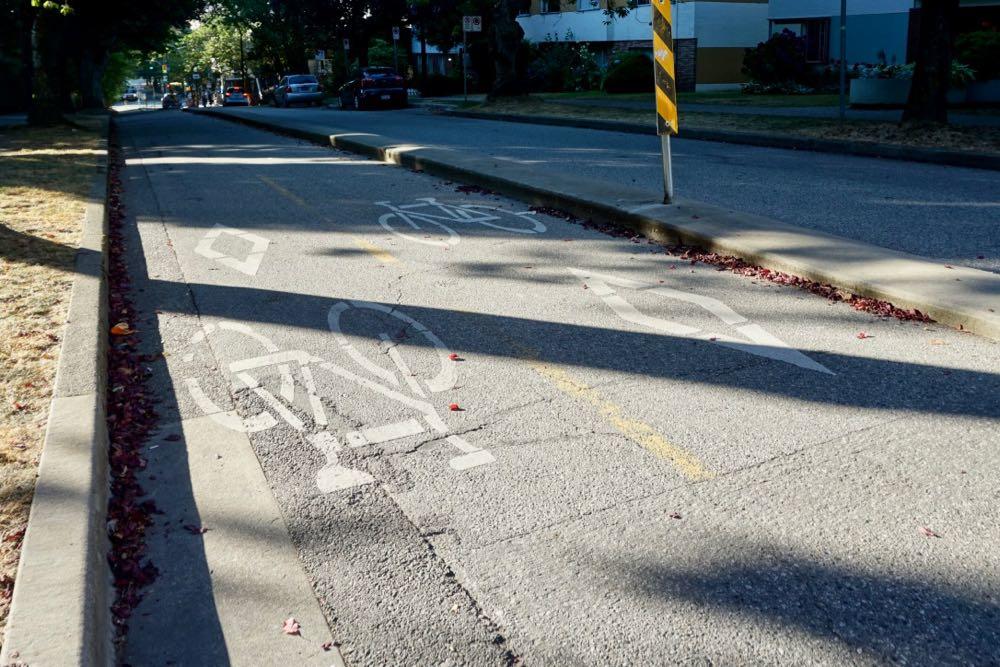 A protected cycle track in Vancouver.
This past summer I got to spend some time in Vancouver, which has a bunch of protected and/or separated bike lanes. Riding along them felt great. You still have to pay attention, but it's not the constant hypervigilance of riding in traffic with cars.
And, yow, do people use these lanes and paths -- Vancouver is the first place I've ever been in a bike traffic jam. So many people ride bikes there that a festival included multiple valet bike parking lots.
I can hear what you're thinking and you're right, Albany is not Vancouver. But the experience reinforced for me the value of good bike infrastructure. It's both safer and feels safer for people. And because of that sense of safety more people feel like a bike is an option for them.
Anytime this topic comes up here, both at AOA or a meeting, someone inevitably says something along the lines of, "Why would we go to all the trouble of building this bike infrastructure when no one rides bikes?"
Well, for one, people are riding bikes here. I see all sorts of people riding bikes all the time in all sorts of neighborhoods.
And, two, there's research that indicates if you build it, people will bike it. Capacity leads to demand. Or as urban planner Jeff Speck commented in his new book: "Observing that few people bike in a place without a good bike network is like saying that you don't need a bridge because nobody is swimming the river."
If that doesn't click for you, how about this: The next time you're stuck as traffic on New Scotland Ave or Madison Ave or Henry Johnson Boulevard in the post-work rush, imagine how much less congested it might be if a bunch of people in that corridor were instead on bikes in bike lanes.
Surfaces
Pot holes are jarring. True if you're driving a car. Especially true on a bike.
If car people and bike people want to gather on some sort of common ground, getting together and advocating for better pavement is a place to start.
There are many ways to be better on the road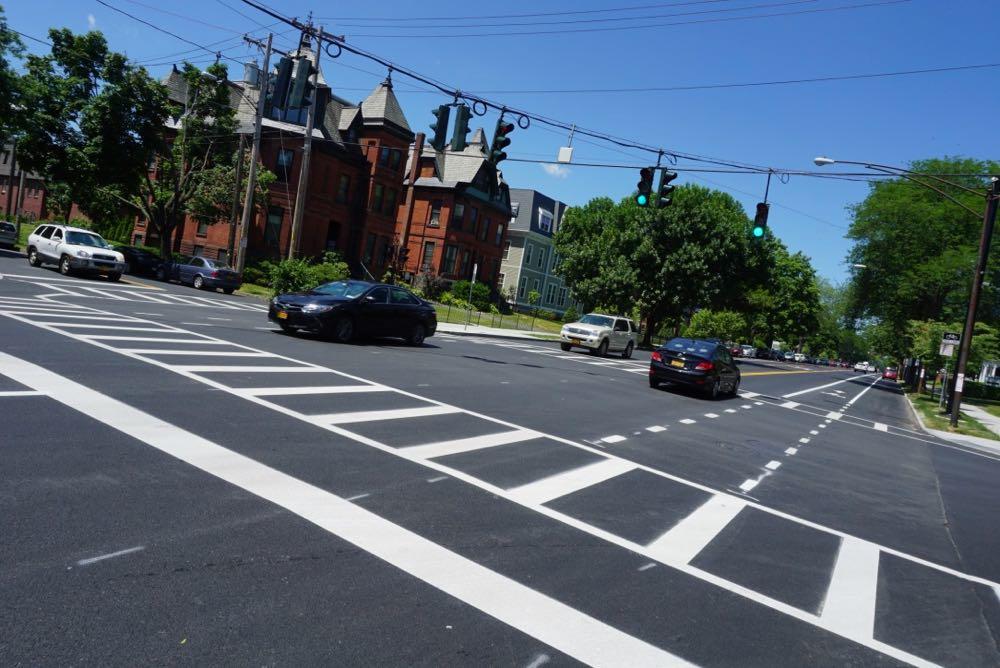 Speaking of the bike/car divide: One of the ways the conversation about this kind of stuff frequently derails is that people end up yelling at each other over who's to blame. Reckless drivers, arrgh! Those entitled cyclists, rarr! I think that particular thread is tedious and unhelpful. What matters is improving the situation, not yelling about who's wrong.
Here's the thing: You can be a jerk no matter what mode of transportation you're using. In a car you can speed or double park or roll through stop signs or not honor crosswalks. (I see these things all the time.) On a bike you can ride the wrong way on the wrong side of the street or blow through intersections against the light. (Yep, I see that a lot, too.) And on foot you can do things like hop out into traffic from between two parked cars. (Again, yep.) Everyone can do better. And we can all pay some attention to how the design of those streets influences our behavior.
The big difference among all those situations is that a car is a multi-ton machine that can, with ease, literally end someone's life if you're not paying attention. And there have gotta be ways we can all work together so that happens a lot less often.
Joy
One thing I don't want to ignore in all this is that there's something inherently joyful about riding a bike, even after it becomes a regular, everyday thing.
I love riding home in the evening through neighborhoods, catching the smell of dinners cooking. I love seeing people I know, waving as I ride by. I love gliding along the stretch of State Street near Washington Park, taking in the gorgeous architecture. And I love the way my shadow rides off in front of me as I pass under a street lamp in the evening.
It can be a fantastic way of moving through a city.
Greg Dahlmann is one of the co-founders of All Over Albany.
Earlier
+ How I ended up riding a bike as one of my primary ways of getting around town -- and how that's gone
+ Mapping out the future for an alternative transportation network in the Capital District
CDTA advertises on AOA.
Hi there. Comments have been closed for this item. Still have something to say? Contact us.