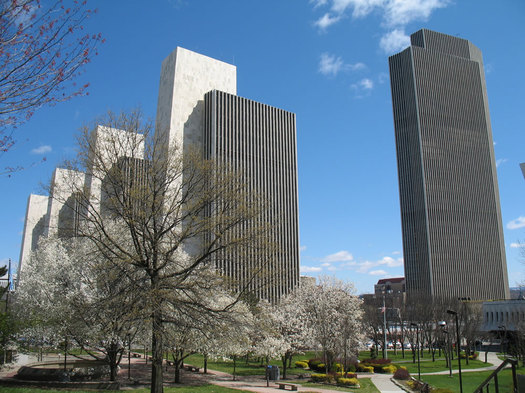 Most of the time when we talk about "population" it's in reference to how many people live in a place. But that doesn't necessarily give the best sense of how many people frequent that city/town/village.
For example: the city of Albany's population on weekdays increases almost 67 percent during weekdays, according to Census Bureau estimates.
So, to get a better sense of how the population "tide" drifts around the Capital Region on a weekday, we thought it'd be interesting to pull daytime population numbers for cities, towns, and villages around the Capital Region -- and then rank and map them.
Look up
Both a map and table are in large-format above -- scroll all the way up.
A few things
+ It's not surprising that the city of Albany tops the list for biggest daytime population swing -- its downtown is full of offices, including the ESP. And it also has the Harriman office campus uptown. But we were a little taken aback by the how large the difference is -- an increase of 2/3!
The large swing is a boon for a city. But it also points to some of the challenges -- like parking and maintaining infrastructure for all those additional daytime workers.
+ Again, Colonie and Saratoga Springs' spots near the top aren't much of a surprise. But check out tiny Ballston Spa representing with a 21 percent increase.
+ Conversely, we expected Troy and Schenectady to both have bigger daytime increases. Especially Troy -- its downtown always seems packed during the daytime.
+ The fact that suburban places like New Scotland lose a lot of their population during the day isn't unexpected. But Cohoes and Watervliet -- more urban places in the Capital Region core -- also see large daytime decreases.
+ These numbers are based on 5-year estimates from 2006-2010 (explained below). We have feeling the next set of estimates will show Malta -- with the GloFo fab -- swinging closer to the break-even mark, if not into the positive.
Data and acknowledgements
+ All population and commuter data are from the US Census Bureau. The numbers are from the 5-year estimates for the American Community Survey 2006-2010. These are estimates, and for some of the smaller population places, the margins of error do start to grow, so a grain or two of salt to keep in mind.
+ We had this idea to build the map after reading Kenneth C. Crowe II's recent story in the Times Union. So, a tip of the hat to him.
+ And thanks to Inquiron for the super-easy-to-use shapefile to KML converter.
Hi there. Comments have been closed for this item. Still have something to say? Contact us.