Items tagged with 'Jack McEneny'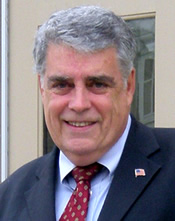 With the news that Jack McEneny won't be running for re-election this year, something one of his kids told us a few years back came to mind. Said John McEneny of growing up with his dad:
"Every time you got in the car there was a tour. Albany is my dad's Narnia, you know. He sees it as this magical place of people and neighborhoods."
Jack McEneny's had a good, long run representing Albany in the Assembly. But there always comes a time for the next generation, and that's not necessarily a bad thing. McEneny pretty much said as much last night.
Still, the city will be hard pressed to find someone who loves it like that.
photo via Wikipedia

Not every street within the proposed area would be subject to residential parking permits
Via Bob Conner comes word that a bill allowing residential parking permits near the Empire State Plaza is moving through the legislature again.
The bill passed in the Assembly a year ago, but died in the state Senate. Bob reports that Neil Breslin says it looks like there will be enough votes to pass it this time around in the Senate.
Among the bill's provisions:
+ The City of Albany would be allowed to "pilot a residential parking permit system with a two year sunset" within a 3/4 mile radius of the ESP.
+ No more than 2,750 spaces would be allowed in the permitted area.
+ Permit parking would not be allowed on streets where adjacent properties are zoned "commercial, office [and]/or retail use."
(The full text of the bill's provisions is after the jump.)
One possible hitch: the Assembly version of the bill differs from the Senate version in the size of the allowed area for permits -- 3/4 mile vs. 1 mile. Bob reports that CSEA dropped its opposition to the bill because of the reduced radius. Update: Albany common councilman Richard Conti stopped by in the comments to note the Senate bill is identical to the Assembly bill and includes the 3/4 mile radius (it appears the Open Senate entry for the bill hasn't been completely updated, yet).
Jerry Jennings told AOA last October that he wants permit parking -- and would pursue it if the legislature allowed it.