Items tagged with 'Leah Wolff-Pellingra'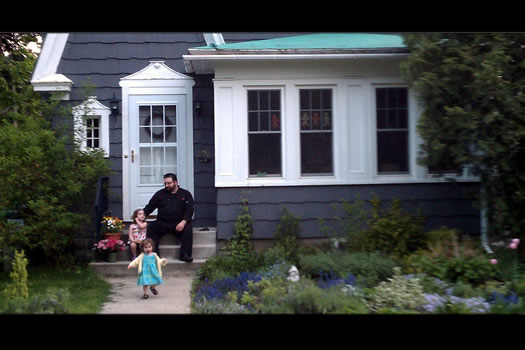 By Leah Wolff-Pellingra
Somewhere, there is an Italian restaurant where Michael Corleone shot Sollozo and McCluskey.
Somewhere, there is a bar where Matt Damon slammed a piece of lined paper on a window and said, "I got her number. How d'ya like them apples?"
Somewhere there is a bench where Forest Gump sat, a ring where Rocky fought, and a stage where Jennifer Hudson, threw out her arms, opened up her throat and sang, "You're going to love me."
I was watching the mastery that is Silver Linings Playbook last week, watching Bradley Cooper start to reach the height of his craft, and all I could think was: "Oh crap. You know that scene that will finally win Bradley Cooper his Oscar? That's going to be in my house."
By Leah Wolff-Pellingra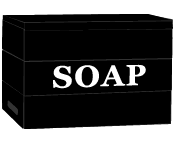 I never thought I'd stay.
In the Capital District, that is.
My mom's family has lived in Smallbany since 1736. We fought for New York in both the Revolutionary and Civil Wars. Five generations of my family have lived on the same road in West Albany. My great-grandfather built four of the houses for himself and his children. My grandfather was born, went to school K-12, lived, raised a family, and died at home, all in one of those houses. My grandmother's family had long standing Irish roots in South Albany. My grandparents met at a USO dance and had their first date at Ralph's on Central Ave. Their grandchildren spent their childhoods meeting every Sunday for pancakes, then walking down the street for Grandma's pies and Kurver Ice Cream.
For my father's family, Smallbany was a refuge. They arrived in 1948 after fleeing Nazi Germany as Jewish refugees. We are now four generations of family at Congregation Gates of Heaven on Ashmore Ave in Schenectady.
I was raised in Schodack and went to East Greenbush schools, then to UAlbany. I married a boy from 'Toga and we lived in Guilderland. Now we're raising our daughters in Niskyuna.
That's how it happened. That's how I stayed.
But it took a Super Bowl weekend trip to LA to make me realize why it is I'm really here.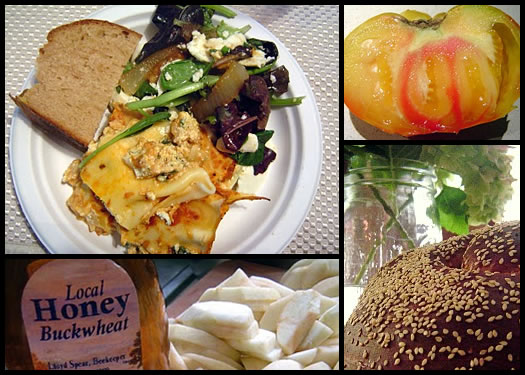 By Leah Wolff-Pellingra
The Honest Weight Food Co-op's LocalHarvest Festival is this Sunday in Albany's Washington Park. AOA is a media sponsor of the event, so we thought it would be fun to ask a few local food bloggers to come up with some easy meals made with local ingredients.
For today's challenge, Noshing Confessions Leah puts together a local meal for the Jewish high holidays.
Children are running underfoot. They've been soaked by the water table outside, and now are coated in mud, demanding apples from the table. Adults are calling from room to room, laughing and talking politics, as the dressing is tossed through the greens, the wine opened and poured. Our final arrival comes bearing two half gallons of Stewart's Vanilla Ice Cream.
The Eat Local High Holy Day Meal of 5771 was about to commence.