Items tagged with 'ObamaHVCC'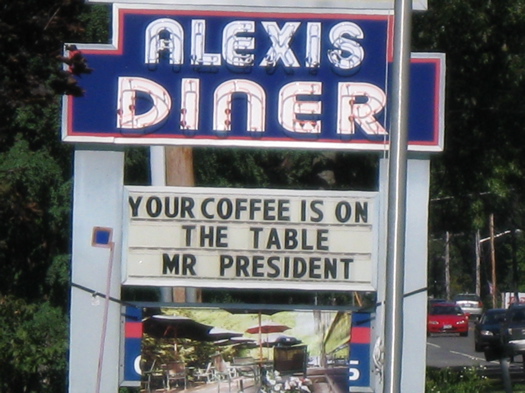 AOA was at Barack Obama's speech today at HVCC.
Here's a look at some of what we saw from our little corner of the bleachers...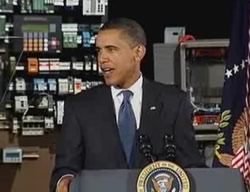 Here's a copy of the prepared text that President Obama delivered today at HVCC. It differs a bit from what he actually said because of ad-libs and other additions/adjustments.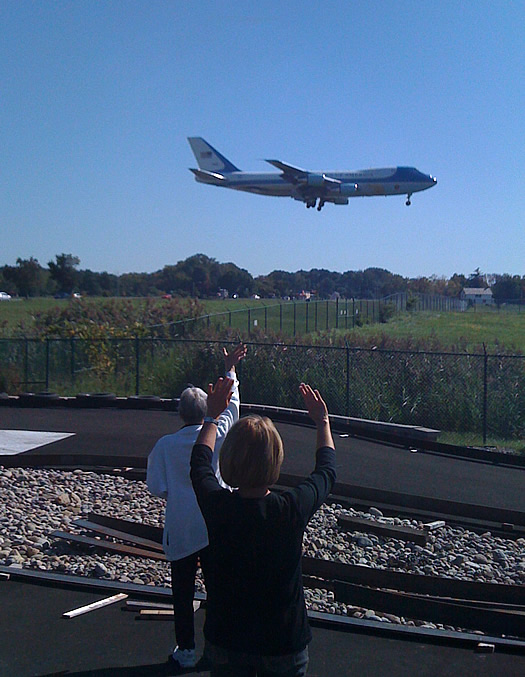 Pete Casellini snapped this pic this morning as Air Force One landed at Albany International Airport.
(Many thanks, Pete!)
Update: Check out more photos of Air Force One by Paul and Amy...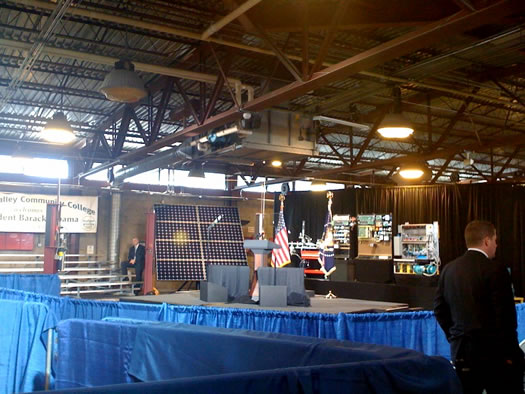 President Obama's appearance at HVCC today is scheduled for 11:30 am. There were no tickets made available to the public. Video from the event will be streamed on HVCC's web site. Update: Lou's posted details about how to get the stream working. [HVCC] [HVCC]
Obama's speech is expected to focus on the economy and industries such as alternative energy. HVCC was likely chosen because the Obama Administration has been touting the potential of community colleges to train workers for these industries. [Troy Record] [TU]
The usual assortment of state and local politicians will be at the Obama event -- including Paul Tonko, who's flying in on Air Force One with the POTUS. [TU] [Fox23]
Not on that list of officials: Joe Bruno, who says the White House told him specifically that he was not invited -- and told WNYT that he's "hurt by it." Bruno's pork prowess helped fund many of the projects Obama will be highlighting. [WNYT] [TU]
The White House has reportedly asked David Paterson to drop out of the 2010 gubernatorial race. Paterson says he's still planning to run. The President is expected to meet with Paterson today during his visit to the Capital Region -- and with gubernatorial candidate state attorney general Andrew Cuomo. [NYT] [AP/Troy Record] [NYDN]