Items tagged with 'PEF'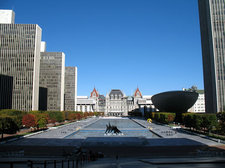 PEF announced this afternoon that its members had approved its revised contract with the state. As a result, about 3,500 state employees -- many of them in the Capital Region -- will not be laid off.
The vote was roughly 70-30 in favor of the contract.
The revised contract includes no pay increases for 2011, 2012, and 2013 (with a 2 percent raise in 2014). It increases the share employees will have to pay for healthcare. And there are 9 furlough days that will be paid back at the end of the contract.
The contract is a year shorter than the original five-year contract. The union's leadership argued shorter length would allow the union to negotiate the next deal "in an economic environment that may be significantly better than the current one." The leadership also said the new deal included stronger layoff protections, deferred payments for the furlough days (as opposed to "retention bonuses"), and more flexibility in using vacation time to offset an employee's share of healthcare costs.
The PEF membership had voted down the first offer, which was very similar to the deal taken by CSEA, in late September. Andrew Cuomo had been threatening to go ahead with the layoffs if the revised contract wasn't approved.
PEF is the second largest state employee union, after CSEA.