Items tagged with 'Park Playhouse'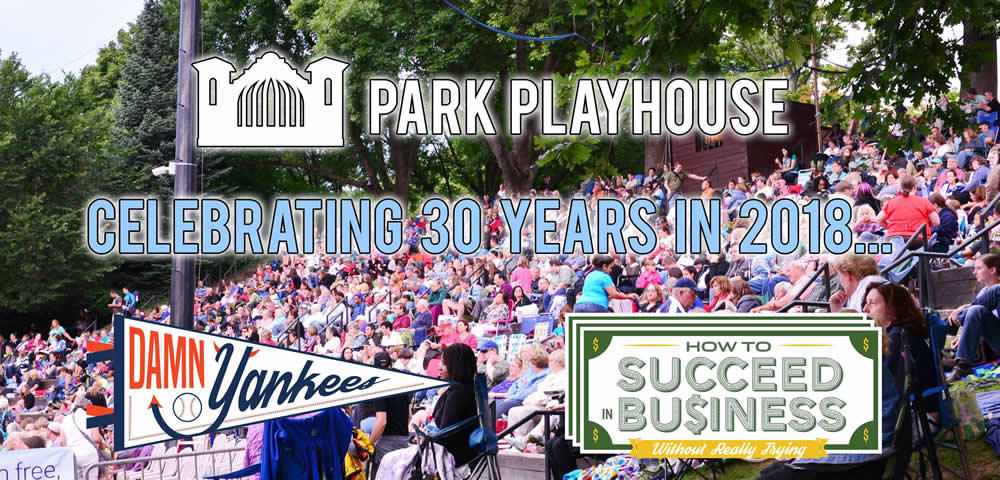 The new season of Park Playhouse in Albany's Washington Park starts up this weekend with a production of Damn Yankees. It is, of course, the classic show in which the story of Faust is set within the world of 1950s baseball. The production runs June 29-July 28, Tuesday-Saturday at 8 pm.
The second show of the Park Playhouse season will be another classic show, the satire How to Succeed in Business without Really Trying. It will run August 3-18, Tuesday-Saturday at 7:30 pm.
Amphitheater lawn seating for Park Playhouse shows is free. (It does tend to fill up, so grabbing a spot earlier rather than later is a good idea.) There's also reserved seating -- it's $14-$25 and available online.
Park Playhouse also has an event July 5 to celebrate its 30th anniversary. It will be a reception in a tent next to the amphitheater and will include food and drinks and entertainment, with dessert in the tent during intermission of that night's show. Tickets for the fundraiser are $150 / $75 for ages 35 and under.
Park Playhouse in Albany's Washington Park opens its 2017 summer season June 29 with a production of Ragtime. The show will run through July 29.
It's looking like a very strong production, with a cast that includes many talented performers from the Capital Region. That video above is from a rehearsal posted by the production this past weekend. Show blurbage for Ragtime:
The Tony-winning score is just as diverse as the melting pot of America itself, drawing upon many musical styles from the ragtime rhythms of Harlem and Tin Pan Alley to the klezmer of the Lower East Side, from bold brass band marches to delicate waltzes, from up-tempo banjo tunes to period parlor songs and expansive anthems. Ragtime - a truly unique and powerful portrait of America.
Reserved seating for Park Playhouse shows is $16 for side sections, $18 for the center section, and $24 for table seats. And, of course, lawn seating is free. (That reserved seating does fill up.)
The rest of the Park Playhouse summer season includes production of The Music Man in the park during August, and a Park Playhouse Kids production of The Lion King Jr. at the Cohoes Music Hall later in August.