Items tagged with 'Shirley Ann Jackson'
You might have seen that RPI president Shirley Jackson was namechecked on Saturday Night Live this past weekend. The clip is above -- the part referencing Jackson starts at the 2:45 mark.
It's a Weekend Update segment in which Leslie Jones uses Hidden Figures as a prompt to talk about the way the contributions of African Americans often don't get taught in schools, and when that history is taught it's squished into a designated history month. It's an important point. And Jones is funny, as usual.
The segment portrays Jackson as the inventor of caller ID, which misrepresents her work at Bell Labs. Jackson, a physicist, did fundamental research on materials used for semiconductors -- work that helped clear the path for all sorts of telecommunications applications.
And, sure, it's a comedy segment, but to say "she wasn't even in tech"... Shirley Jackson is tech. The first African American woman to earn a doctorate from MIT. An accomplished research scientist. A chair of the Nuclear Regulatory Commission. A president of the American Association for the Advancement of Science, the country's foremost org for promoting science. President of RPI. And last year the recipient of the National Medal of Science.
RPI president Shirley Ann Jackson was at the White House Thursday to receive the National Medal of Science. From the transcript of Barack Obama's remarks published by the White House:
Shirley Ann Jackson, who is part of my science advisory group, grew up right here in Washington, D.C. Hers was a quiet childhood. Her first homemade experiment involved, I understand, collecting and cataloging bumblebees in her backyard. (Laughter.) Two events happened that would not only change our country's course, but Shirley's. In Brown v. Board of Education, the Supreme Court handed down a landmark decision that separate educational facilities are inherently unequal, and the Soviets launched Sputnik up in the sky, sparking a space race. As Shirley put it, "Those two events in history changed my life for good."
She went on to become the first African American to earn a doctorate in physics from MIT, the second woman to do so anywhere in America. And over the years, Dr. Jackson has revolutionized the way science informs public policy from rethinking safety at our nuclear plants to training a new generation of scientists and engineers that looks more like the diverse and inclusive America she loves.
There's video of Jackson receiving the medal embedded above.
Blurbage about the National Medal of Science: "The award recognizes those who have made lasting contributions to America's competitiveness, quality of life, and helped strengthen the Nation's technological workforce. A distinguished independent committee representing the private and public sectors submits recommendations for the award to the President."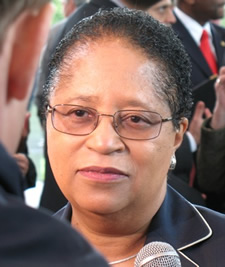 RPI president Shirley Ann Jackson topped the list of the nation's highest paid private college president in 2012, according to an analysis by the Chronicle of Higher Education. Jackson's total compensation -- $7.1 million -- was more than 3.38 million higher than that of the second president on the list.
Jackson's base pay for 2012 was $945k. The bulk of her compensation came in the form of a deferred compensation payout worth $5.9 million. (One reason why her compensation in 2012 was much higher than the somewhat-over-$1 million range it had been in recent years.)
The Chronicle's website has a detailed breakdown of the numbers for each president. In Jackson's case, her total compensation also ranked third in the nation when calculated as compensation per institution total expenditures. And it ranked in the 99th percentile nationally for base pay to faculty salary ratio.
The Chronicle collected the info from the RPI's Form 990 filing, which all non-profits must file. You can look it up for free over at Guidestar. (The compensation figures are from page 14.)
To go along with the top spot in the compensation ranking, the Chronicle also added a long article looking at Jackson's tenure at RPI. It notes Jackson will likely be remembered as "a trailblazing president, whose unparalleled vision and determination transformed a respectable regional private college into a nationally recognized research institution" -- but it also includes extensive criticism of her, describing "tales of an imperial air and cowed staff." Here's a clip: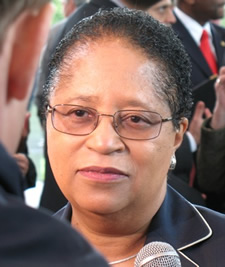 The Chronicle of Higher Education has posted its latest analysis of private college president compensation, and RPI's Shirley Ann Jackson is #2 on the list at a little more than $2.3 million. The total is for 2010.
Bob Kerrey -- the former US Senator -- ranked ahead of Jackson for his $3 million in compensation from the New School. Kerrey left the school at the end of 2010. The Chronicle says his compensation total includes a $1.2 million retention bonus the school gave him to stay on through the end of his contract. (Kerrey had been flirting with a job heading up the MPAA -- it fell through). [New School Free Press] [LAT]
If you take out Kerrey's retention bonus, Jackson would hold the top overall spot, though her base pay ranks 8th. (The president of NYU had the highest base pay.)
The Chronicle draws much of its information for this analysis from the Form 990 that non-profits must file with the IRS. You can check out those forms for yourself at Guidestar -- here's the 990 for RPI.
Earlier this year we pulled compensation data for all the college presidents in the Capital Region. Like the Chronicle's report, it's for 2010.
[via @SeanPCollins]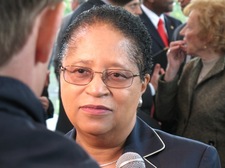 NYT copies follows up on Bloomberg's "college presidents on corporate boards" story -- you know, the one that featured RPI president Shirley Ann Jackson.
Again, Dr. Jackson is one of the examples highlighted:
In the case of Dr. Jackson and her five board appointments, Ms. Minow says, "it is just physically impossible to do the work necessary to be a good director" on so many boards. The Corporate Library estimates that board members must invest 240 hours a year, including meetings and preparation, to do the work properly. But it can become a full-time job if the company runs into trouble. ...
Dr. Jackson would not comment for this article. A Rensselaer spokesman, William N. Walker, said she regularly worked on her board duties through vacation and on weekends. As proof that she was not being distracted from her Rensselaer duties, he cited the hiring of more than 270 new faculty members, $700 million in construction and renovation including four new centers on campus, and a $360 million anonymous donation in 2001 as part of a $1.4 billion capital campaign. Her networking at I.B.M. paid off by helping to bring a $100 million supercomputer to the campus in partnership with I.B.M. and New York State, he said. In June, Rensselaer's board of trustees voted to give Dr. Jackson another 10-year term.
Earlier on AOA:
+ Does Shirley Jackson have too many jobs?
+ RPI's Jackson tops compensation chart
EMPAC, which is a part of RPI, advertises on AOA.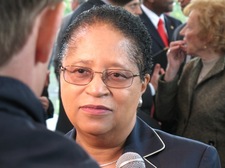 In a meeting with the Troy Record's editorial board, Shirley Ann Jackson addressed many of the ongoing story lines that involve RPI and the city: the relationship with city officials, the old Proctor's theater, the new president's house, the proposed public safety fee and the alert siren. From the article by Troy Record Jess:
Jackson was adamant that she didn't understand why city officials in Troy seem to direct so much ire toward RPI and her personally.
"We try to be a good neighbor," said Jackson. "We want to be helpful."
She believes the media's portrayal of her is unfair, and she said she would rather focus on the positive aspects of current town-gown relations.
Dr. Jackson has been the head of RPI for a decade. The RPI Board of Trustees recently "invited" her back for another 10 years.
She topped the pay chart for private college presidents in the 2007-2008 school year at almost $1.6 million, according to the Chronicle of Higher Ed (the school said last year she'd be donating five percent of her salary to a scholarship fund). A recent Bloomberg piece figured that she earned about $1.4 million serving on corporate boards last year.
Earlier on AOA:
+ Does Shirley Jackson have too many jobs?
+ Of loudspeakers and tweets
+ RPI building a new president's residence
+ RPI's Jackson tops compensation chart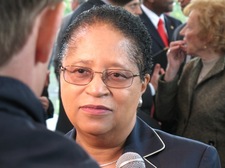 RPI president Shirley Ann Jackson is mentioned prominently in a Bloomberg piece today about college presidents "struggling to reconcile the demands and values of academia with shareholder skepticism about their boardroom commitments."
From the article by Janet Lorin:
Jackson of RPI, in Troy, New York, sits on five corporate boards, more than most college presidents, after stepping down from a sixth in April. She traveled to Milwaukee and Houston to attend shareholder meetings for International Business Machines Corp. and Marathon Oil on two successive April days.
Shareholders at IBM, Marathon Oil, FedEx Corp. and NYSE Euronext filed proxy statements this year or in 2009 questioning Jackson's ability to juggle jobs.
"Nobody should be sitting on that many boards," said Emil Rossi, the trustee for shares who filed a proxy statement with his son to protest Jackson's board nomination at Armonk, New York-based IBM, the world's largest computer-services provider. Of 14 candidates, Jackson placed 11th in the voting and retained her seat. While getting the fewest votes for election at Public Service Enterprise Group Inc., a Newark, New Jersey-based utility, she also held her board post there.
There's more in the article, including comments from an RPI spokesman, a faculty member and reps from a few of the corporations.
Based on proxy statement data, Lorin figures Dr. Jackson earned almost $1.4 million in compensation from her work on corporate boards last year. The Chronicle of Higher Ed reported that Dr. Jackson topped the pay chart for private college presidents in the 2007-2008 school year, at almost $1.6 million.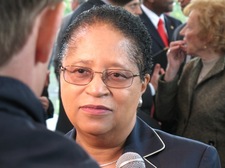 NPR's Tell Me More... recently asked Shirley Ann Jackson about what music is playing in her collection.
On Dr. Jackson's list:
Earlier, Dr. Jackson talked with host Michel Martin about women in science and science education:
... as far as young women and minorities, we can't afford to ignore half to two-thirds of the talent pool and feel weve tapped all the talent. And talent comes from everywhere. So we have to continue to be attractive to those who would come from abroad - very talented people - and have them stay. But we also have to understand we have talent right here.
And whether we're talking the young man from Iowa, the young Latino girl from the Bronx, the African-American youth from Washington, D.C., or the young woman from Scarsdale, these are talented young people and we have to invite them. We have to excite them. We have to prepare them. And we have to celebrate them when they are successful.
Bonus Shirley Ann Jackson item: she was recently part of an Economist-sponsored Oxford-style debate on innovation with Robert Reich, Tyler Cowen and John Perry Barlow. Jackson and Reich "won the debate in a landslide."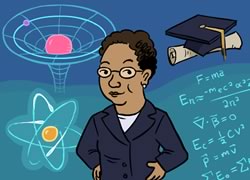 RPInsider pointed out this Shirley Jackson cartoon recently. It tells the story about the RPI president's career building soap box derby cars.
We'll just cut to the chase (er, race): she used aerodynamics to win a race against the mean and jealous boys in the neighborhood.
The cartoon is part of a National Academies of Science site aimed at getting girls interested in math and science. Shirley Jackson is listed as one of the site's "10 cool scientists." As the site's cartoon host informed us: "Shirley can explore anything using just math and physics."
image: The National Academies