Items tagged with 'Syracuse University'
No shoe, no problem. Tyler Lydon shoots his shot anyway #MarchMadness https://t.co/GNNL3vIjdF

— Bleacher Report (@BleacherReport) March 27, 2016
Hit a three-pointer while only wearing one shoe? Sure, of course, why not.
As you've probably heard, the Syracuse men's basketball team punched its ticket to the Final Four with a win over Virginia Sunday night. And there was much rejoicing throughout Upstate New York.
But if you don't follow college basketball, it might not be clear the levels of bonkers this string of Orange tournament victories has been. (Hint: totally, completely, unbelievably bonkers.)
Let us quickly run through some of the ways.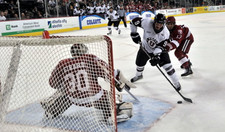 Update update: Union beat UMass-Lowell 4-2! They're going to the Frozen Four!
Update: Union beat Michigan State 3-1, thanks in part to a little luck. [Union athletics] [TU]
The Dutchmen now face UMass-Lowell Saturday at 6:30 pm for a trip to the Frozen Four. The game is on ESPNU.
____
The Union College men's hockey team faces off with Michigan State this afternoon in the first round of the NCAA tournament in Bridgeport, Connecticut. The game starts at 3 pm -- it will be on ESPNU and ESPN# (so you can watch it online).
It's been a great season for Union. It's ranked #3 in the nation after going 24-7-7, and winning the ECAC tournament for the first time in school history. The Dutchmen are a #1 seed in the NCAA tournament.
Not too bad for a school that doesn't offer athletic scholarships and only has about 2000 students. There's an interesting article in NYT today about how Union got to this height in hockey.
Also: they're not allowed to have playoff beards. [@PeteIorizzo]
Syracuse
Update: Syracuse lost to Ohio State 77-70. The Orange finish their season 34-3.
The Syracuse men's basketball team beat Wisconsin last night in the Sweet Sixteen of the NCAA tournament (remarkable because the Badgers apparently couldn't miss from behind the arc). The #1 seeded Orange next face #2 seed Ohio State on Saturday in the regional final for a trip to the Final Four. The game is at 7 pm on CBS.
photo: Union College Athletics