Items tagged with 'Tom DiNapoli'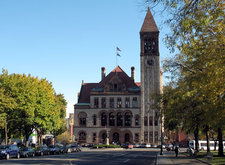 Municipal budget fact of the day: pension costs eat 22 percent of the city of Albany's budget tax levy.
The Jennings administration released a letter today it says Jerry Jennings has sent to state comptroller Tom DiNapoli "urging real pension reform." Yep, that sounds like a big bowl of boiled vegetables, but this part caught our eye:
The rising cost of pensions has been one of the greatest burdens on our city's finances and taxpayers.
This problem has evolved into a crisis as you have mandated increases in pension contributions over the last several years which have devastated our city budgets. Over the last decade pension costs have ballooned from roughly $700,000 to over $12 million. In 2001, only 1% of the Albany taxpayers property taxes went to pension costs, as of last year they are paying 22% of their taxes to cover pension costs.
This means that ten years ago Albany residents were contributing approximately $7.50 per person to cover pension costs, today they are paying almost $130.
The full letter is after the jump. Not in the letter: criticism of the leaders and administrations who agreed to the contracts with the unions in the first place.
The larger political soap opera context...