Items tagged with 'gawking'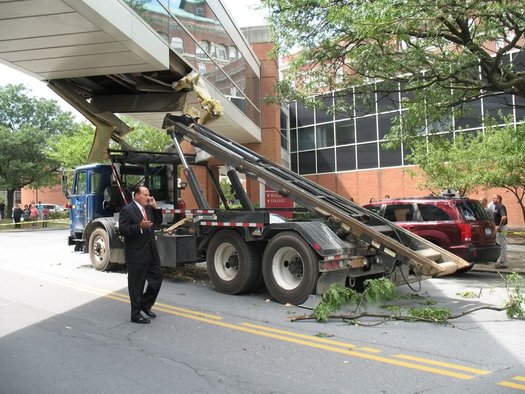 Update: New Scotland Ave re-opened at 5:40 pm Monday.
New Scotland Ave was closed alongside Albany Med for a few hours Monday after a truck hit one of the pedestrian bridges that span the street.
Here's what happened, according to Albany Police Department spokesman Steve Smith: a County Waste truck had dropped off a construction dumpster at the site of the Albany Med expansion just down the street around noon. The driver then apparently left the mechanism that lifts the dumpsters in the upright position. The driver then headed up New Scotland -- and, bang, the raised portion of the truck ran into the pedestrian bridge.
Smith said there were no injuries. (We wouldn't be surprised if there was a bruised ego.) He didn't know if there was anyone on the bridge when it was hit.
At about 2:45 pm fire and police departments were waiting for an engineering firm to take a look at the bridge before they started clearing the truck. Smith figured it'd probably be another hour before the street was open again.
Smith said police are gathering details to see if the driver will be ticketed.
A handful of photos are post jump.