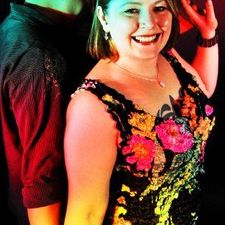 Who:
Stephanie Marie
Project:
A website for Foxy Trot Dance and Burlesque: Dance classes that come to you.
My name in Stephanie Marie and I have been a Dance Instructor for Children, Adults and Seniors in the Capital District for 5 years; the first 4 and a half years I taught exclusively for a local Dance Centre but in September I began teaching as an Independent Contractor in order to expand my classes. 5 years ago, in March of 2006, my first assignment at the Centre was to teach 'Exotic Dance for Everyday Women,' a popular class I continue today although it is now titled Beginner Burlesque. This class entails so much more than just "dancing sexy"; it is a journey to self-empowerment through self-exploration and involves finding your own inner-beauty and grace, then transforming it into sensual movement. In doing such, it boosts women's self-esteem and aids in self-expression to enhance their relationships. Best of all, I designed this class to welcome women of all shapes, sizes and ages 18-108! While my original duties focused on the rigors of instructing the Exotic Dance series of Chair, Lap and Pole classes, I quickly added Ballroom, Latin and Swing for children, adults and seniors to my repertoire including the choreography of First Dance wedding performance packages designed to prepare engaged couples for their important day; I had the privilege of being invited to one such wedding and experienced the pride of watching this special moment first hand- it was incredible. Additionally, in April of 2010, I began performing as Marie ReMoan with 2 local Burlesque Troupes- the Bing Bamboo Room and the Scooter Pie At Midnight (SPAM) Burlesque Shows. The Metroland wrote a wonderful review of the Exotic Dance class in February of 2008 and The Free George recently included Marie ReMoan in a flattering review of the Bing Bamboo Room Burlesque Show.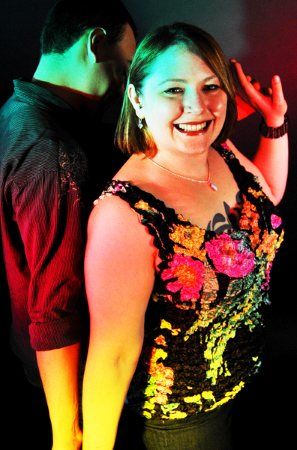 Since September of this year when I became an Independent Dance Instructor, I have held successful Burlesque, Ballroom, Latin, Swing and Line Dance classes at numerous locations throughout the capital district including AlbanySalsa.com Dance Studio, The Senior Services of Albany, The Achievement Academy Charter School and the Arts Center of the Capital District to name a few. I have also been choreographing artistic portions of skating routines for a talented ice skater from the Saratoga Springs Figure Skating Club. I have am slowly working towards an MA in Cultural Anthropology at UAlbany with a specialization in the ethnology of dance as I am particularly fascinated by cultural dances such as the Bachata from the Dominican Republic. I also developed a Traditional Social Dance program for the Iroquois Indian Museum in Howes Cave where I serve as a docent. My goal is to expand my current teaching and performance repertoire into 'Foxy Trot Dance' & 'Foxy Trot Burlesque.' What makes Foxy Trot unique from other dance programs is that my goal is to travel to the people rather than having them coming to me- and that includes making good old fashioned house calls!
The benefits of dance to people of all ages, backgrounds, and abilities are so vast and varied that physical, social, mental, and individual needs are all met in with this one creative and fun activity! The physical benefits of dance include increased flexibility, strength, balance and cardiovascular fitness while the social ties developed through dancing reduce tension and stress to improve health and well-being as well. The mental benefits of practicing dance include increased focus, concentration and listening skills while building self-confidence and improving self-esteem...most importantly, you reap all these benefits and more while having FUN with friends, old and new!
At the Achievement Academy Charter School, for example, 5th and 6th grade students who had never had the opportunity to take a dance lesson are now participating in Latin Dance Class for over an hour each school day. Their first accomplishment was to memorize a choreographed Bachata routine- only one or two of the 80 students had ever heard of the dance and very few more had danced with a partner but within weeks they proudly presented a full performance and now are learning to dance Merengue as well. In addition to acquiring dance steps they improved teamwork, increased their vocabulary, practiced math skills while calculating 8 count patterns and reviewed basic facts about the Dominican Republic such as its geography in relation to Albany. Meanwhile at a Dance Class sponsored by the Senior Services of Albany, I recently had the opportunity to share the Iroquois Indian Creation Story and explain how the Women's Dance, a traditional dance still enjoyed today is so old that it plays a part in this story. The seniors have not only learned Iroquois Dance but Ballroom, Latin, Swing and a bit of Burlesque as well! These dance students would not have had the ability or desire to attend a dance studio for various reasons ranging from economic limitations and time conflicts to restricted access to transportation...Foxy Trot Dance comes to them! Eventually, Foxy Trot Dance & Burlesque will include not only expanded classes and workshops but also performance groups and production of the Foxy Trot Burlesque Show as well. Producing a vaudeville style show, Foxy Trot Burlesque would provide for an adult recital of not only Burlesque acts but also showcase other creative talents in performance arts as well.
In order to continue spreading the benefits of dance to local schools, community centers, dance festivals, summer camps, night clubs and other locations (such as living rooms
and backyards) throughout the capital district, I need to be able to show the numerous benefits of Foxy Trot Dance. Where my teaching and creative skills abound, my technological skills often require assistance. I have been using Facebook & Twitter to promote my business to the best of my limited ability but most people prefer to view a website or at the very least be presented with a professional quality brochure. Unfortunately, at this time, I don't have the technological ability to produce professional-looking media on my own nor the funding to have it made for me. In fact, I've had more than one potential client comment on how small and difficult to read the print on my (free) business cards were. I also know how important a logo is to promoting your brand and I wouldn't even know where to begin in the design of one. I'd love to have a short video produced with class clips and students giving testimonials for view on the website and also available on dvd. Thus far, I have reserved FoxyTrotDance.com and FoxyTrotBurlesque.com but was unable to build a website that was presentable to the public on my own, which is why the Sunmark Startup Grant & All Over Albany would be so beneficial to assisting Foxy Trot Dance in obtaining promotional materials.
A $1500 Grant from Sunmark Federal Credit Union and All Over Albany would go a long way in allowing me access to the help I need to represent myself, my business and my classes in an accurate, positive, professional way allowing me to spread the love of dance with many more students around the capital region; and in-turn, that same $1500 would allow the new students I reach to reap all of the various benefits provided by dance. Introducing people to social dance affords them the opportunity to develop a positive hobby, meet new people, increase their fitness, develop discipline, poise and creativity, and experience joy. An investment in Foxy Trot Dance would truly be $1500 paid forward in a huge way!
Here's what a few of my students have to say about Foxy Trot Dance:
"I have taken many dance classes with Stephanie through the years. In addition to be an extremely talented dancer, she is an excellent instructor with a great personality." -Donna
"I have always enjoyed my dance classes...I find them invigorating, energizing and uplifting for my soul- gives me more confidence in my everyday life and I find myself more aware of my posture and stride!" -Jeanne
"One word to describe Stephanie is passionate. She has passion for whatever she is involved in. I was a student of Stephanie's for about a year...I was little intimidated the first class but Stephanie made it so much fun and really put me at ease, so I was hooked." -Sheila
"It was honestly life-changing. It helped me gain confidence which, in turn, led to me losing weight and becoming active in other healthy physical activities." -Danielle
Maybe you'd like to share...
Tweet