Project: Jerzey's Dog Resort, an upscale boarding and dog day care facility with indoor and outdoor play yards.
Who: Kristine Lambracht
Short bio
I have been an animal lover my entire life. When I was young, I raised chickens, pigs, a deer, a cat, and various other animals. I used to rescue bunnies and birds from the pool filter and nurse them back to health. I had always wanted a dog, but my parents never allowed me to get one. When I graduated from college, I got a dog on my own who I named Jerzey. Through raising Jerzey, I have gained an appreciation for the true companionship that a dog provides which is unmatched by any other type of pet.
When I graduated from college 5 years ago, I got what I thought was my dream job. I was accepted into GE Capital's world renowned Financial Management Program where I spent years cycling through 4 different rotations in various areas of finance. I completed 4 finance courses and attended various leadership seminars. I traveled the country and even got to spend one month auditing in Shanghai, China. Everyone thought I had it made.
Each year during my annual evaluation, I was asked where I wanted to be career wise in 5, 10, 15 years. I was always at a loss for words with this question. The more time I spent in Corporate America, the more I knew that it was not right for me. Deep down in my heart I knew that my vision for my future was to pursue an entrepreneurial dream and open my own dog boarding & day care facility. I knew at some point when I felt ready, I would pull the trigger and work towards bringing this dream to reality. For the past two years, I have saved money from every single paycheck in preparation.
In August 2014, I moved from Phoenix, AZ to Albany, NY in pursuit of my dream. I enrolled in the Albany-Colonie Chamber of Commerce Entrepreneurship Bootcamp class. I chose Albany because my friend took this bootcamp class 3 years ago and now owns her own business so I wanted to move somewhere with a program that was proven. I have a solid understanding of finance & accounting, but the class has helped me develop an understanding for other elements of business ownership.
The biggest lesson I learned through taking this class was that I needed more experience in the pet care industry. I immediately took action to fill this gap in my business plan. In January of 2015, I started a 1 day per week internship at an established dog day care and boarding facility. For half of the day, I work with the staff caring for the dogs and the other half of the day I spend with the business owner learning aspects of dog business ownership and absorbing knowledge about dog behavior and communication. In addition to this internship, I have gained experience in other ways. I volunteered at a 7 week Canine Good Citizen course, attended an 8 hour seminar on dog psychology, took an online course to learn about dog illness & I took 4 seminars to become a volunteer at a local humane society where I walk homeless dogs. In the near future, I am getting certified in Pet First Aid and CPR. I plan to continue with pet industry learning and gaining hands on experience.
I continue to work remotely for GE Capital full time.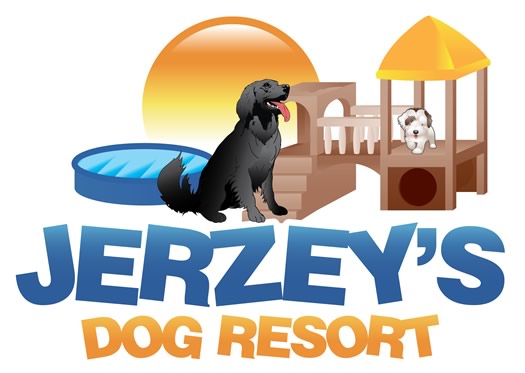 A description of the proposed project
Jerzey's Dog Resort will be an upscale dog boarding and day care facility. There will be boarding rooms that are spacious enough to hold up to 3 dogs from the same family. These rooms will be very cozy with toddler beds, ceiling fans and walls painted with inviting colors. There will also be runs available to dogs that prefer to go between the inside and outside. The Resort will have 6 small outdoor play yards so that boarding dogs have plenty of opportunity to stretch their legs and run around. There will also be a 1/3 acre grass play yard with a jungle gym so that dogs that really like to run and play will be able to do so. The highlight of the Resort will be a fenced in yard with an in-ground swimming pool. There will also be an indoor play yard for days that are too hot or cold. Dogs that are able to play friendly with other dogs will be able to participate in play groups with other dogs.
There will only be about 20 dogs boarding at a given time which will create an intimate experience since more individualized time will be able to be spent with each dog and their owner. The Resort staff will be extremely friendly and inviting. Clients will feel like they are leaving their dog with family. A few things will be done to help foster this environment. While dogs are staying, owners will have the option to sign up for text message updates or pictures. All dogs will go home with summary describing what they did during their stay. Also, all dogs will get a special treat to take home around their birthday and the major holidays. For example, all dogs that stay during the month of December might get an ornament with their name on it. One other thing that will contribute to the intimate experience is that the dog Jerzey, which the business is named after, will be at the Resort on a day to day basis.
Jerzey's Dog Resort will have a special philanthropic mission in addition to its day to day operations because it will be home to 1-2 foster dogs from local humane societies. The Resort environment will promote positive behavior in the foster dogs to make them more adoptable. This will also create the opportunity for potential adopters to come interact with the dogs instead of just selecting a dog to adopt from an online write up or picture.
I am in the process of closing on a property that will allow me to create the type of business I have described above. Jerzey's Dog Resort should be in operation by mid-summer.
Thank you for taking the time to read about my business, for considering me for this grant and for sharing in my dream. If you have any comments or suggestions, I would love to talk to you!
How would the grant money help?
The next few months are critical for Jerzey's Dog Resort. Many things need to happen before opening day. I am nearly wiping out my savings to put a down payment on the real estate. The money would help me pay for a sign at the entrance to the driveway to the business as well as pay off debt I have incurred on website development.

Maybe you'd like to share...
Tweet