Who:
Yuko Kishimoto
Project:
An album of original jazz compositions
Bio:
A native of Japan, Yuko Kishimoto is a classically trained pianist with experience in jazz, pop, French cabaret, and Broadway musicals. She earned a master's degree in piano pedagogy and a bachelor's degree in piano performance from Michigan State University.
She performs as a soloist, accompanist, as well as a band leader of her own combo (trio and quartet), appearing frequently at local venues such as Justin's, Blu Stone Bistro, Stockade Inn, Aperitivo, 9 Maple, One Caroline, Max London, among others.
Also active as a composer, her original compositions have been performed by Keith Pray's Big Soul Ensemble, Michael Benedict's Jazz Vibes, and Nicole Peyrafitte, as well as her own groups, and broadcast on WRPI, WCDB, and WAMC. Some of her works have been recorded on Keith Pray's Big Soul Ensemble's debut CD "Live at Lark Tavern" released in 2010, and Michael Benedict's "New Phase" released in 2008.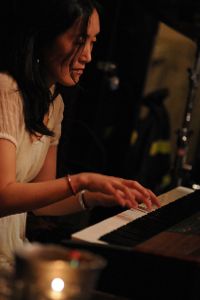 Project:
I am looking to record my first album of my original jazz compositions and arrangements. I have been an active performer in the area since I came to the area in 2003. I have nearly 40 compositions and arrangements I have written over the last few years, and I would like to not only document some of my works professionally, but also share the final product with those who have supported me all these years. As a freelance musician, I do not make much money. However, everywhere I go, I've been asked where they could find my recording. I truly believe that I have an audience who appreciate the idea of my project.
Plans:
The grant of $1,500 would cover the cost of 2 1/2 days worth of studio recording at Cotton Hill Studio in Albany. That would be a great spring board for me to start up my project. If all goes well, this will lead to a release of my Album in a few months. Albany is an active jazz town. There are so many venues, festivals, and other events that celebrate jazz in the Capital District. With my album, I believe I can contribute to the jazz community a new flavor, and help promote appreciation for the live jazz in the local areas.
Website:
www.myspace.com/yukokishimoto
http://www.albanyjazz.com/musicians/yukokishimoto.html
Review and article (images included):
Photo:
AndrzejPilarczyk
Maybe you'd like to share...
Tweet