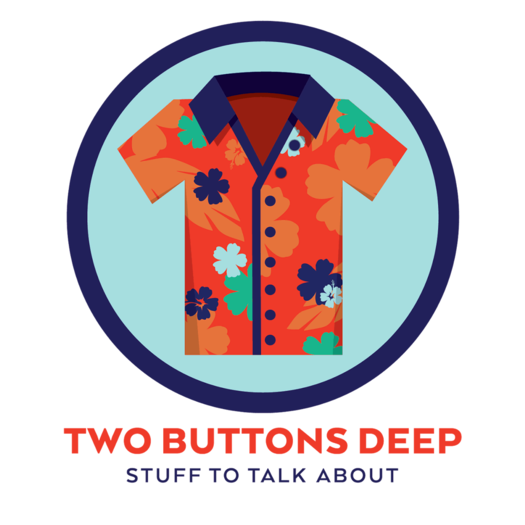 Project: Two Buttons Deep, media entertainment startup that creates quick, consumable content designed to be viewed and shared on social media for a young professional audience.
Who: Jack Carpenter and Taylor Rao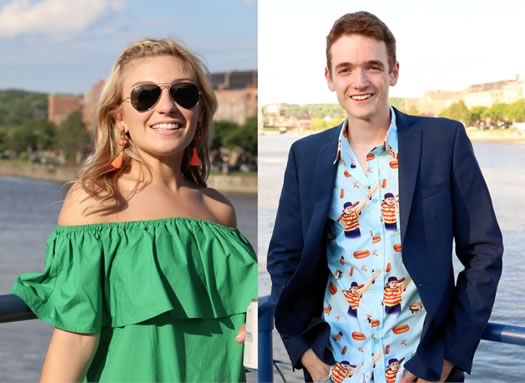 Short bio
Jack Carpenter: I am an upstate native who has been pursuing a career in entertainment for the past 10 years. After teaching myself the art of creating video for the web in middle school, I had surpassed one million views on YouTube by the time I finished my freshman year of high school. I continued that momentum into college where I studied broadcasting at Champlain College. While there, I hosted a late-night talk show that aired across the state of Vermont, and even landed me an Emmy Award at the College Television Awards in 2014. I also interned for Conan O'Brien and appeared on an episode of Jimmy Fallon along the way. After graduating in 2015, I took my production skills on the road for a college-based website and toured the country for six months creating content. After that, I took what I learned (and what I learned not to do) in regards to running a website, and returned to upstate New York to start up Two Buttons Deep in Troy. We currently work in the Quackenbush building as a startup in residence at Ignite U NY's space and are motivated to change the digital entertainment ecosystem of upstate New York.
Taylor Rao: I'm a writer by trade, and after 6+ years learning the ropes of journalism at the Albany Times Union (via a classroom program, internship and freelance work) I teamed up with Jack to start Two Buttons Deep. With formal journalism training, editorial experience and an outgoing personality, it was time to get involved with our own project from the ground up -with the goal to be as creative as possible and play by our own rules in this wildly changing media landscape. I've always been passionate about the news and fascinated by how it's now consumed and shared almost exclusively through social media. Which is why we made Two Buttons Deep based entirely online, which sheds the massive overhead cost that comes along with physical distribution or broadcasting. My other professional roles include account services at an advertising agency in Troy, freelancing for the Times Union and bridal styling at A Love Story Bridal (also in Troy).
A description of the proposed project
Two Buttons Deep is a media entertainment startup based in Troy, New York. We create quick, consumable content designed to be viewed and shared on social media for a young professional audience. With a focus on upstate, Two Buttons Deep is able to provide entertaining, lighthearted content in a market which doesn't offer much outside of traditional news and radio.
Two Buttons Deep publishes interesting stories, original videos and hot takes which give the audience memorable insights on the topic and encourages them share it with friends or family. While we cover nationwide stories, we have a focus on highlighting local businesses and the unique individuals who are helping to make upstate New York cool. Our goal is to create a company so large, like Buzzfeed or Vice News, that young creatives stop leaving Upstate for employment in metropolitan areas, and in fact, flock up here to be part of the next big thing.
We are doing this because we love what we do. We love writing, creating and entertaining, and Two Buttons Deep is all of those things. We do it here in upstate because we're motivated to make change in an area with so much potential.
"Don't go where the puck is, go where the puck is going to be." - Wayne Gretzky
In the creative economy, the puck is currently in places like Los Angeles or New York City, but we have studied and been part of the rising economic momentum in upstate NY with other young entrepreneurs and have confidence that this area has what it takes to help grow and maintain a creative entertainment industry similar to what Two Buttons Deep is all about. Our project deserves funding because for the past year and a half, we have been bootstrapping our business. Granted what we are doing has low overhead, there are many little things that add up and have challenged us financially in balancing our day jobs with Two Buttons Deep. There is no dollar amount that would make us successful, as it's a popularity-based world we're entering, but every dollar we put into the business gets us one step closer to where we want to be.
How would the grant money help?
The $2,500 would help Two Buttons Deep in a lot of ways. Here are the main three:
+ Talent. We currently have six personalities for Two Buttons Deep, which are the face and driving force behind the brand. Although we do not pay them salary, we try to offer incentives and reimbursement for expenses brought on from our projects.
+ Online promotions. Our biggest challenge is getting our content in front of new eyeballs. All it takes is one hook for a new viewer to become a fan and follow our pages, but to get to that person, it often requires social media campaigns to reach new circles online and promote our content.
+ Marketing materials. One of our biggest strengths we have is our branding. Two Buttons Deep isn't just a cool name, but we stand behind our logo, our swag and what it means to be "Two Buttons Deep." People like wearing the shirts we have produced, and we would like to offer a new line of merchandise so our biggest supporters can share our brand story and promote 2BD through the world's most effective form of advertising: word of mouth.
Maybe you'd like to share...
Tweet