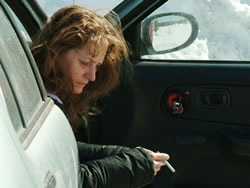 Here's a little more about "Frozen River," the film written and directed by Chatham's Courtney Hunt (and shot in Plattsburgh) that won the Grand Jury Prize this past weekend at Sundance. From the festival's site:

Two days before Christmas in rural upstate New York, Ray Eddy's husband has left her in an impossible situation--not only is he gone, but he has gambled away all of the family's meager savings. Ray's single wage at the Yankee One Dollar Store can't make the house payment, and the situation forces Ray to feed her two sons popcorn and Tang every day. When Ray strikes out to search for her husband, she encounters Lila Littlewolf, a tough, street-smart Mohawk woman who is dealing with her own struggle to make ends meet. But Lila has found a way to do it--smuggling illegal immigrants into the States. The tribal elders disapprove and attempt to stop Lila by forbidding anyone to sell her a car. Ray has a car, and although the two women don't trust each other, they team up and share Ray's Dodge Spirit to make a run across the frozen St. Lawrence River.

And here's a clip from a generally positive review in Variety:

A working mom's efforts to raise cash to buy an upgraded trailer home lead her into a strange netherworld of human smuggling in Courtney Hunt's solid debut, "Frozen River." No trendsetter or breakthrough, this is more than anything else a welcome chance for the fine actor Melissa Leo to finally dominate a film in a terrific and affecting lead role. Sony Pictures Classics acquired the pic at Sundance for under $1 million, spelling limited arthouse biz.

Pic reps a throwback to an earlier brand of Sundance indie film that combined personal touches, geographical specificity, feminist references and Native American social realism, though none of these factors are so foregrounded that polemics or even politics matter nearly as much as storytelling.

Film Threat also gives it a warm review. The IFC blog wasn't so into it, though.
The official site for "Frozen River" has a handful of pics from the production. (That's Melissa Leo up top.)
Bonus tidbit: There was a 1929 film that was also named "Frozen River" -- it starred Rin Tin Tin in his talkie debut.