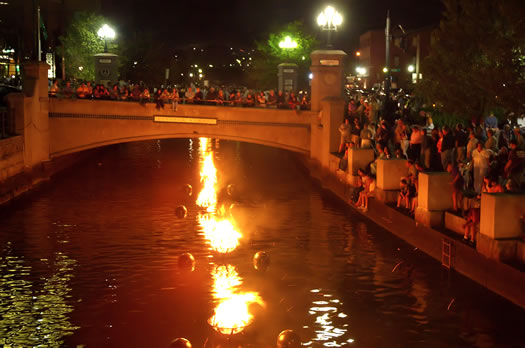 Like Nicki, we too were intrigued by the thought of a floating, burning tulip. It turns out that floating, burning art is sort of a thing right now.
As far as we can tell, the trend began in 1994, with environmental artist Barnaby Evans. Evans installed a floating, burning art exhibit in Providence, Rhode Island.
Apparently it was such a hit that Kansas City, Missouri and Columbus, Ohio commissioned Evans to create some floating, burning art for them too. The exhibits run for months and are accompanied by classical music. Kind of like Yanni with a lighter.
According to the Times Union, Albany officials approached Barnaby Evans about creating some floating burning art for our fair city, but the price tag was too high. So they're going a more economical $100,000 version. Don't think of it as cut rate floating, burning art think of it as floating burning art for a good value.
photo: Flickr user hlkljgk used under a Creative Commons Attribution / Share Alike license
Hi there. Comments have been closed for this item. Still have something to say? Contact us.