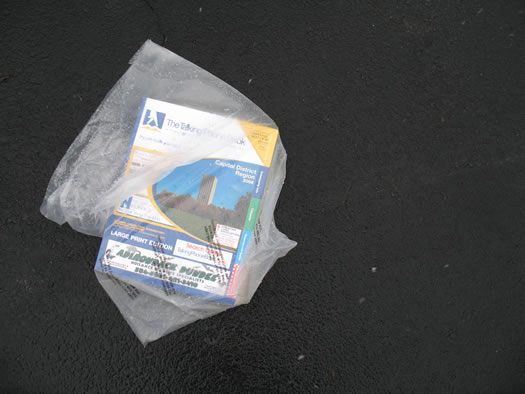 We can't remember the last time we used a phone book to actually look up a number, or really do anything. (About four years ago we used one to elevate a computer monitor -- that actually worked pretty well.) But the phone books just keep on coming. We just had two new ones plopped on our driveway during the last month or so.
It's annoying because now we have to do something with these essentially useless blocks of paper, basically a jumbo package of junk mail -- and we can't imagine printing all those unused phone books is great for the environment, either. So we went looking for ways to stop the phone books. Here's what we found for the two books we recently had dumped on us:

The Talking Phone Book
Tucked inside one of the first pages in small type is a note saying that you can stop delivery of the book by sending a request (presumably with your name and address) to this email address:
distribution@talkingphonebook.com
We did exactly that this morning. We didn't get a confirmation email or anything in return, though.

Yellow Book
This one involves a few more steps, but it seems like it might have a better chance of working. We couldn't find anything in the book with instructions for opting out, but we found a number that you could call to request more books. Well, if these people can send us more, maybe they can send us fewer. So, we called and that turns out to be the case. Here's the number to call:
1-800-929-3556
Then choose option number 2. You'll be connected with a customer service rep. Tell them you'd like to be put on the "do not deliver" list for Yellow Book. The rep will then ask you for your address, phone number and name. And that's it.
Hi there. Comments have been closed for this item. Still have something to say? Contact us.