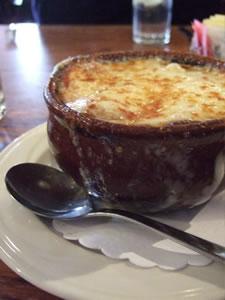 It's soup weather. Oh boy, is it soup weather. Like cheesy, gooey baked onion soup weather. The kind they serve at the Olde Bryan Inn in Saratoga Springs. Ask any Spa City native where to get the best baked onion soup and they'll send you to the O.B.I.
Owner Louis Maggiore says if there's a secret to this soup's cheesy, oniony goodness, it's this: simple is good. "It's soup," he says, "not brain surgery."
First, they use real butter (we didn't say it was healthy). Then they take enough time to properly caramelize the Spanish onions, add a little sherry to the stock and give it time to cook off. They add a piece of hard garlic bread and finish it off with a blend of swiss and provolone cheese.
But heads up: if you order it as an appetizer you're not likely to get to dessert. It's pretty filling. We think it goes best in a soup and salad combination. You know, so the vegetables can counteract the butter. Right?
The Bottom Line
It'll make you happy and keep you warm, but it's probably not on Jenny Craig.
Find It
The Olde Bryan Inn
123 Maple Avenue
Saratoga Springs, NY 12866
Hi there. Comments have been closed for this item. Still have something to say? Contact us.