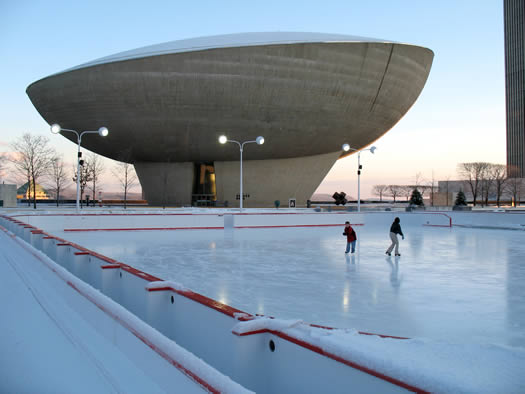 Fresh air is good for you, right? So if you're looking for some cheap fun this weekend, the forecast looks just right for some outdoor ice skating. We found a few options for open air skating that free, or nearly free.
Albany has two rinks you could try. Swinburne Ice Rink in Swinburne Park at Clinton and Manning Avenue, and the ice rink at Empire State Plaza Swinburne isn't totally open. It's covered by a pavilion, but there's plenty of fresh cold air to be had. It's also not totally free, but it may as well be ($1 for adults, .50 cents for kids). You can rent skates anytime for $2. ESP is free and has a great view of the plaza. The rink is near The Egg. On weekends and evenings you can probably park on State Street pretty easily. You can rent skates for $4, but only on weekends.
Saratoga Spa State Park has two outdoor rinks. One is just off the Avenue of Pines. It has a warming hut and lights for night skating. We checked with park officials and apparently there's no official closing time for this rink...so skate till the lights go off at no charge. The other rink is smaller. It's further in the park, near the Victoria Pool. No lights here, but you can skate for free all day. Beat that.
Hi there. Comments have been closed for this item. Still have something to say? Contact us.