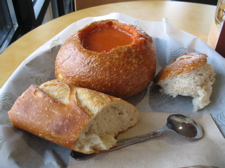 File this under "Things We Hate About Places We Love." Panera is kind of a home away from home for the AOA staff. You might even call it one of our "satellite offices." We're usually there a few days a week for the tomato soup, free wi-fi and bottomless soft drinks. We realllllly like Panera. So what we say now, we say out of genuine concern. It's for everyone's good, trust us.
But, Panera, what's up with the freakin' Musak? (OK, we're not sure if it's technically Musak, but we do know it's pretty bad) Seriously... the food is good, the fireplace is nice, the comfy chairs and cozy booths; it's like you really want us to drop by and hang out. Then you hit us with a saxophone version of "No Ordinary Love" that would put Kenny G to sleep. Twice. Really, is that a song that needs to be slower? Let us help you. The answer is no. And what you did to Stevie Wonder the other day should be a crime. We should have reported you to authorities.
So, we don't mean to complain Panera. You do so much so well, but would a little actual Stevie Wonder kill you? Of if it has to be something instrumental, maybe some good jazz?

Hi there. Comments have been closed for this item. Still have something to say? Contact us.