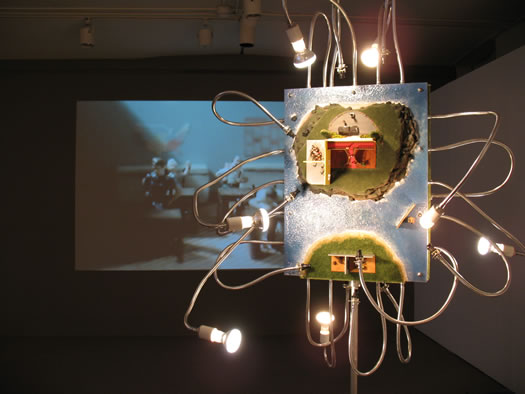 UAlbany has an art museum? It does. And right now it's featuring two small, but interesting exhibits that examine scale, politics and our modern consumer culture. Or, at least, that's what we got out of them.
Jennifer & Kevin McCoy: The Allure of the Literal is a series of pieces that use both sculpture of minitures and video (see pic above). Here's how the museum site describes the work:


In a series of multi-media projects, this Brooklyn-based husband and wife team create new narratives about life and love by merging digital production with the worlds of film and television.

What struck us about the McCoys' work was the way it plays with scale and allows you to be at two different levels of "zoom" at the same time -- zoomed out as you hover over the miniture scenes, and zoomed in as you look at the closeups of the scenes displayed on the wall.
Here's how the museum describes the second exhibition, David Opdyke: Plan C:

Featuring a new site-specific installation as well as recent sculptures and drawings. Opdyke's ingenious craftsmanship turns childhood pursuits like building model railways and flying paper planes into targeted critiques on military proliferation, compulsive consumerism, and clandestine global networks.

We enjoyed taking in the drawings, which are kind of like a combination of pictograms and editorial cartoons.
David Opdyke will be talking about his work at the University Art Museum this coming Monday, March 3, at 7 pm. Jennifer and Kevin McCoy will be there April 1.
Find It
University Art Museum
1400 Washington Ave.
Albany, NY 12222
The museum is free, but if you don't have a UAlbany parking pass, you'll have to put $5 for the visitor lot. (You could also take the bus for a two buck round trip.)
Museum Hours:
Tuesday through Friday 10 am to 5 pm
Saturday and Sunday 12 to 4 pm
phone: 442-4035
site: albany.edu/museum/