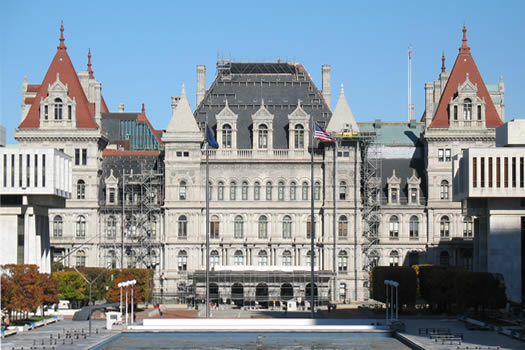 You know how sometimes you're at a party, or at the coffee machine at work, and somebody starts talking about state politics? And you immediately you think "Ugh, here we go again..." and everyone else talks like they follow this political soap opera every day. Well, we feel your pain. If you're not into politics, it can all be a bit... dry. But we're here to help you sound smart about what's going on at the capitol without, actually, you know, following it.
But we needed a little help ourselves, so we turned to our friend Susan Arbetter. She keeps an eye on state politics as host of the TV show New York Now. So, here's a little state politics conversational currency that Susan dropped on us...
Now, keep in mind, these phrases don't necessarily reflect Susan's opinion -- they're just the kind of stuff you can here people saying around the capitol.
So, let's get to it...
Use key phrases and acronyms
Preface your remarks with key phrases like, "That Zogby doesn't know what he's talking about," or, "That's what's important to the base, but what's really important to the party is..." Be sure to include a slight hint of disdain in your voice. And for good measure, toss in a few acronyms: things like SEIU, CSEA, PEF and HANYS.

On the "three men in a room"
When talking about Joe Bruno:
You could say something like, "If the balance of power shifts, he won't run again." Or if someone says that to you, you might come back with "Hey, don't ever count the old man out."
When talking about Elliot Spitzer:
The thing to say used to be, "He's not a good politician." But more recently you might try something like, "He's learning how to be a politician," or "He's taking lessons from Joe Bruno."
When talking about Sheldon Silver:
No one talks about Sheldon Silver these days.

On Andrew Cuomo
Whatever you say about Cuomo, just make sure to include the word "ambitious" in the same sentence. If you do, everyone else in the conversation will just nod their heads.

About the balance of power in the State Senate
The Democrats are one vote away from flipping the balance of power in the NY State Senate. This is the subtext of every conversation about NY state politics right now. so you could say, "If the power shifts in the Senate, it would be cataclysmic."
Or you could just use the word "flip" a lot. If you use the word flip three times in a sentence about NY politics, you're sure to be considered "in the know."

Impress your friends and co-workers
Here's one that will score you bonus points. Rochester-area Senator Joe Robach is considered the most likely candidate to flip parties (and thus flip the Senate to the control of the Democrats). If you REALLY want to sound like you're on top of it all, you could throw around a phrase like "Joe Bruno will give Robach whatever he wants."

And after you drop a nugget like that, we recommend announcing that you're headed to get another drink. While you're making your way to the bar, we wouldn't blame you for looking for a few new people to talk to.
Good luck.
(Thanks, Susan!)
Say Something!
We'd really like you to take part in the conversation here at All Over Albany. But we do have a few rules here. Don't worry, they're easy. The first: be kind. The second: treat everyone else with the same respect you'd like to see in return. Cool? Great, post away. Comments are moderated so it might take a little while for your comment to show up. Thanks for being patient.